This month's design is a refresh of my very first design for my membership in 2021. Back then I was designing with embroidery in mind, and also hadn't started experimenting with hand lettering. It's been so lovely to give it an update and reflect on how far my skills have come in the past couple of years!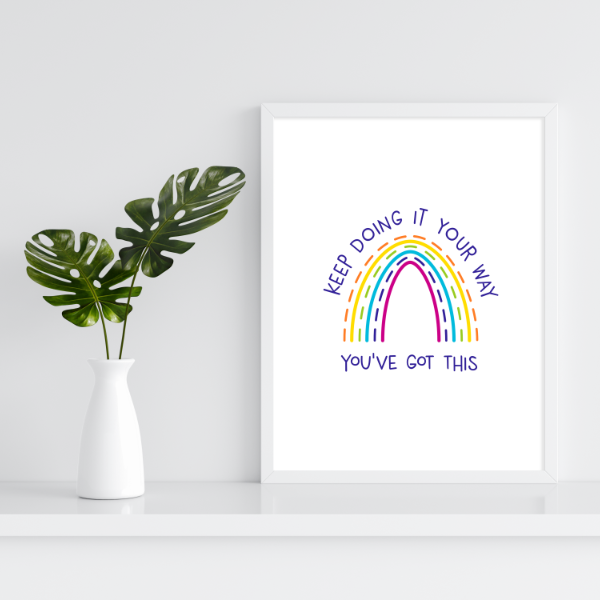 However this design didn't actually start out as an update of that design, it actually started with #ThePatternChallengeByMel. A couple of times a year Melanie Johnsson runs a month long pattern challenge on instagram, which is a fun way to get inspired and try something different. I always know going into these things I'm not going to manage all the prompts, and this time I knew I wanted to design in collections, so I picked out different prompts from the month that I felt would go together. 
One of those clusters of prompts – the only one I ended up completing – was rainbow, heartthrob, meadow & ladybird. Back in spring Emily of @a_creative_haven shared the book Imagine a Forest by Dinara Mirtalipova and it left me really wanting to create a folk art inspired design and collection, so that became the starting point for deciding what to create for each challenge prompt.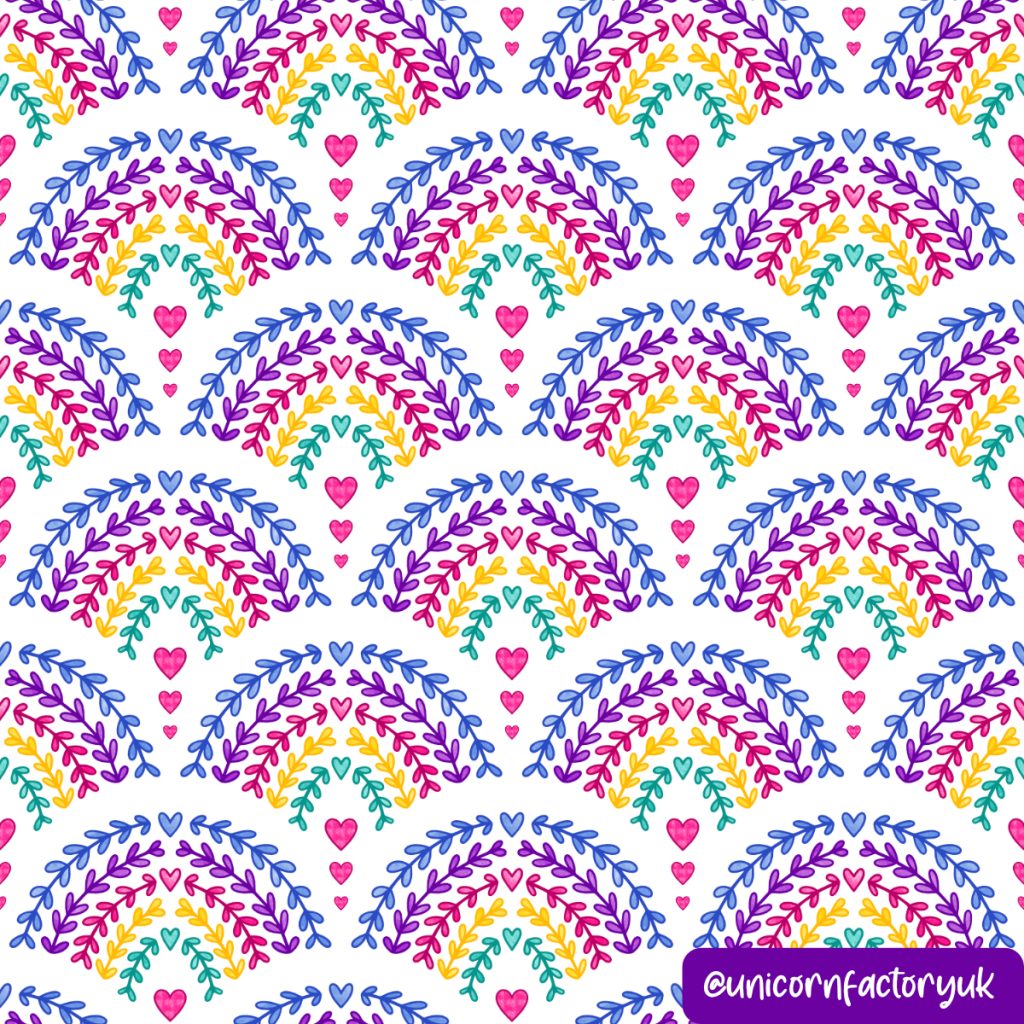 I'd also noticed there was a Cute, Cuter, Cutest design challenge over on Spoonflower in early August, so I thought I'd try and get the whole collection completed in time for that and was hoping to enter a ladybird design. As it happened I kicked off the summer holidays being hit with covid, which sucked in lots of ways, but one positive was it gave me a little more pattern designing time than I would've had otherwise… however I wasn't feeling it at all with where my ladybird design was at, so these lovely little rainbows became my Spoonflower Design Challenge entry!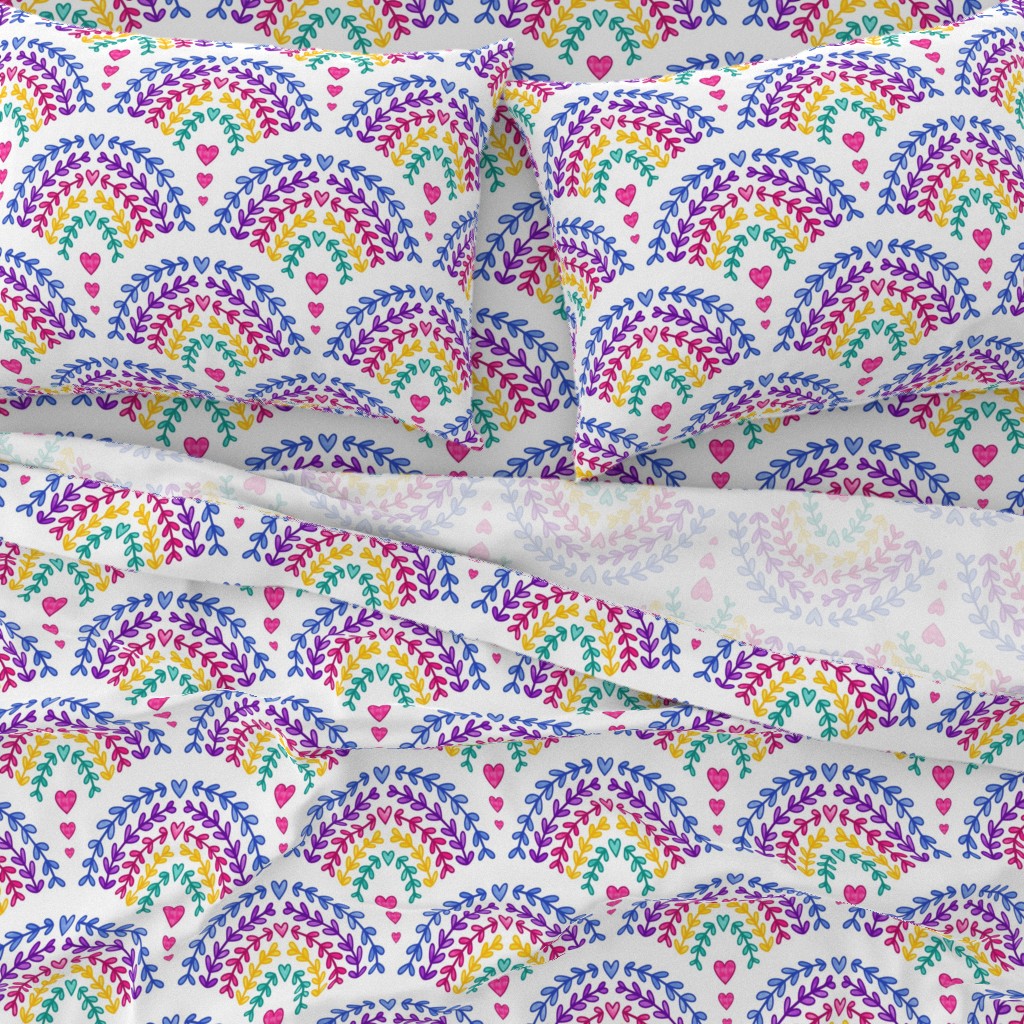 Once I shared this design it was getting so many likes and lovely comments I knew I had to make it into our September design for Ko-Fi – and it was only at that point I realised it was a chance to refresh the original design from two years ago. It's one of those things that all came together in such a lovely way.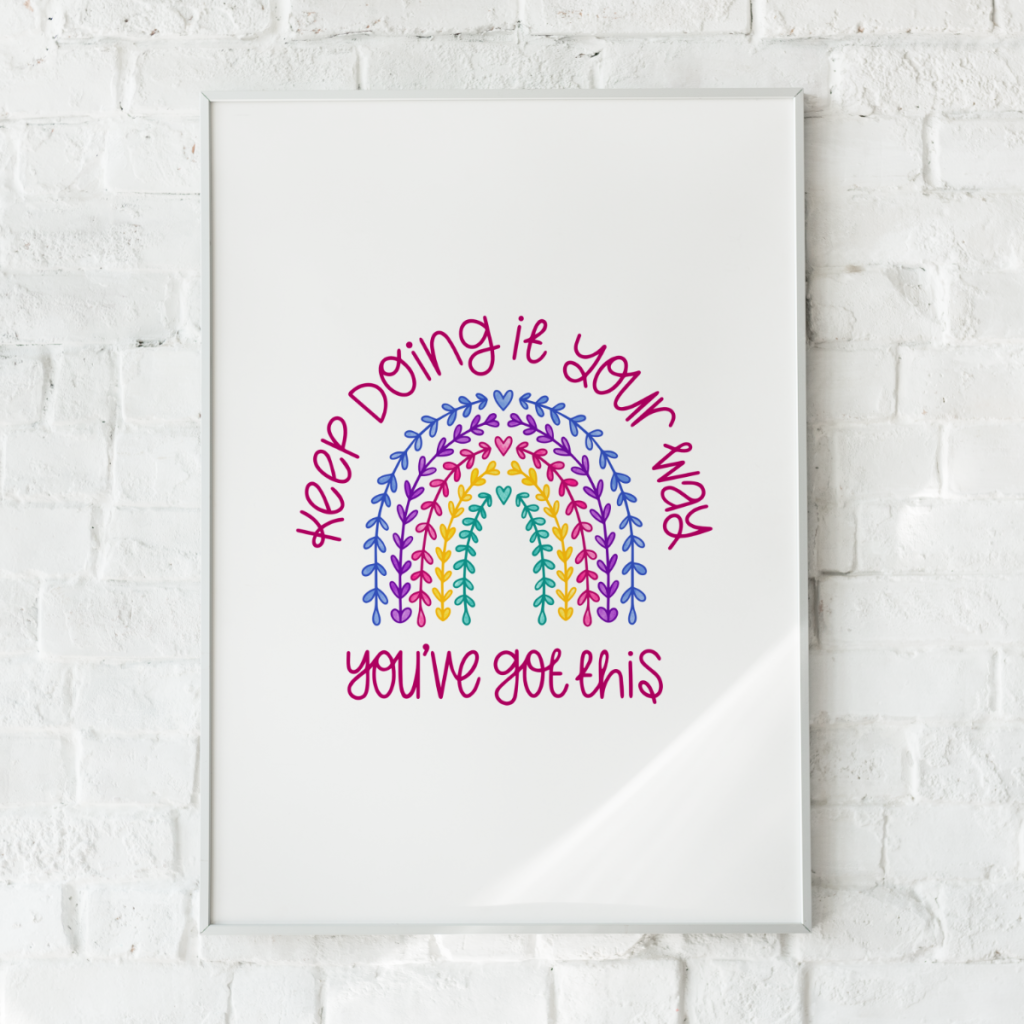 The quote this month "Keep doing it your way – you've got this" means a lot to me. You may not know that The Unicorn Factory has been around since 2016 in different shapes and forms, originally focused on coaching with the strapline "Listen to yourself, Trust yourself, Be unapologetically you" essentially something I work towards doing better myself every day. 
When I revived The Unicorn Factory in 2020 as a home for my creative adventures I realised that even though my focus was different, the intention I'd started with was still exactly the same. And "Keep doing it your way – you've got this" was a reminder I created for myself from that place.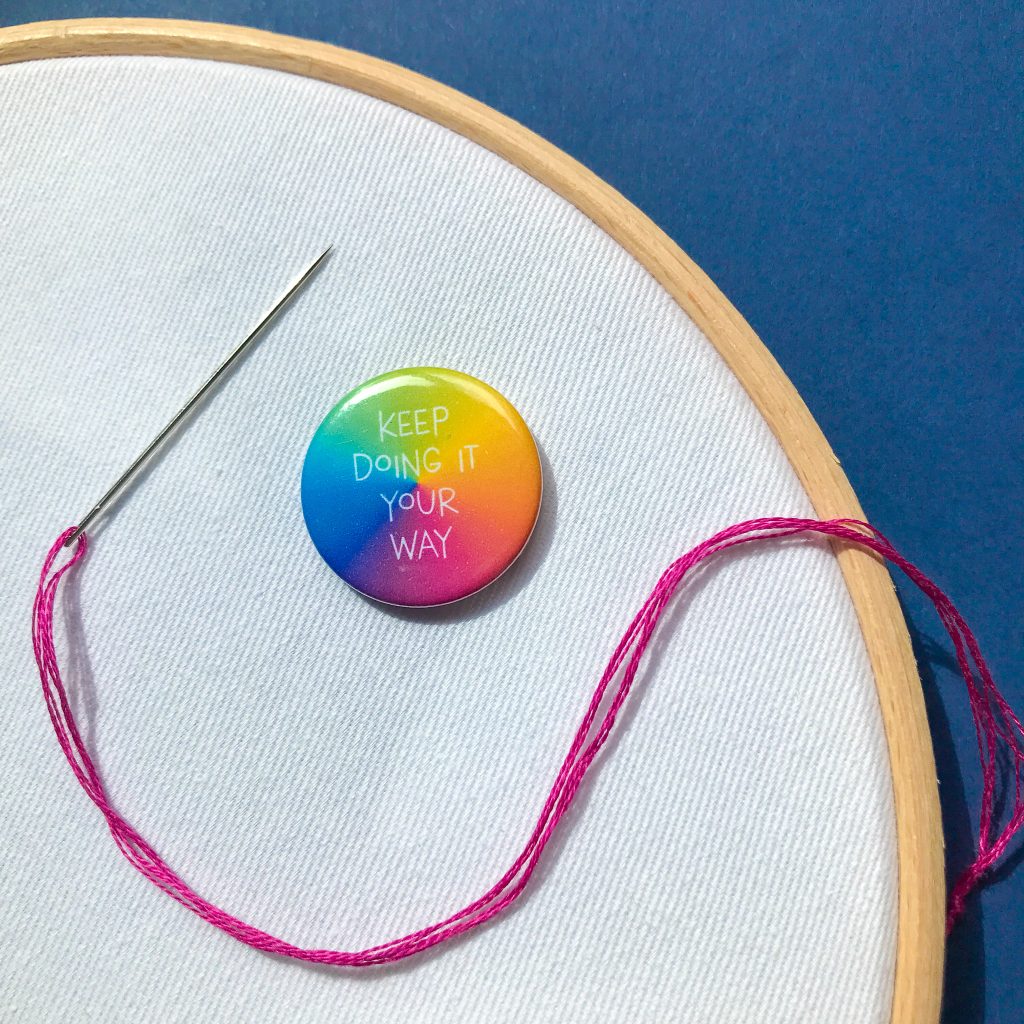 It's a reminder I've absolutely needed over these past three years, as I figure out how to build a creative business alongside chronic health issues, cptsd and being neurodivergent. "Normal" doesn't work for me, and it definitely doesn't work for my mental health. Things have been so slow and so challenging at times that I often think I must look silly for keeping on trying, but I do. This quote is my reminder that I do actually know what I'm doing (well most of the time) and I just need to give myself a ton more time than I used to need to do it. I will get there, I just have to keep doing it in a way that works for me to make it happen!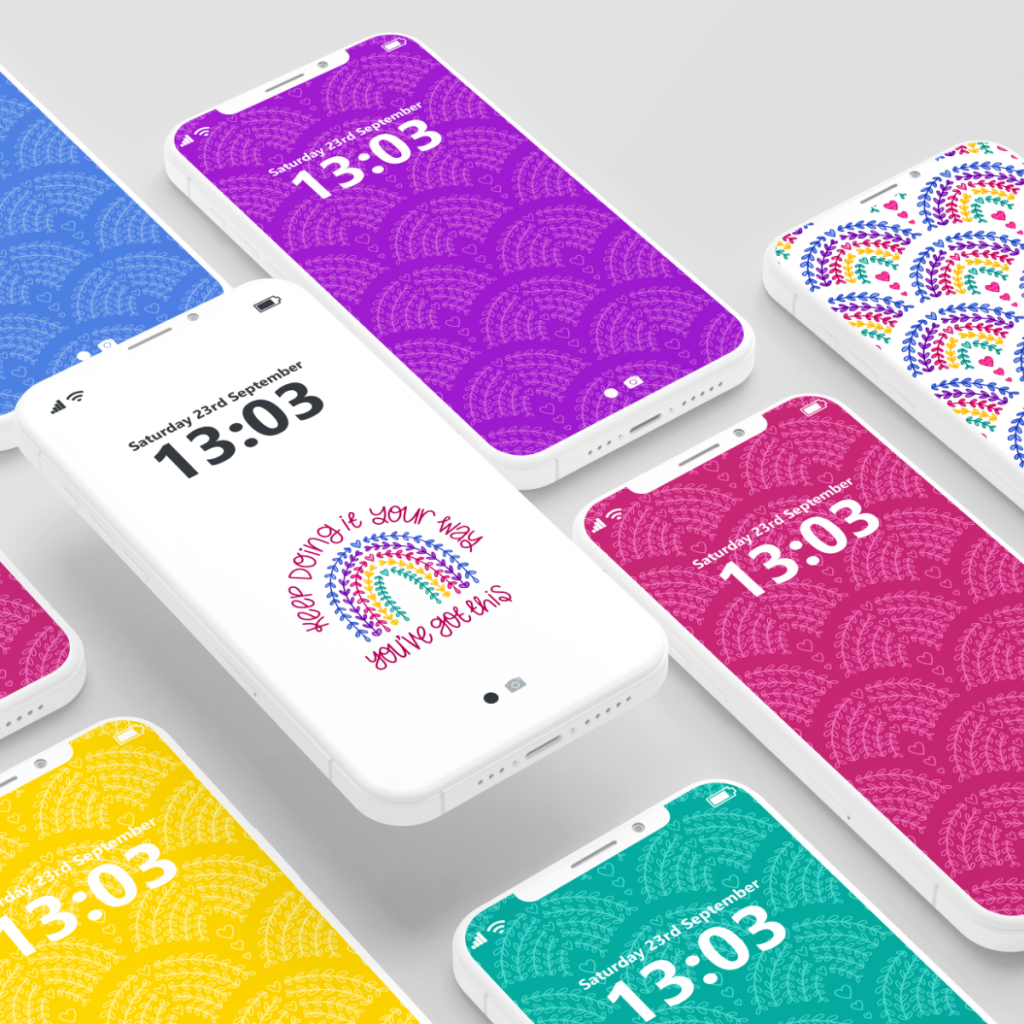 The four patterns created for #ThePatternChallengeByMel will form a collection, along with another couple I have in mind.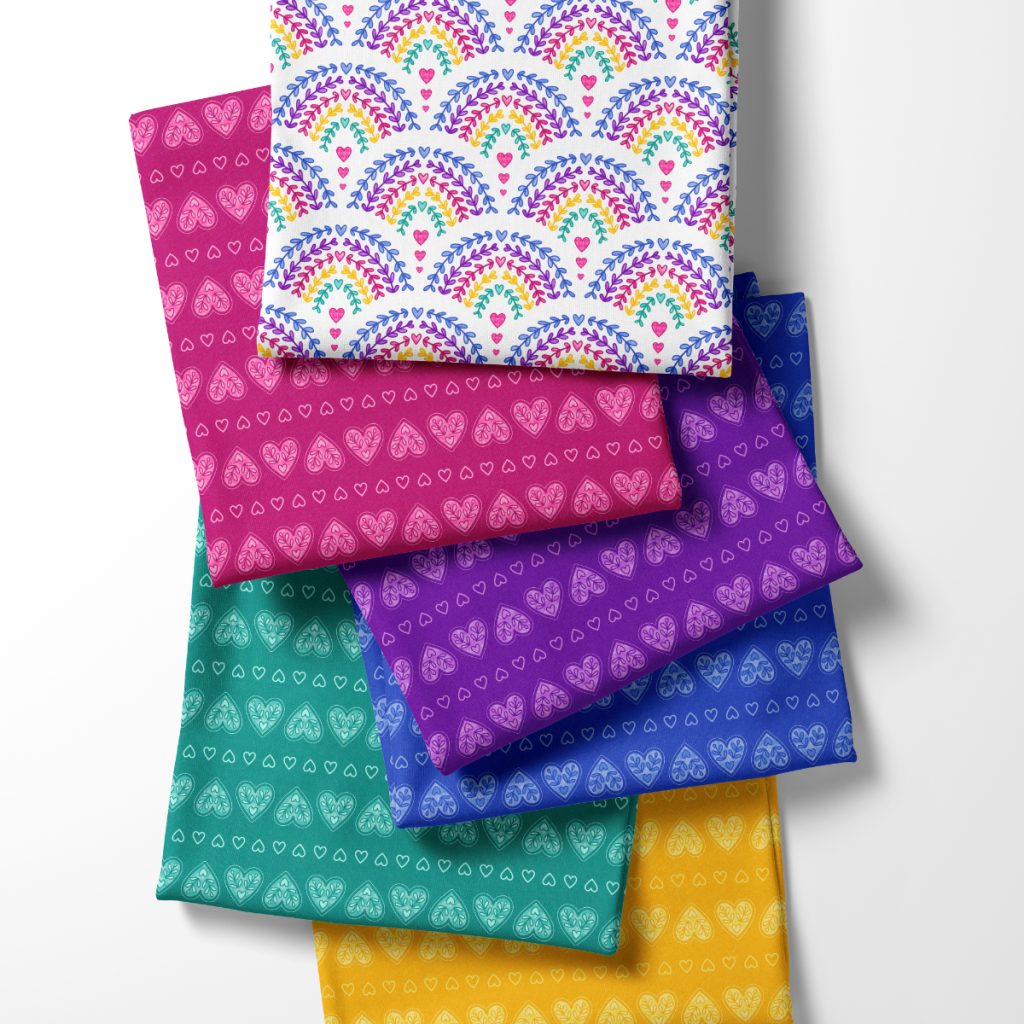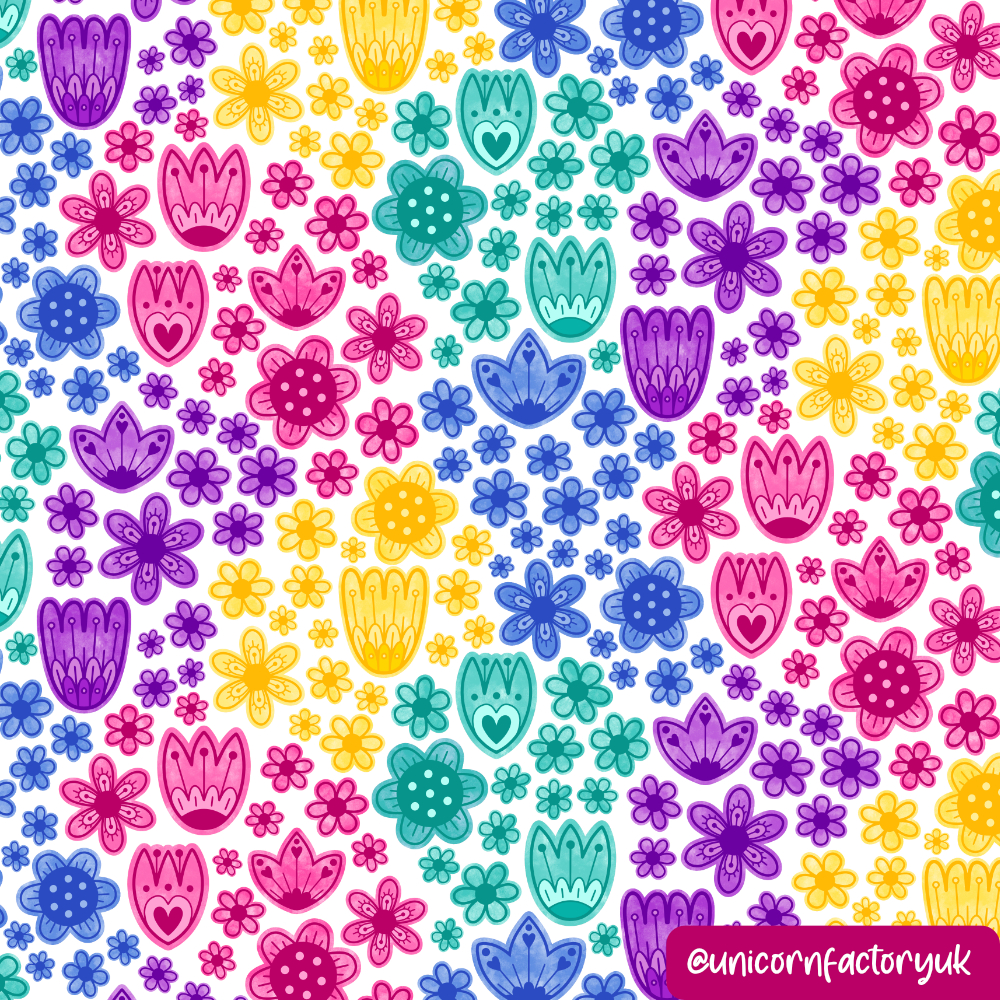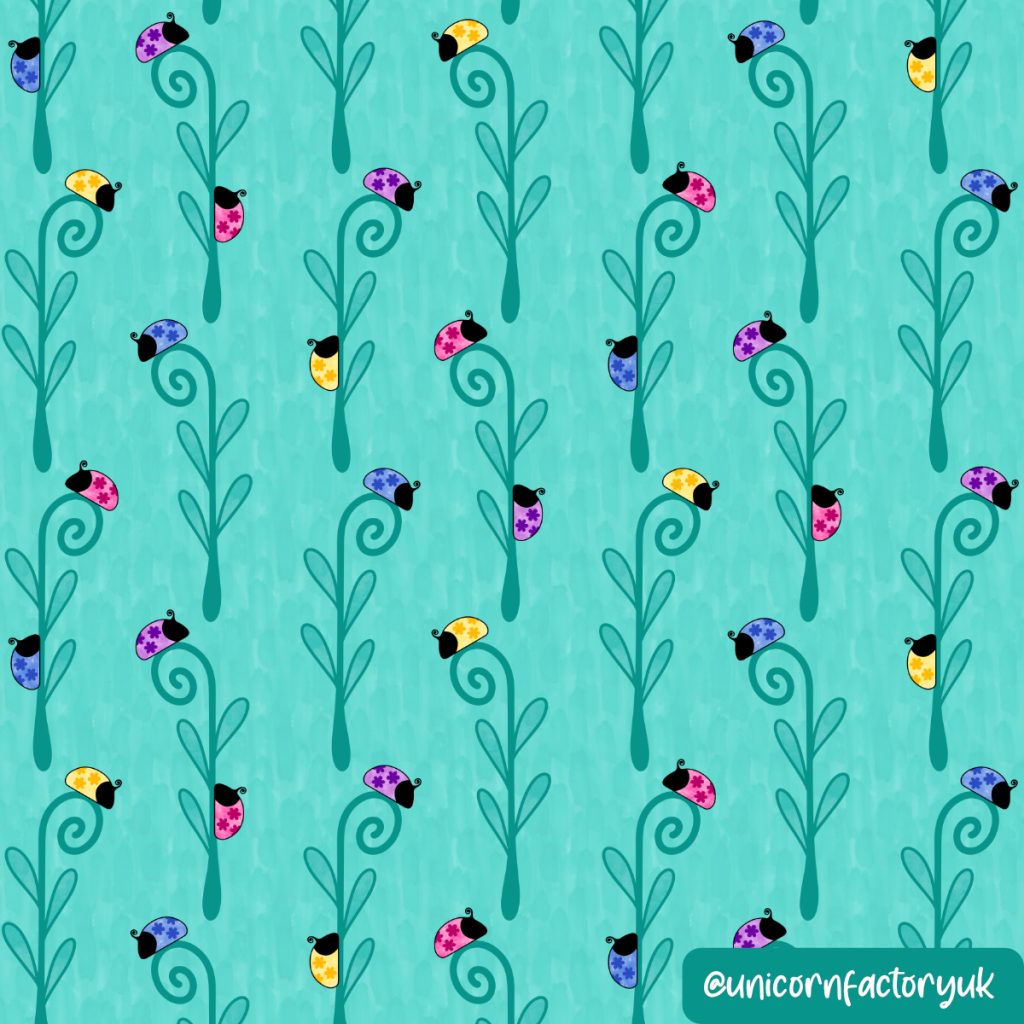 Once I have those done I'll make them available to buy on Spoonflower as fabric & home decor in the coming weeks. If you want to know when they are available make sure you're signed up for emails.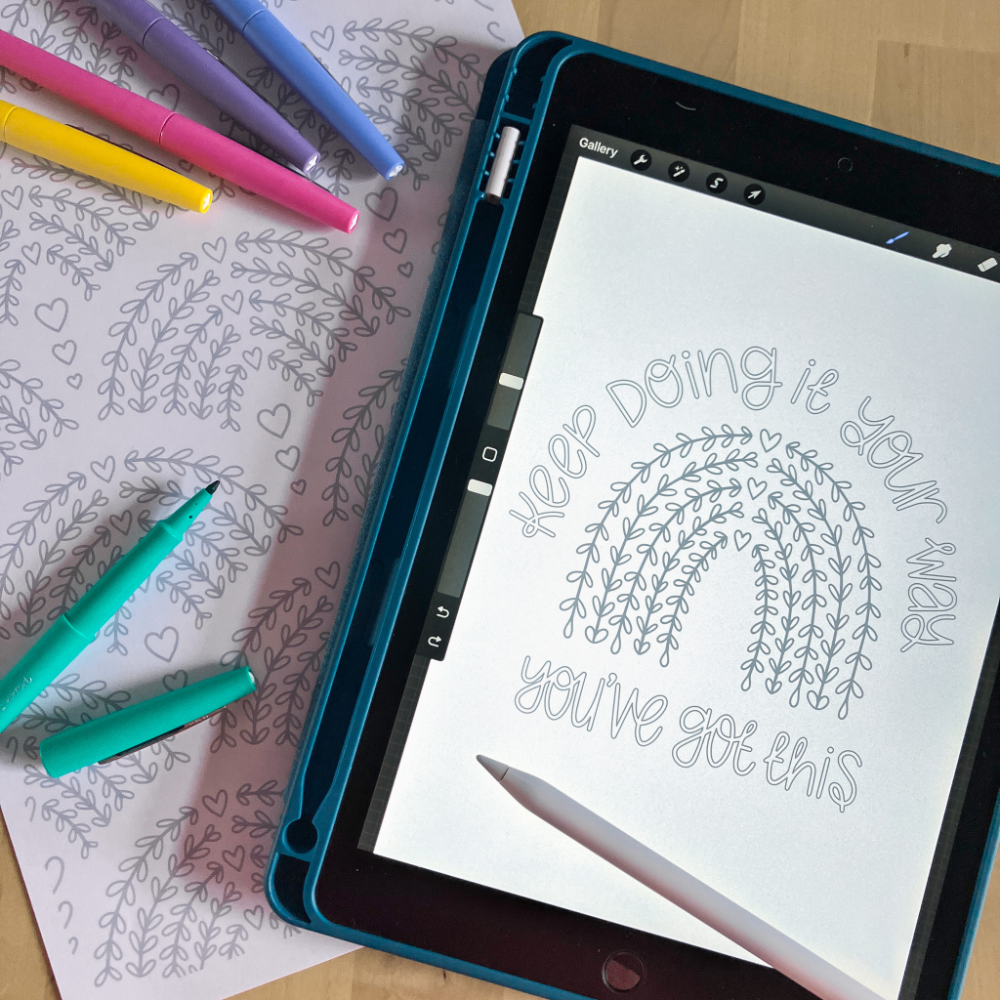 While it was totally unplanned, I am so happy that September has brought me back to this design. It's also given me a lovely moment to reflect and realise that I'm really happy with what I'm creating for my members every month and how aligned it is with what's been at the heart of The Unicorn Factory all along! 
REFLECTION & JOURNALLING PROMPTS…
Where do you most want to let go of self-doubt and trust your own way of doing things?
What do you need to give yourself permission to do differently to make that possible?
How can you remind yourself of that in the moments you need it?
My reflections on this months prompts… 
"As I mentioned above, and following on from August's Embrace Your Own Pace reflections, a big part of this for me is accepting that due to chronic health issues things take me longer than they used to and I can't work as many hours as I used to. Until the past few months I've kept thinking things aren't working because I'm not doing the right things, and kept looking for new marketing ideas and other things, whereas this year has been realising that I do know what I need to do before I add in any other new ideas, I just have to give myself time to build it up and accept it's going to be a slow process. So this month's quote is a reminder to myself of all of that – that I can give myself permission to just keep working through my plans, knowing what I'm doing and knowing it's gradually paying off. 
My way of reminding myself about it is creating new designs for my members every month and surrounding myself with them on my phone, iPad & computer… I also have my needle minder (like the pic above) so even when I'm embroidering I'm constantly reminded to keep going with all of this! Another thing I've done is to start tracking my Spoonflower sales, as I can see with those that although it's gradual there is momentum building, and that reminds me that it might be slow but it's definitely heading in the right direction!"
I'd love to hear your reflections on giving yourself permission to trust yourself and doing it your own way – tag me (@unicornfactoryuk) in your posts and stories so I can see and share them! 
Want to hear about the stories of my designs as they unfold? Join us over on Ko-Fi from £3 a month and you'll get regular updates on my design process, the challenges and other random thoughts throughout the month!
You also get TWO bundles of #FeelGoodies in your first month – if you join by Sunday 1st October that will be instant access to our current YOU'VE GOT THIS digital & printable goodies AND next month's goodies as soon as they're released – PLUS a FREE copy of The Little Book of Easy Creativity eBook (worth £6) to support you on your own creative journey!
Every month I share a free planner calendar via email that features the pattern & quote for the month ahead. Join our email list to get instant access to the current calendar, and look out for a new one at the end of each month!

Keep up to date with my latest designs...