When I signed up for the Still Studio summer postcard exhibition I didn't actually know what I was going to submit for it. It just felt like a really good opportunity to choose myself and recognise myself as an artist, something I'm really conscious of finding opportunities to do thanks to joining the Inspired Collective earlier this year.
While figuring out what I wanted to exhibit I messaged Still Studio to check whether it was okay to include prints of embroidery. They told me that was fine, and it would also be okay to submit actual embroidered fabric artworks, and that got me thinking…
Having followed @needle_or_thread & @sheofthewildart for a while I was itching to try turning some of my fabric proof swatches (the stuff I design & sell on Spoonflower) into embroidered fabric collages, but didn't really know how to start. It seemed like a crazy idea to try something new for an exhibition, but I decided to go for it.
It took me almost a month of thinking, researching & experimenting with how to put it together… and then I started my first piece – Autumn Leaves!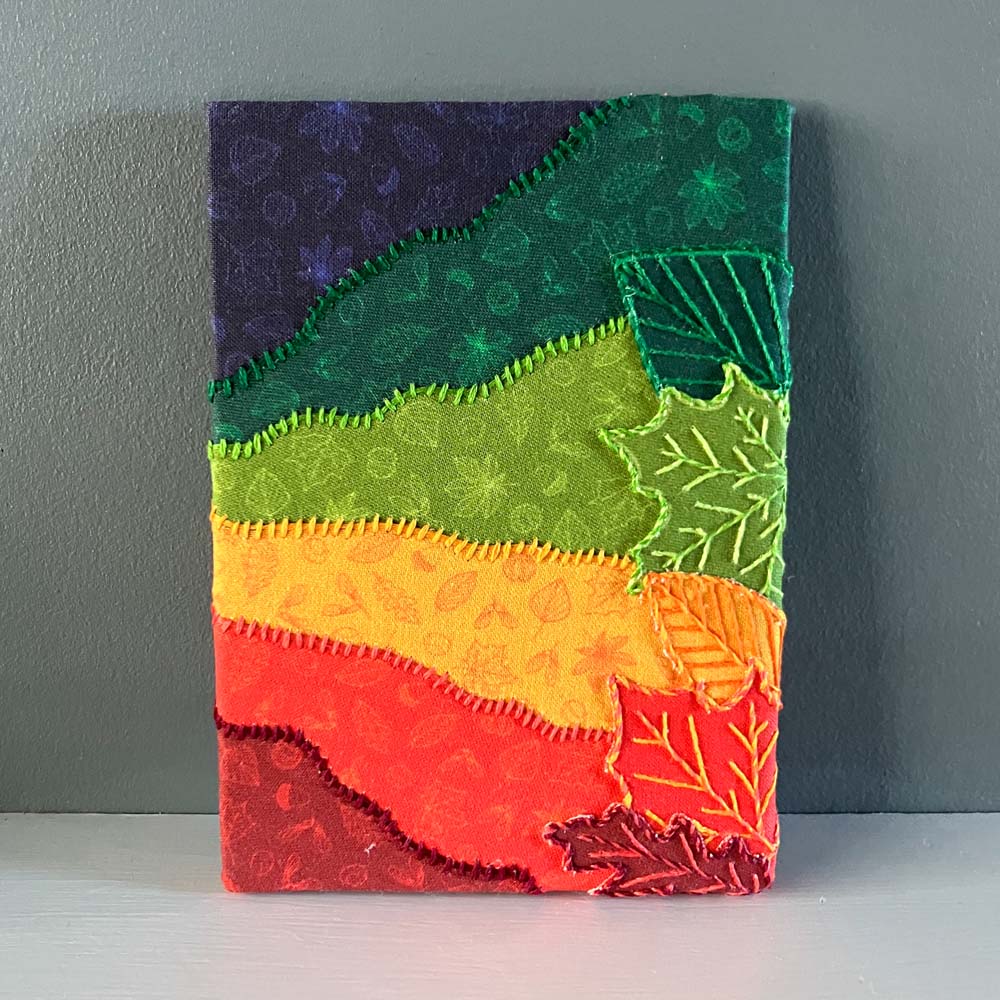 The three pieces I created for the exhibition were increasingly complex. I started with Autumn Leaves as although I wasn't 100% sure what I was going to do with it, I knew it was going to be the most straightforward to stitch. 
It began by experimenting with scraps on a practice hoop first to give me confidence with my choice of stitches and where to put them. Although I've done a lot of embroidery I haven't used couching stitch much at all, so I wanted to get the feel of it before I started stitching on the artwork. Turns out it is a stitch I found huge amounts of joy in, so I definitely want to do more of it in future!
I love picking thread colours – and this one was so much fun for that, finding the shades to compliment the colours in the fabric, while also stand out, and also enough contrast for the whipped backstitch to look good.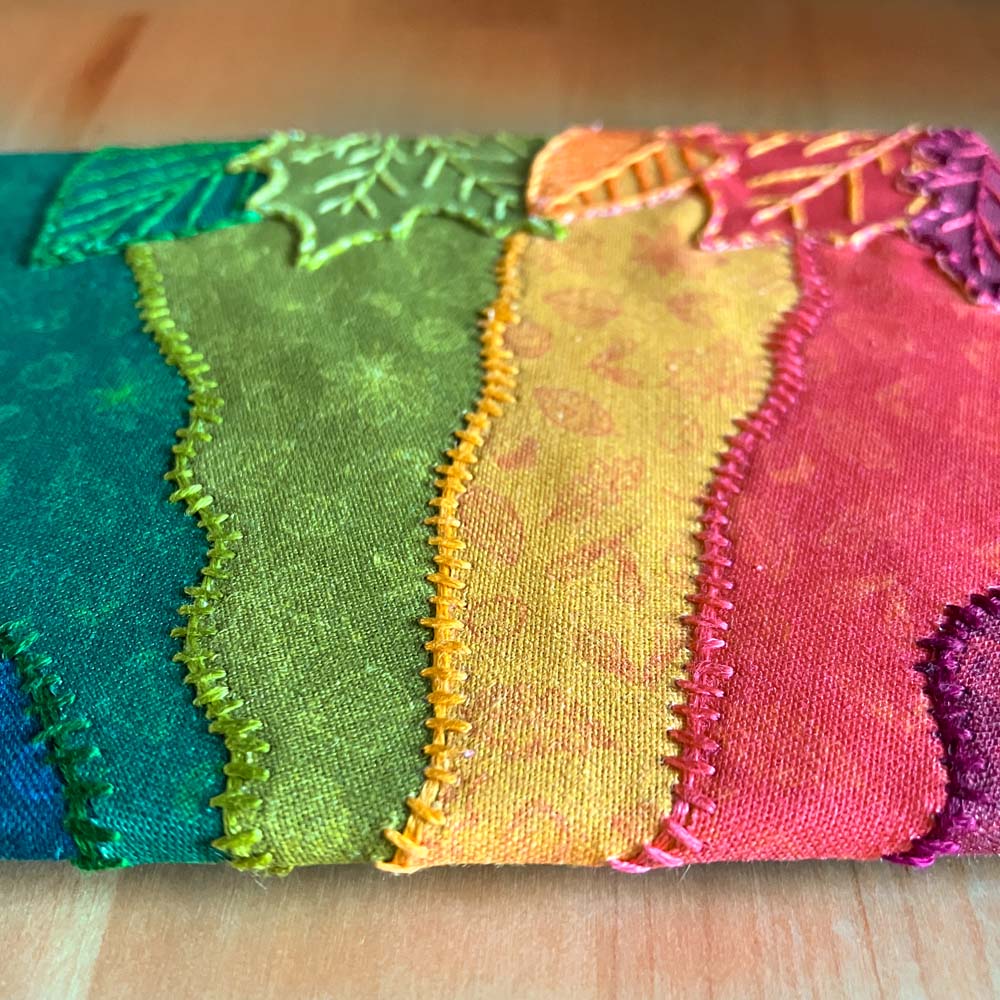 While I was stitching this I still had zero idea of how I would mount it and making it into a "postcard" for the exhibition. Thankfully as hubby has had DIY stuff everywhere these past few weeks he had some wood that worked perfectly to make mounts for me to wrap & stitch the finished piece around (so freakily perfectly as the width was exactly double A6 size!)
The fabric for this piece were the samples from my Woodland Wanders & Autumn Leaves collection. I designed the Autumn Leaves collection a year ago inspired by an early autumn day at Westonbirt Arboretum. 
It was such a wonderful moment of some trees still being in summer mode, and other already onto autumn. And it's been so lovely to come back to it and do something with it again a year on.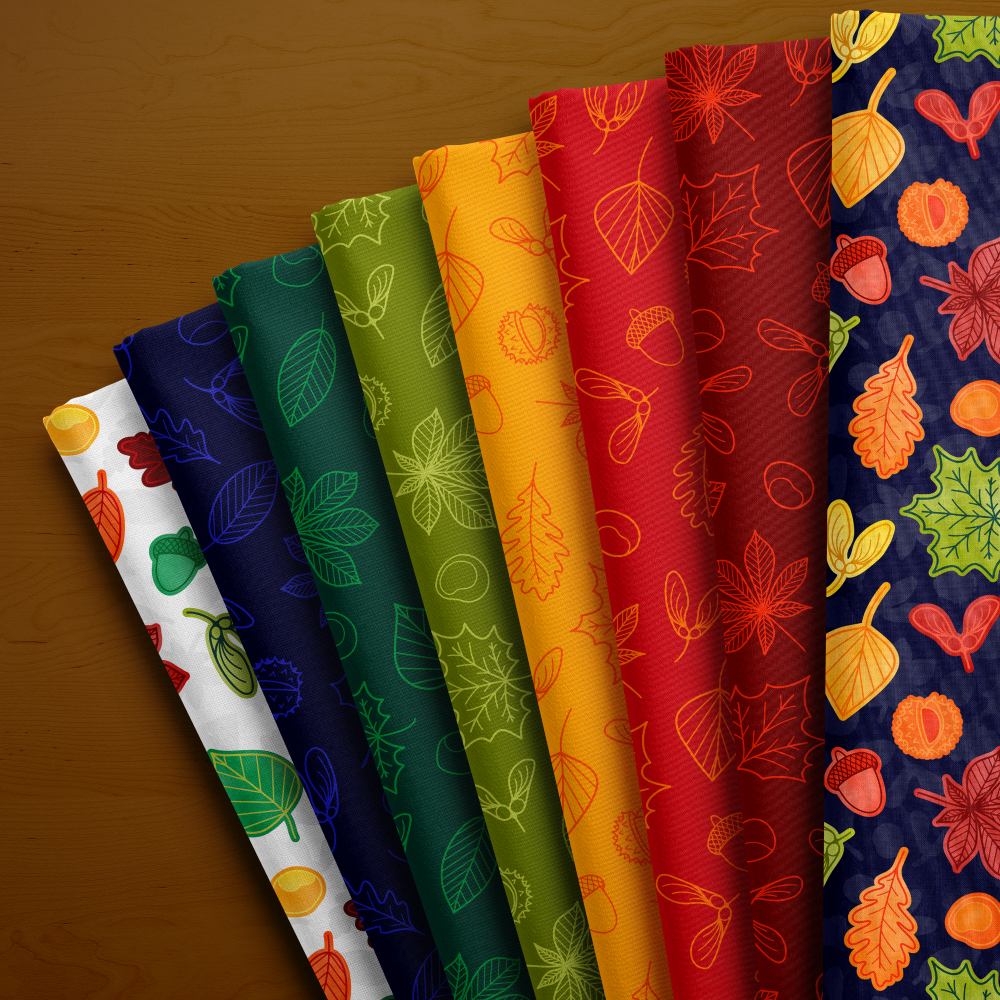 The Autumn Leaves patterns go alongside the tree patterns I created for the Nuture yourself in Nature pattern I created for my members this July. I decided to design the trees based on the types of leaves I'd used in Autumn Leaves, and use the greens from my Autumn Leaves colour palette so they'd all work together. The whole collection is available as fabric & home decor on Spoonflower.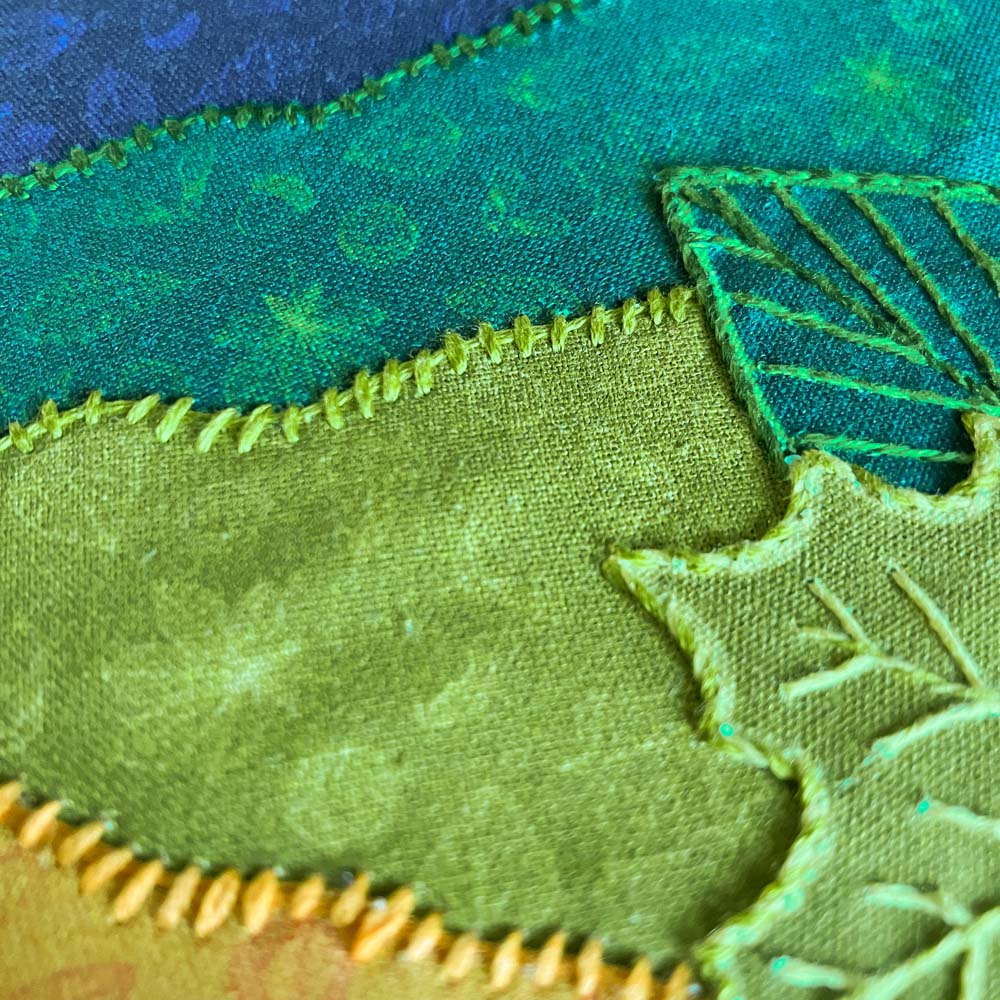 The Still Studio Summer Postcard exhibition is open through to the 21st September. You can find it at Still Studio, Unit 5, Aire Street Workshops, 30-34 Aire Street, Leeds, LS1 4HT. The opening hours during the exhibition are:
Saturday 9th 11-2pm
Tuesday 12th 10am-4pm
Wednesday 13th 12pm-8pm
Thursday 14th 5pm-8pm
Tuesday 19th 10am-4pm
Wednesday 20th 10am-4pm
Thursday 21st 5pm-8pm
All three of my embroidered fabric collages, including Autumn Leaves, are available to buy at the Still Studio exhibition for £45 (Accounting for time & materials future similar pieces to Autumn Leaves will be around £120). If you'd like to purchase this piece and can't make it to the exhibition in Leeds then email Still Studio (hello@stillstudio.co.uk) to enquire about purchasing Autumn Leaves by Helen Clamp. And if it turns out it's already been snapped up you can find out more about commissioning something similar here.
Over the next week or so I'll be sharing posts about how the other two artworks – Wetland Birds & Mermaid Splash – for the Still Studio exhibition came about. Get email updates to make sure you don't miss out!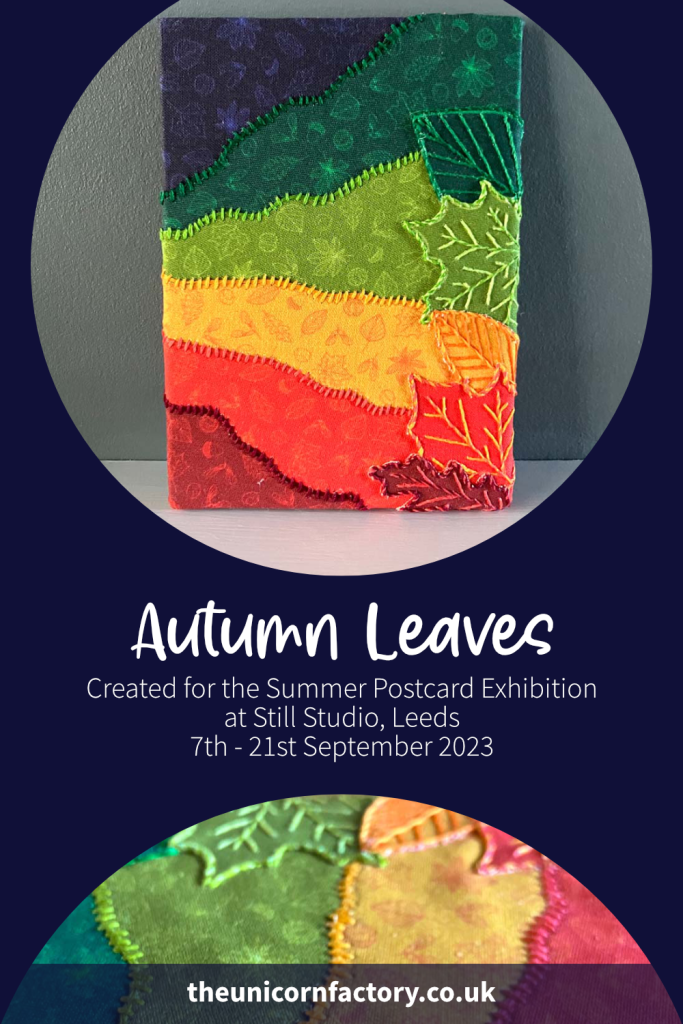 Every month I share a free planner calendar via email that features the pattern & quote for the month ahead. Join our email list to get instant access to the current calendar, and look out for a new one at the end of each month!

Keep up to date with my latest designs...