When I originally designed my Eurovision inspired collection at the beginning of this year I was never planning or expecting it to be one of our monthly themes… but then I came across a quote that changed all of that!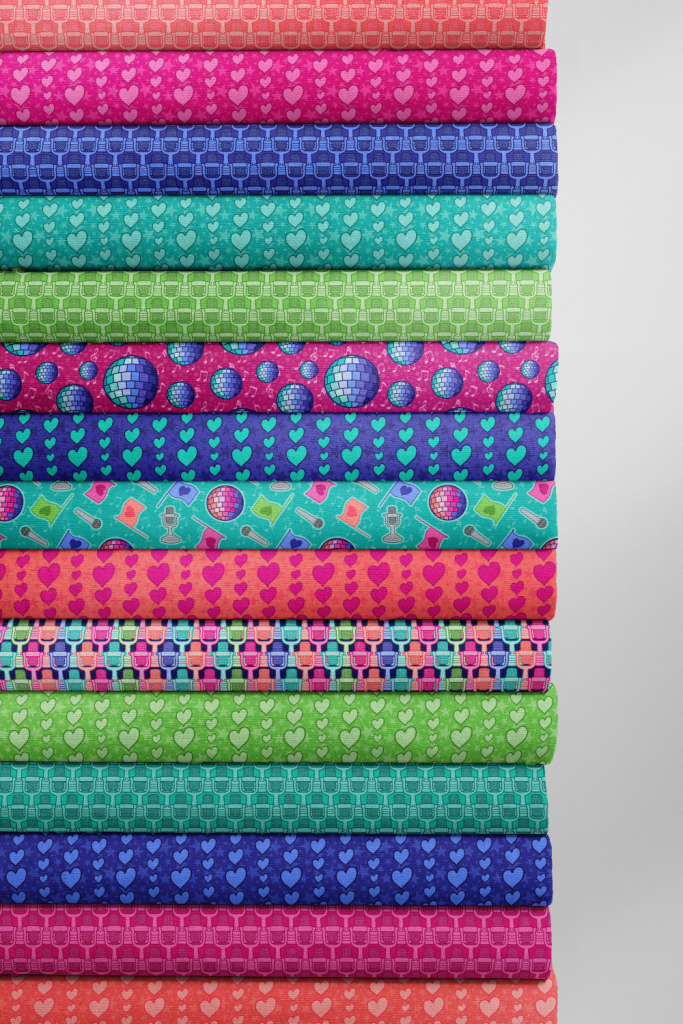 I almost always come up with original quotes for our monthly themes. But sometimes you read a quote and it resonates so hard that it sticks with you, and this was that for me… "A glitterball is hundreds of pieces of broken glass put together to make a magical ball of light. You aren't broken. You are a glitter ball"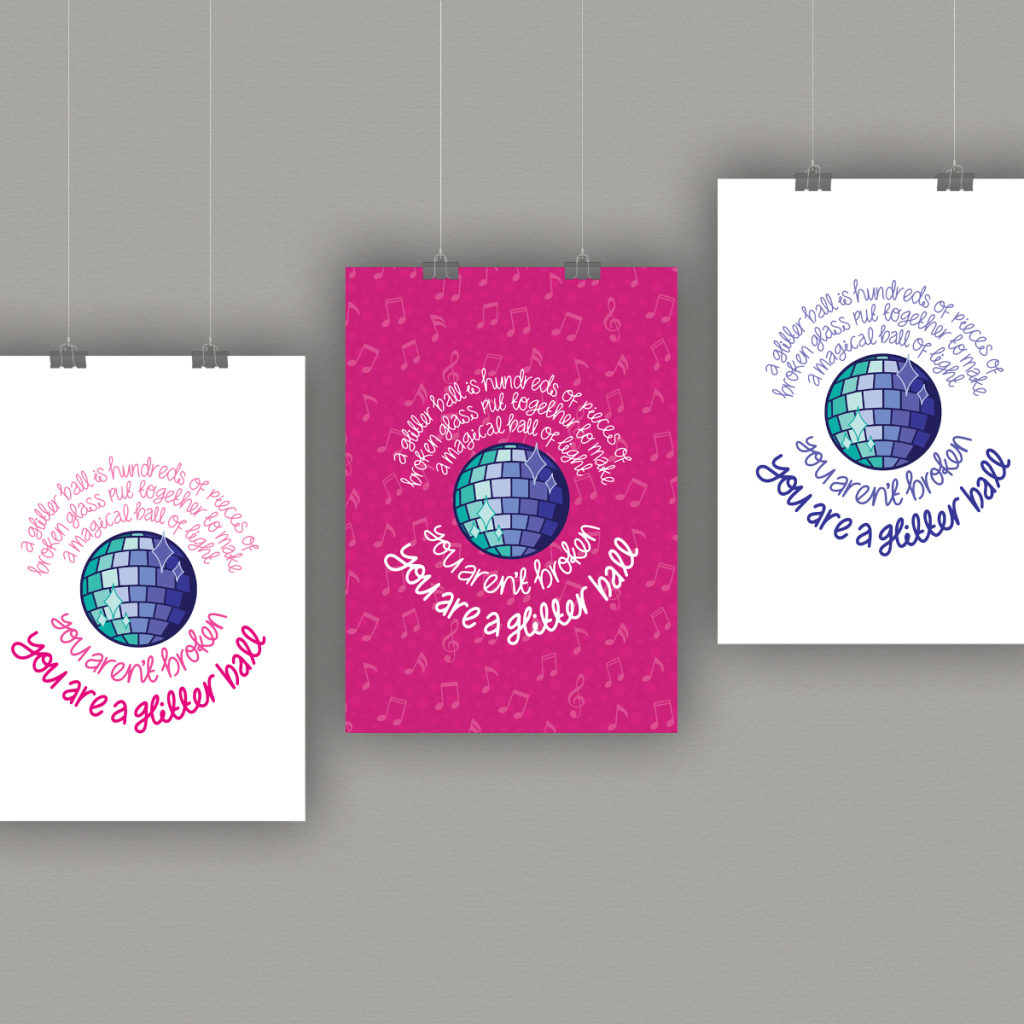 Technically the original quote has "disco ball" in it, but being Strictly season I had to change it to glitter ball! And I have no idea who said it in the first place. If you know please let me know so I can credit them! 
I think the reason this quote spoke to me so much was because of another quote I've carried with me since some coaching training nine years ago "You aren't broken. You don't need fixing", which has been really healing for me in so many ways, and something that I actually explored from another perspective in my Substack post last week… it's obviously on my mind!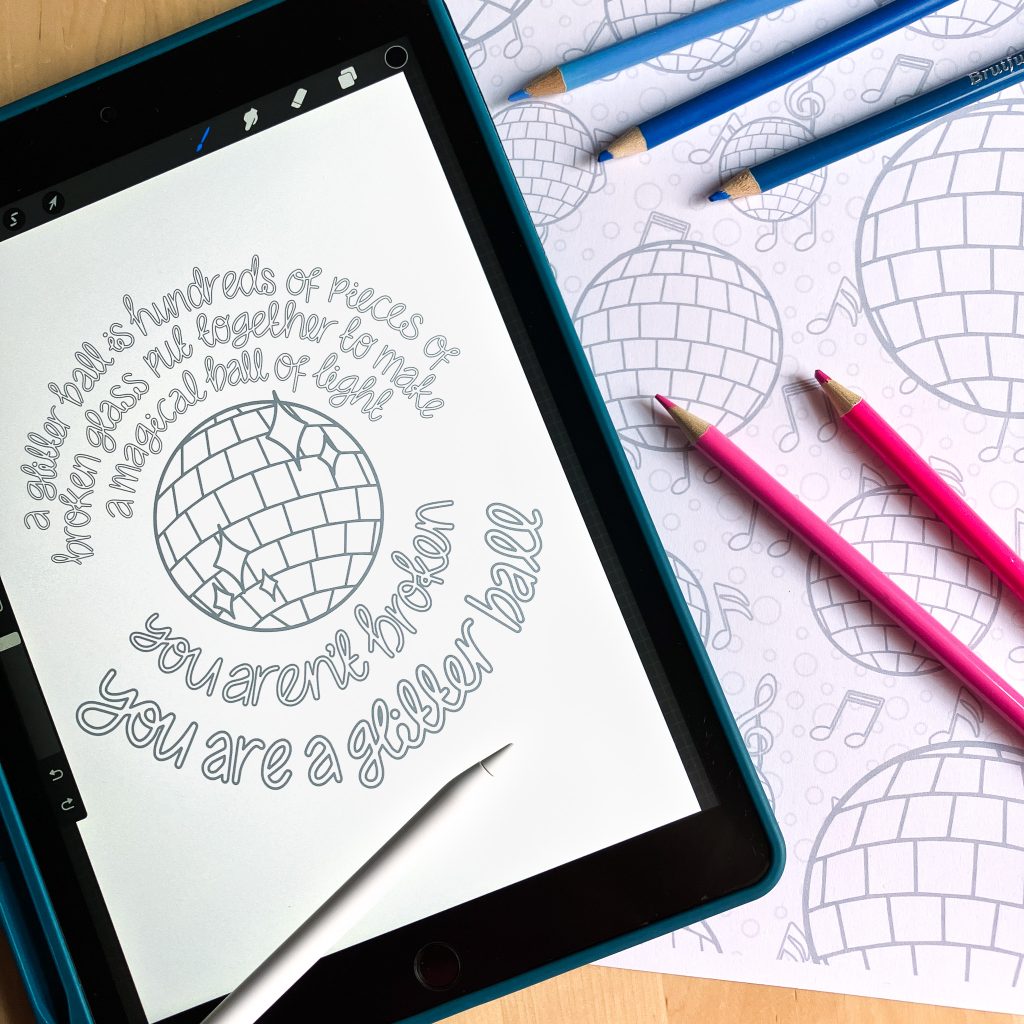 Over the past few years there's been lots of ways this sentiment of acknowledging, accepting and learning to work with different parts of myself, rather than seeing them as something that is broken and needs fixing, has really helped me in life. One of the most significant has been in learning to accept, acknowledge and work with my ADHD, rather than mask and suppress it. Something that is so important for me to be living as littleun navigates her own experiences of neurodivergence.
So our October design somehow ended up being something totally unexpected and yet deeply meaningful!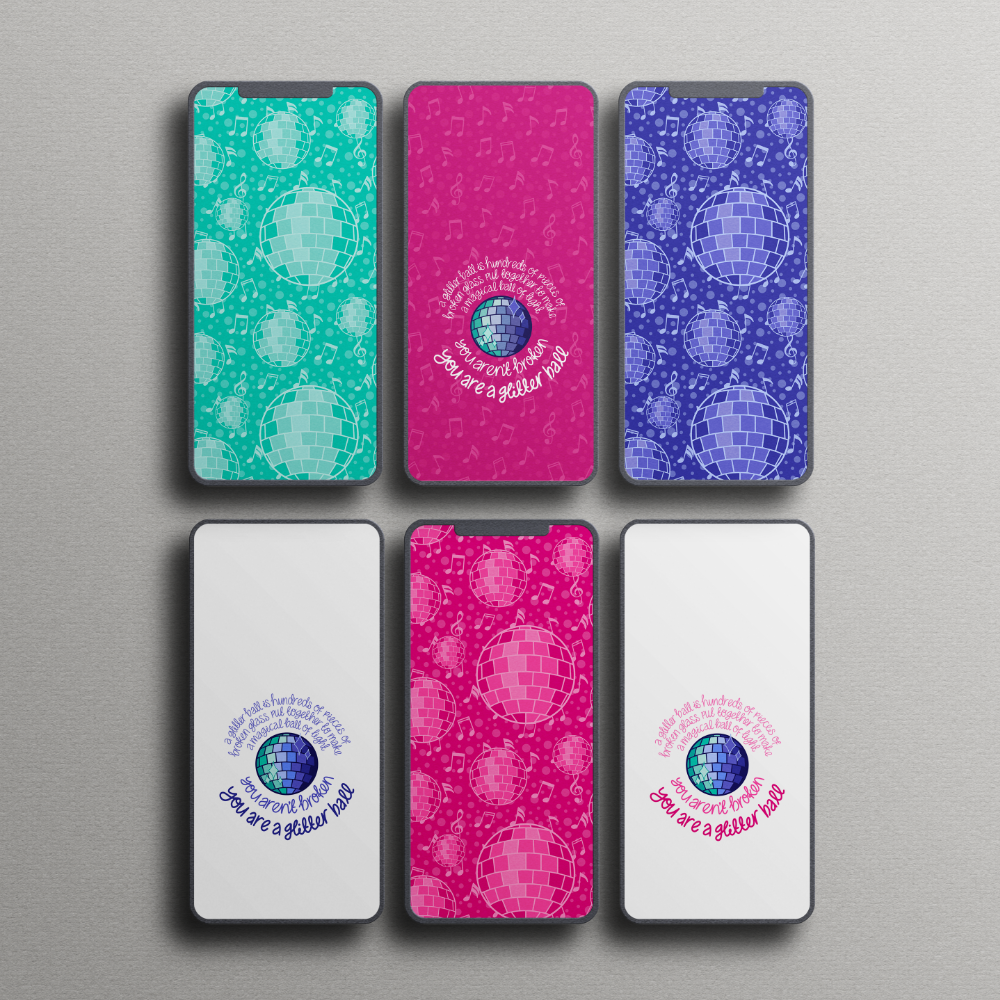 I did naively think that this month's goodies would be quicker to put together as I "only had to design the quote" however I didn't factor in that it was the longest quote I've ever done in hand-lettering by quite some way… so that was a process! Also I forgot that I didn't actually have any monochrome versions of the glitterball pattern for the phone wallpapers, so figuring those out took a bit of time!
Creating this design has felt like a big warm accepting hug, and I hope that you feel the warmth and acceptance in this design too. Also and fellow Strictly and/or Eurovision fans out there… I hope this design feels extra special for you too 🥰
REFLECTION & JOURNALLING PROMPTS…
🪩 Is there a part of yourself that you would like to stop seeing as broken, and stop fighting against, and instead start acknowledging, accepting & working with?
🪩 What is one thought about this part of yourself that suggests this part of you is broken?
(e.g. a thought that comes up when you're being hard on yourself)
🪩 If a friend said that about themselves, what would you say in response to comfort and reassure them that they are not broken, and it's okay that part of them exists? 
🪩 Turn your response to the previous question into a sentence that you can regularly say to yourself to give yourself comfort and reassurance that it's okay for that part of yourself to be what it is 💖
🪩 Once you've decided on something that you want to remind yourself of why not pop it on a post it note and stick it somewhere you'll see it every day. If that doesn't work for you, what else could you do to keep it handy so you remember to say it to yourself when you need it?
I'd love to hear your reflections on giving yourself permission to trust yourself and doing it your own way – tag me (@unicornfactoryuk) in your posts and stories so I can see and share them! 
Want to hear about the stories of my designs as they unfold? Join us over on Ko-Fi from £3 a month and you'll get regular updates on my design process, the challenges and other random thoughts throughout the month!
You also get TWO bundles of Feel Goodies in your first month – if you join by Tuesday 31st October that will be instant access to our current You are a Glitterball digital & printable goodies AND the November goodies as soon as they're released – PLUS a FREE copy of The Little Book of Easy Creativity eBook (worth £6) to support you on your own creative journey!
Every month I share a free planner calendar via email that features the pattern & quote for the month ahead. Join our email list to get instant access to the current calendar, and look out for a new one at the end of each month!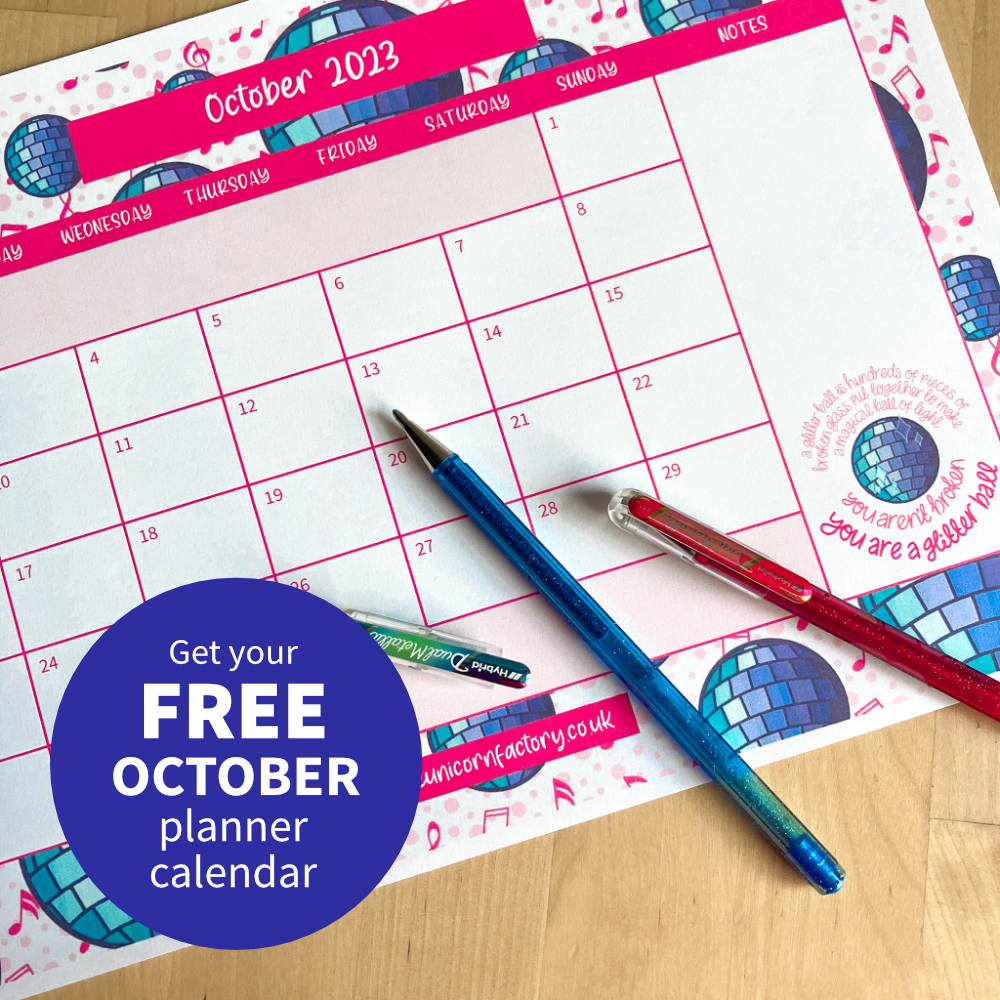 Keep up to date with my latest designs...