Join us by the 31st August to get the Rockpool Fun digital & printable goodies
If you love joyful illustrations and patterns bursting with colour then you're in the right place! I'm on a creative adventure and I'd love to have you along for the ride as I get into surface pattern & print design…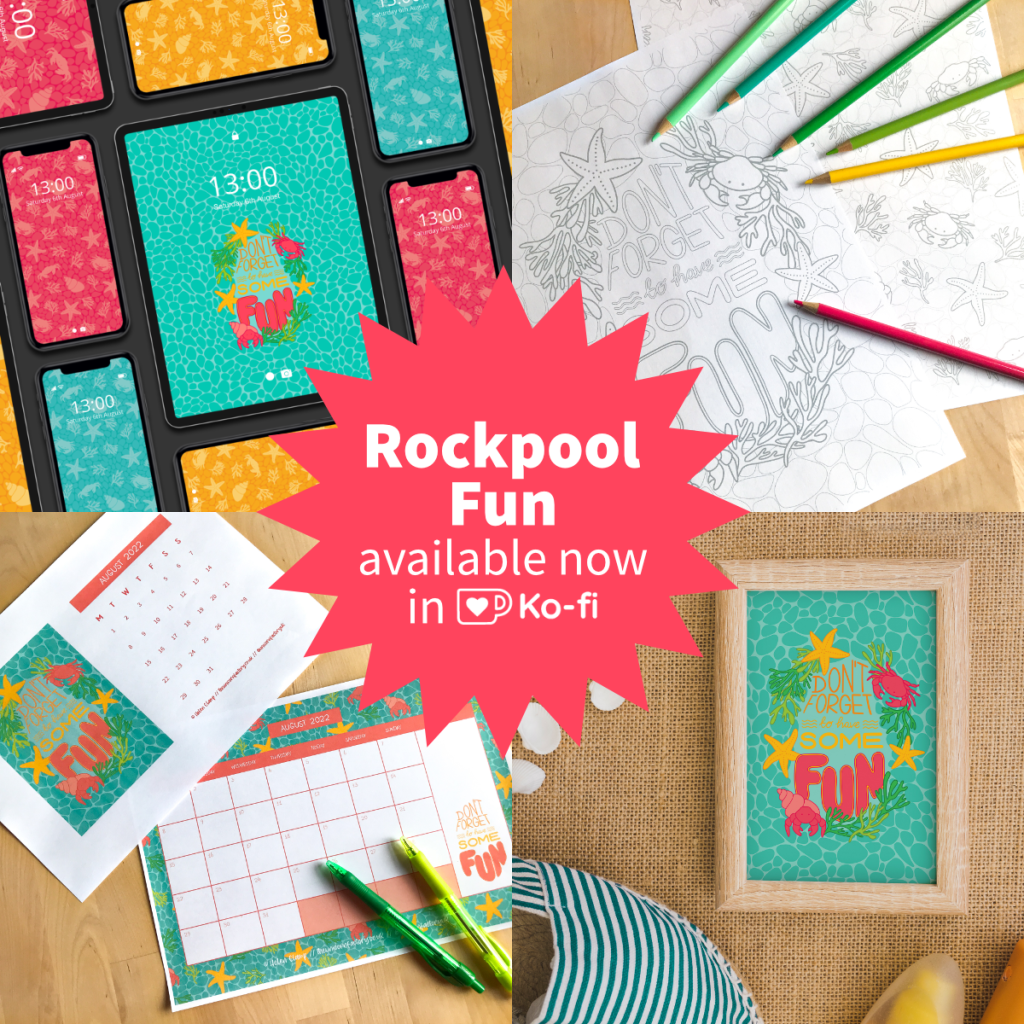 Every month you can…
…enjoy my illustrations
> Wallpaper backgrounds for phone, tablet & laptop/desktop – sized to work with any make & model of device
> Art Prints – This will print nicely any size up to A4. You'll find a printing guide on the download page too to help you get the best results.
> Calendar Planner pages – A new calendar & calendar planner every month
…get creative
> Colouring Pages – PDF & JPG versions so you can print & colour or use with a digital drawing app
> Creative prompt & drawing pages – Draw my illustration in your own style or come up with your own creation on this theme! Alternatively you could do something in any other crafty or creative medium… baking, crochet, lego, sewing… whatever it is that floats your boat your joyful creativity is welcome here!
…see behind the scenes 
> Sneek peeks at what's coming next & updates on my adventures in surface pattern design
PLUS get 20% off in our shop events
> Shop Discounts – My Ko-Fi shop opens periodically with digital, printable & even sometimes physical items to buy. Members get a minimum of 20% OFF as an automatic discount (except items raising money for charity)
Every tier gets the same goodies. You can choose to pay £3, £6 or £12 depending on what feels right for you and what you can afford. 
I know some people really want to join and £3 a month (the equivalent of buying me a cuppa) is what's doable for them whereas others are in a more comfortable position and have wanted to contribute at the top tier every month, so I've created the tiers to give everyone the choice to do what works for them.
If I was selling items individually on somewhere like Etsy they'd probably come to about £15 for all the different downloads, so whichever tier you're on it's a good deal – and I appreciate the support at any level!
Since July 2021 I've been sharing regular doses of creative joy – there's creative prompts & new digital goodies for members every month!
Whether you find your joy in appreciating things others have created or you like to give it a go yourself, you'll find something for you here. Every month I design digital backgrounds for your devices and art prints for you to enjoy, and there's colouring and creative prompts for people who want to get in on the creating themselves! 

Ko-Fi is a way to support a creator to create more of the things you enjoy and be a bigger part of their community! Lots of artists and creators around the world use it as a way to let their biggest supporters get more involved in what they do and thank them with exclusive and goodies that either aren't available anywhere else, or made available to Ko-Fi supporters before anyone else and at less that the retail price! 
By supporting me, you help me make this business a little more viable and in return you get exclusive content and various goodies to say thank you!

1. Go to ko-fi.com/unicornfactoryuk 
2. MOBILE ONLY – Click the "tip" button 
3. Click 'Join' on your selected tier – £3, £6 or £12 a month
4. Enter your address, email address & name
5. Pay with PayPal or card
6. Choose your password
7. And you're done 🥳🥳🥳 Use the link in the welcome message (or the monthly goodies Ko-Fi post) to download the monthly digital goodies! 
Note: You pay when you join and then on the same date every month after that. You can change tiers or cancel at any time, any changes take effect from your next payment date (e.g. if you join us on the 24th May, your next payment will come out on the 24th June or you can cancel by the 23rd June and you won't be charged again)

Below are a few questions I've been asked so far… if you have any others just get in touch and I'll get back to you asap
What is a tier?
Tier is the word Ko-Fi uses to describe the different packages of goodies you can get when you sign up to support someone. I use a pay-what-you-can approach so everyone can get the rewards regardless of what level they can currently support me at.
How do I pay? Can I use PayPal?
You can pay with card or via PayPal, just follow the instructions on the Ko-Fi website when you sign up
When do I get charged?
You will pay when you sign up and get immediate access to the goodies for that month – then you get charged on that same date every month (e.g. If you sign up on the 24th May, then you will pay again on the 24th June and the 24th of each month after that)
What if I want to pledge more to support you?
Firstly a MASSIVE thank you – every extra bit of support is so gratefully recieved. The tier prices are a minimum charge for those rewards so when you check out you will notice it says 'Pay what you want' and you can enter any amount above the tier price in this box.
What do I get access to when I join The Unicorn Factory on Ko-Fi?
When you join you get immediate access to the goodies for the current month in your welcome message and email. You also have access to all the previous months goodies if you scroll back through the Ko-Fi posts.
Am I allowed to share my digital Ko-Fi goodies?
The digital files I send you are intended for your use only and should not be sent to anyone else. However you are very welcome to print and share the colouring pages with family and friends, and the A4 art prints will make lovely gifts!
Are my Ko-Fi goodies exclusive? What does that mean?
All rewards will be exclusive to Ko-Fi members for a minimum of three months from the release date. After this I may choose to sell versions of them outside of the membership, but a majority of items are unlikely to go on general sale and will remain exclusive to members indefinitely.
Is there a Ko-Fi app?
There isn't a Ko-Fi app, but you can add the web page to the home screen of your phone or tablet so you can access & interact as easily as an app. There's more information and instructions on how to add it to your home screen here
If I don't download the monthly goodies as soon as I join can I get back to them?
Yep – you'll get the link to all the monthly goodies in your welcome message and there's a post within my Ko-Fi page with the links too! If you ever have any problem finding any of your goodies just send me an email (helen@theunicornfactory.co.uk) and I'll point you in the right direction.
How often will you send updates and how do I see them?
I am aiming to share behind the scenes updates at least once a week and you can read them via email or by logging into the Ko-Fi website. To edit your email notifications in Ko-Fi go to 'Settings' > 'More…' > 'Account & Billing' > 'Manage Notifications'
How do I cancel?
If you decide my Ko-Fi is no longer for you then you can log in and stop your membership whenever you want. When you're logged into Ko-Fi go to 'Settings' > 'More…' > 'Account & Billing' > 'Subscriptions'
If you pay via PayPal, and don't see the cancel option within the subscription settings you will need to go into PayPal to cancel your monthly payments.
Ko-Fi works month-to-month and your monthly payment is always taken on the same date you first signed up, that means you can cancel anytime before your next payment date and you won't be charged again – you will continue to have access until the end of the current period you've paid for.
© The Unicorn Factory 2021