I am still not quite sure how I have three pieces in the Still Studio exhibition, but against all odds my diving mermaid made it, alongside Autumn Leaves & Wetland Birds.
Once I'd started feeling a bit more confident with embroidering a fabric collage I knew I wanted to have a play with beads and my Mermaid Splash fabric felt like the perfect choice to do it with. However I wanted one big mermaid tail in the middle & I'd only sampled the fabric with the mermaids at a smaller scale so I needed to order more fabric from Spoonflower. 
Spoonflower prints orders on demand and ships from the USA. It's a fab setup for enabling me to offer an ever increasing numbers of designs on fabric & home decor, something I'd never be able to do on my own. The trade off though it that it takes time to print orders and for them to get over to the UK. 
I have been pretty lucky most of the time receiving orders in 2-3 weeks, but of course the one time I needed it to come quicker than the estimates just so happened to be the time it was the slowest, and it didn't arrive before we left on holiday.
Knowing that I HAD to post the pieces on Monday after we got back from holiday (on a Saturday evening) I figured it wasn't going to happen.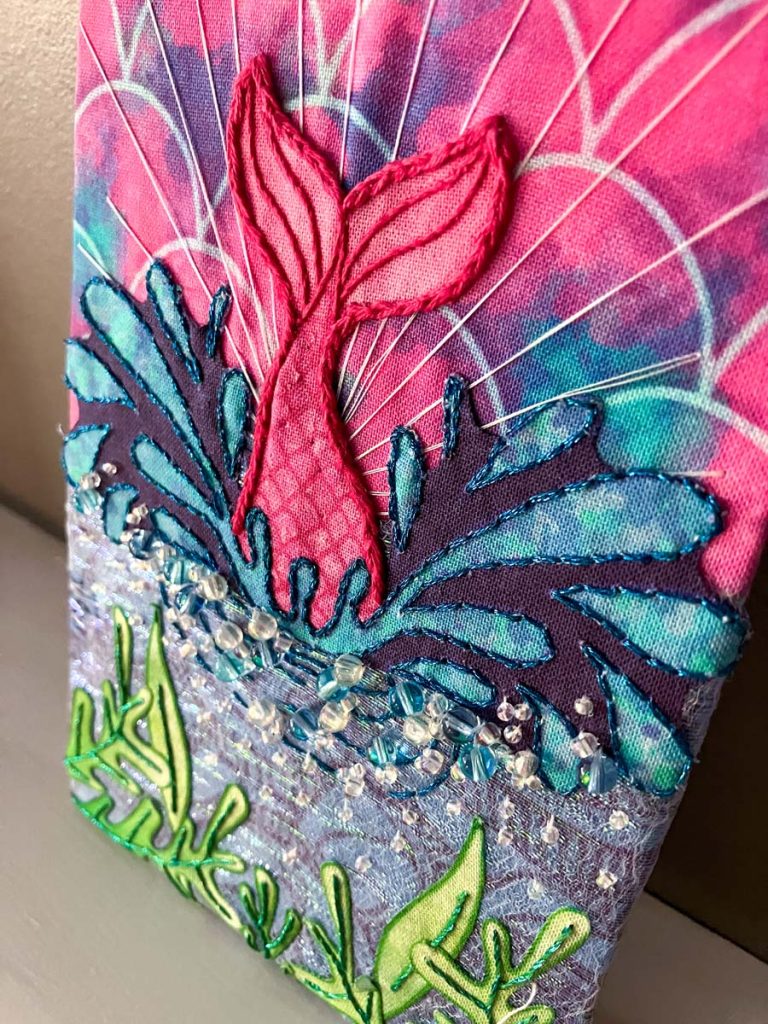 However while we were away we visited an epic craft stall (Every Home Should Have One) in Ironbridge Antiques, Art & Crafts Centre. While I was rummaging through all the treasures I found some blue beads I knew would work so well in the piece. Even though it felt like an impossibility that it could ever be ready in time, I couldn't stop thinking about stitching my mermaid. So when littleun's grandparents offered to have her to stay for a few days on our way back from holiday I decided that maybe on the Sunday I could just stitch like I've never stitched before.
On Sunday morning I got to it… and 15 hours later (plus an hour on Monday morning to mount it) my mermaid was complete!!! A massive thank you to hubby, who despite taking up our kitchen floor that Sunday, made sure I was fed and watered too!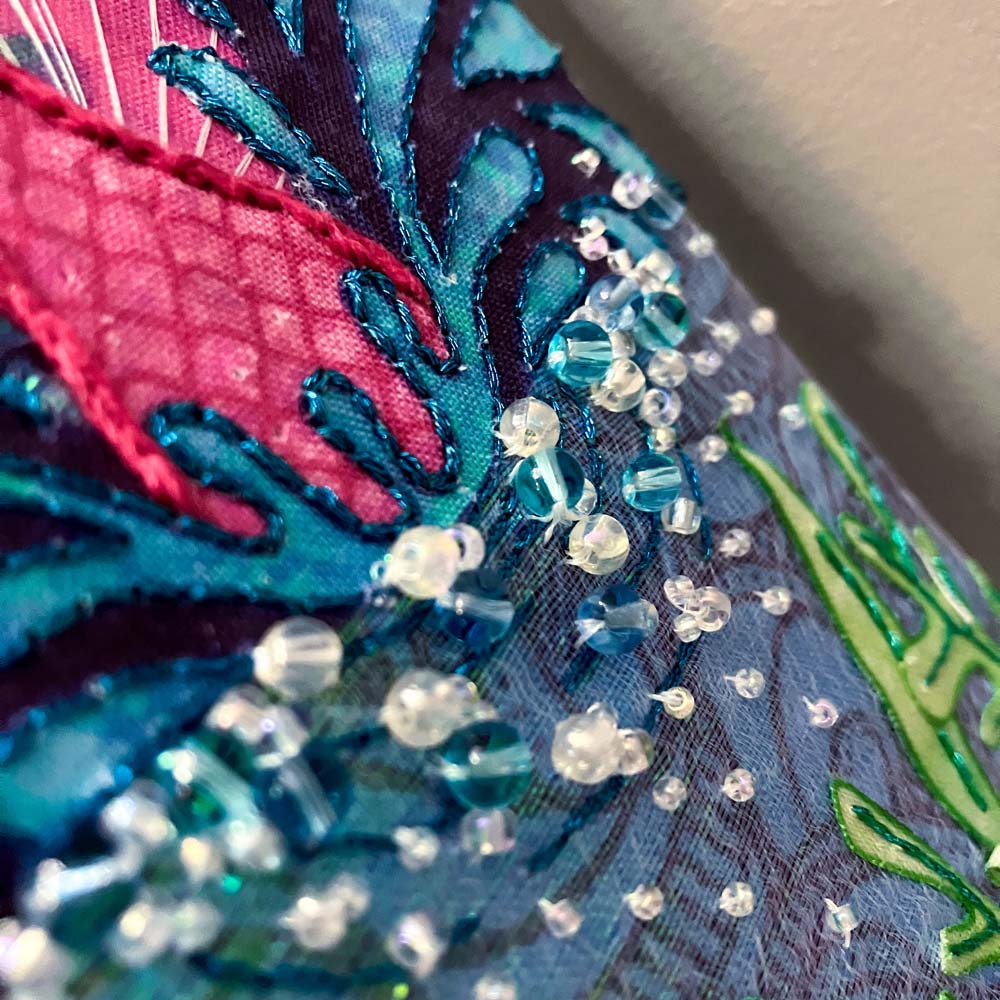 still can't believe this piece exists despite spending so long feeling it wasn't going to happen.
Like I mentioned in my Autumn Leaves post getting into embroidered fabric collage was inspired by @needle_or_thread and @sheofthewildart, and seeing all the things they've created, there were two things I really wanted to try – layering with iridescent organza and stitching with beads.
The organza wasn't actually as fiddly to work with as I thought and the iridescent effect is SO lovely.
The beads were also easier than I thought. I'd borrowed a book from the library about stitching with beads, so I could try a few different techniques and decide which approach I liked best. I had originally thought I'd stitch beads onto the splashes and the mermaid tail, but in the end I really liked just having the beads in the water. It does take some time, but I enjoyed it so much so I definitely want to stitch with beads again in future!
The only thing I'd change if I was doing it again is to add a bit of sparkle to the mermaid tail stitching. Unfortunately DMC don't do a Light Effects in a bright pink, so if I stitch a similar piece (and hopefully don't have to do it in one day this time!!!) I'll find some other threads to experiment with.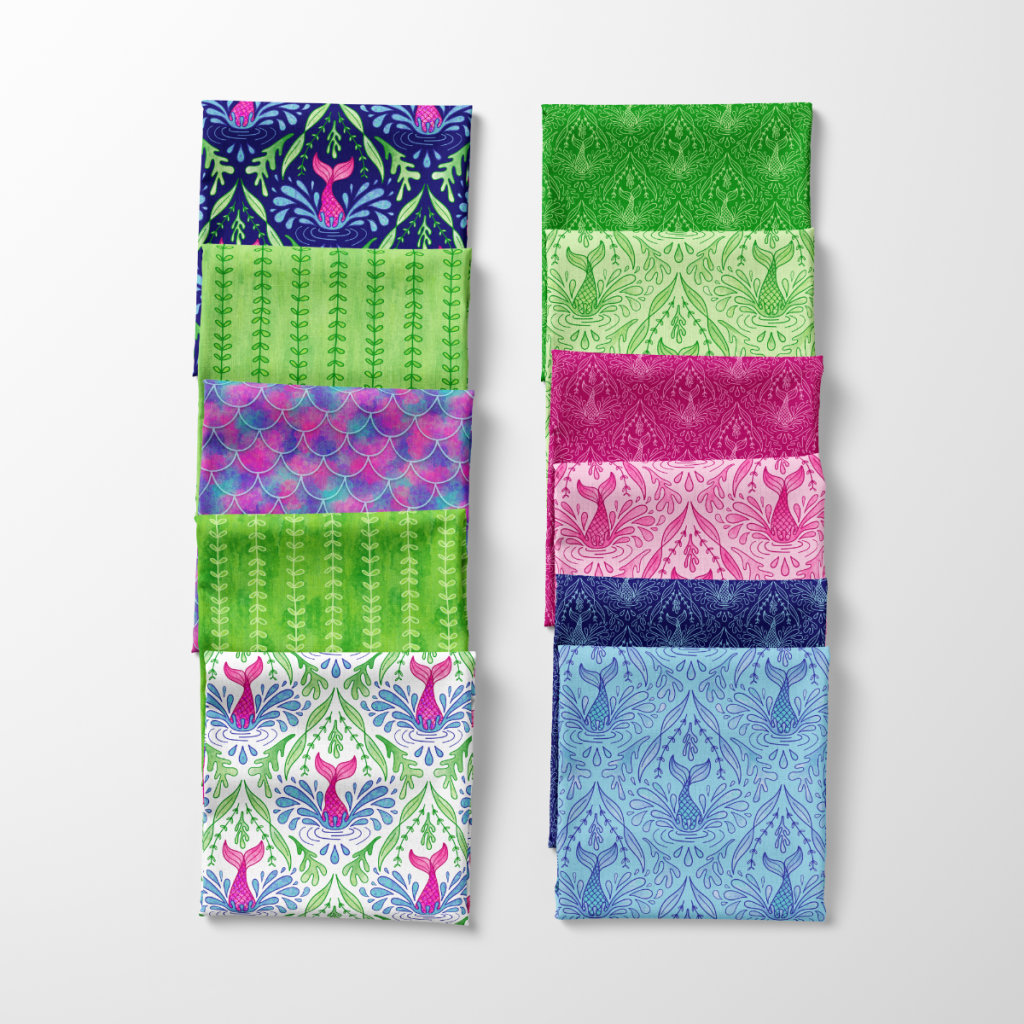 While I love all three pieces I created for the Still Studio exhibition, Mermaid Splash is probably my favourite, because I loved it so much before I'd even started stitching… so it feels unbelievable that the whole thing started from a pattern I designed back in February, which I really didn't like at all!
My first attempt at a mermaid tail design was for the February edition of  #ThePatternChallengeByMel – but the idea didn't translate out of my head very well at all. It was one of those moments of perseverance I talked about in my Wetland Birds post, but on this occasion I had to put it down and walk away for a while. I left it as something to come back to later, but with no plan about when that later might be.
Then in May there were mermaids everywhere, so it felt like the time to revisit it – and somehow out of a hot mess came something so beautiful!
Once I'd created the core pattern I designed some complementary patterns with seaweed and mermaid scales and turned it into a collection that's now available as fabric & home decor on Spoonflower.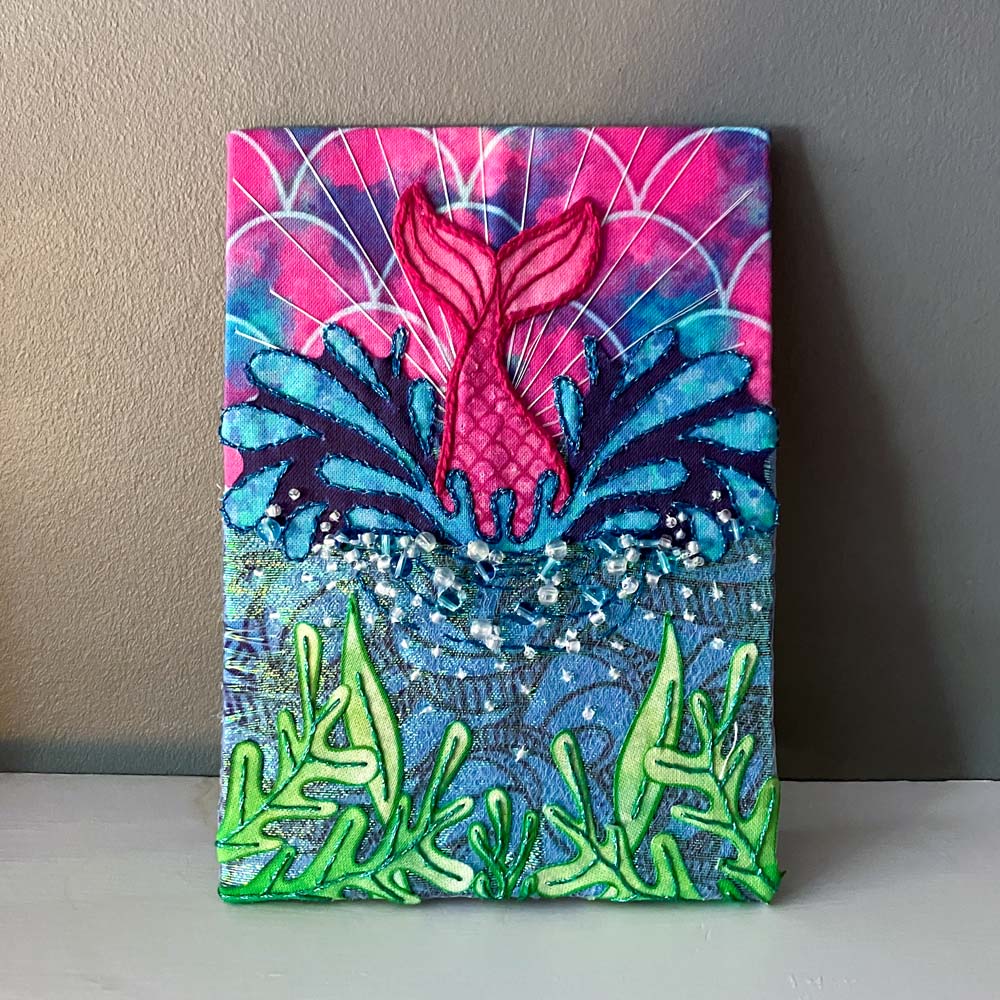 So that's the story of my final piece for the Still Studio exhibition, and if you enjoyed reading the behind the scenes of this one then take a look at the Autumn Leaves & Wetland Birds posts too!
The Still Studio Summer Postcard exhibition is open through to the 21st September. You can find it at Still Studio, Unit 5, Aire Street Workshops, 30-34 Aire Street, Leeds, LS1 4HT. The opening hours during the exhibition are:
Wednesday 13th 12pm-8pm
Thursday 14th 5pm-8pm
Tuesday 19th 10am-4pm
Wednesday 20th 10am-4pm
Thursday 21st 5pm-8pm
All three of my embroidered fabric collages, including Mermaid Splash, are available to buy at the Still Studio exhibition for £45 (Accounting for time & materials future similar pieces to Mermaid Splash will be around £210). If you'd like to purchase this piece and can't make it to the exhibition in Leeds then email Still Studio (hello@stillstudio.co.uk) to enquire about purchasing Wetland Birds (105) by Helen Clamp. And if it turns out it's already been snapped up you can find out more about commissioning something similar here.
I'm already plotting my next adventure with embroidered fabric collage, so if you'd like to keep up to date with what I'm created then sign up for email updates to make sure you don't miss out!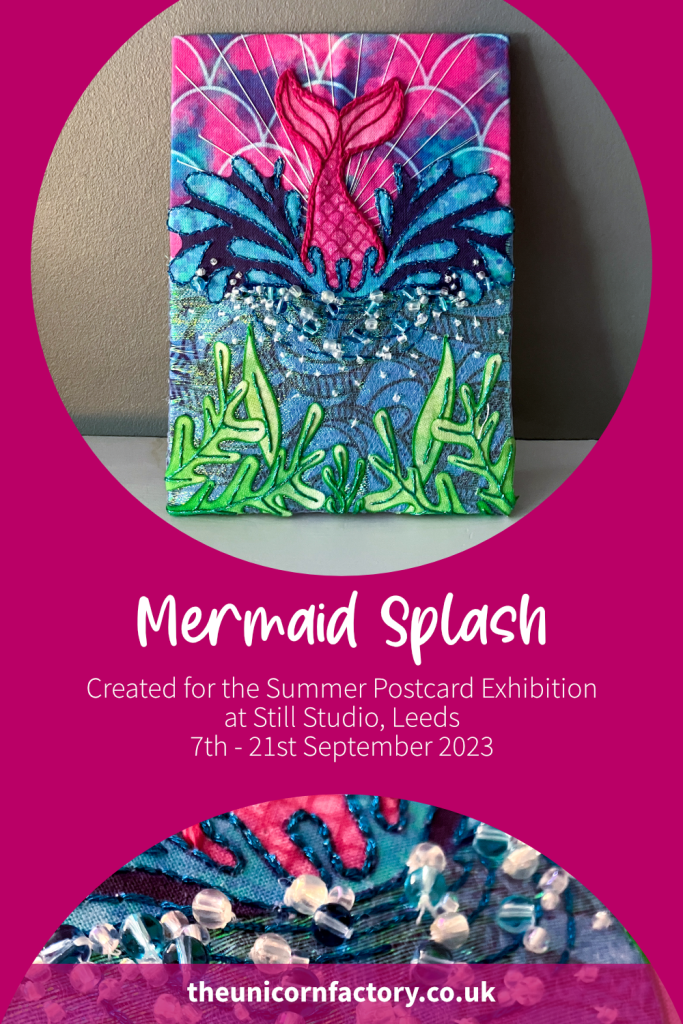 Every month I share a free planner calendar via email that features the pattern & quote for the month ahead. Join our email list to get instant access to the current calendar, and look out for a new one at the end of each month!

Keep up to date with my latest designs...