Rather predictably I didn't hit the deadline I'd originally set myself for finishing my pieces for the Still Studio exhibition 😂 In fact I'd taken so long to figure out how to turn my Spoonflower fabric proofs into embroidered collages that I'd only just put the composition together for my second one – Wetland Birds – as we left for holiday! So I packed all my bits and bobs up into my embroidery pouch and took it with me!
The first few stitches at home went really well, but when I picked it up again in our little AirBnB in Ironbridge those scallop lines quickly became my nemesis! There were a few evenings of frustration where I thought it would just end up such a mess that I wouldn't be submitting it.
However one thing I've learned from pattern designing is to keep going and see where it takes you. Sometimes it doesn't end up working at all, sometimes it's something that I'll come back to & try again later, and sometimes it actually all turns out okay on the other side… and somehow, despite my total loss of belief it could be what I wanted it to be, this ended up being one of those times!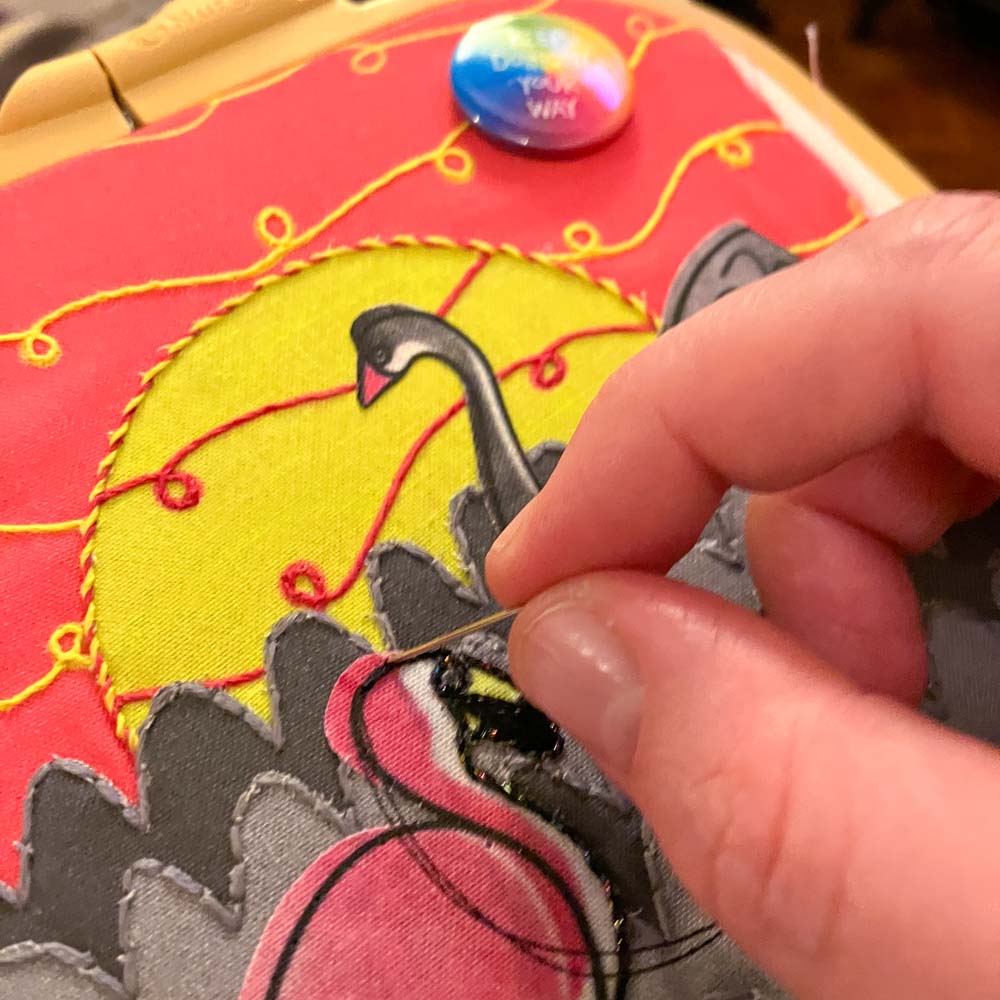 Once I'd got over the hump of stitching the scalloped lines, and survived them being far more fiddly than initially expected, I moved on to the pink & yellow of the sky & the sun. That bit was a total joy, a much needed bit of straightforward embroidery after quite a few struggles!
The birds were the final bit of stitching to do, and I'd originally planned to just use regular black cotton thread for those, but when I reached that point I realised that wasn't going to look good enough as I really wanted them to pop against the background. 
(Fun Fact – if you look through my designs you'll notice I NEVER outline stuff in black so my wetland birds are a little different for me!) 
I knew I needed something different but wasn't quite sure what. It didn't help that at this point I realised I'd somehow forgotten to pack my practice hoop & scrap fabric 🙄😫
Thankfully a lovely little craft shop came to the rescue (Allsorts Wool & Fabric in Madeley, Telford) where I picked up a spare hoop, some white cotton, DMC Light Effects E310 and Gutermann metallic black thread, so I could play with different ideas for outlining the birds. In the end I went for stitching the back stitch in the DMC and then whipping it with the Gutermann, which has multicoloured glitter running through it, which gives it a little something extra.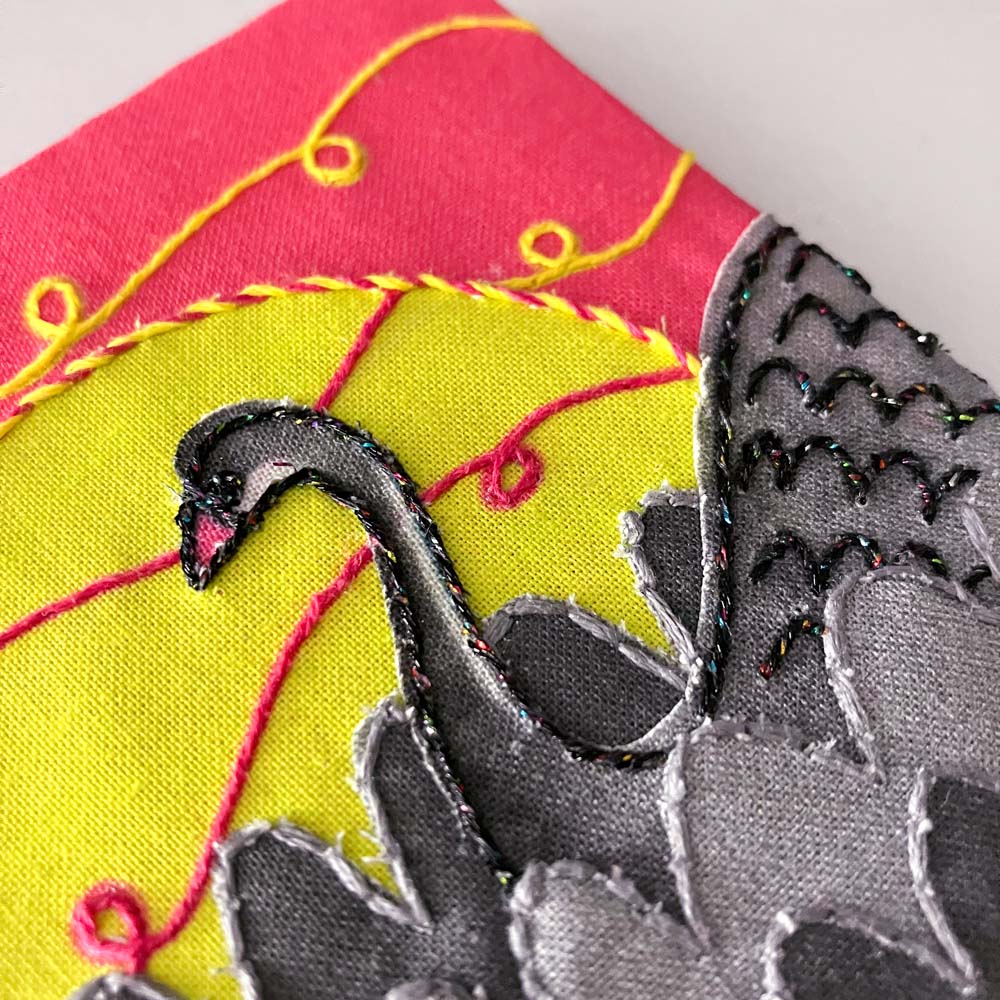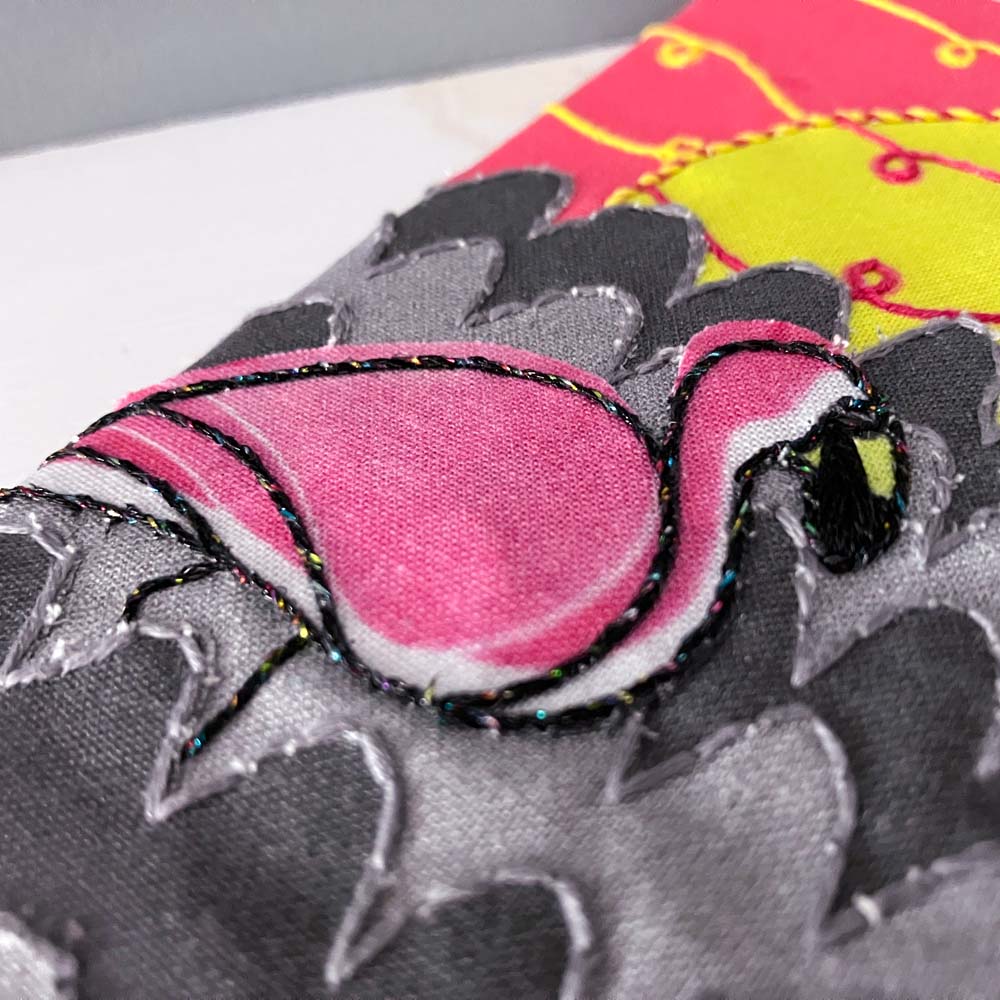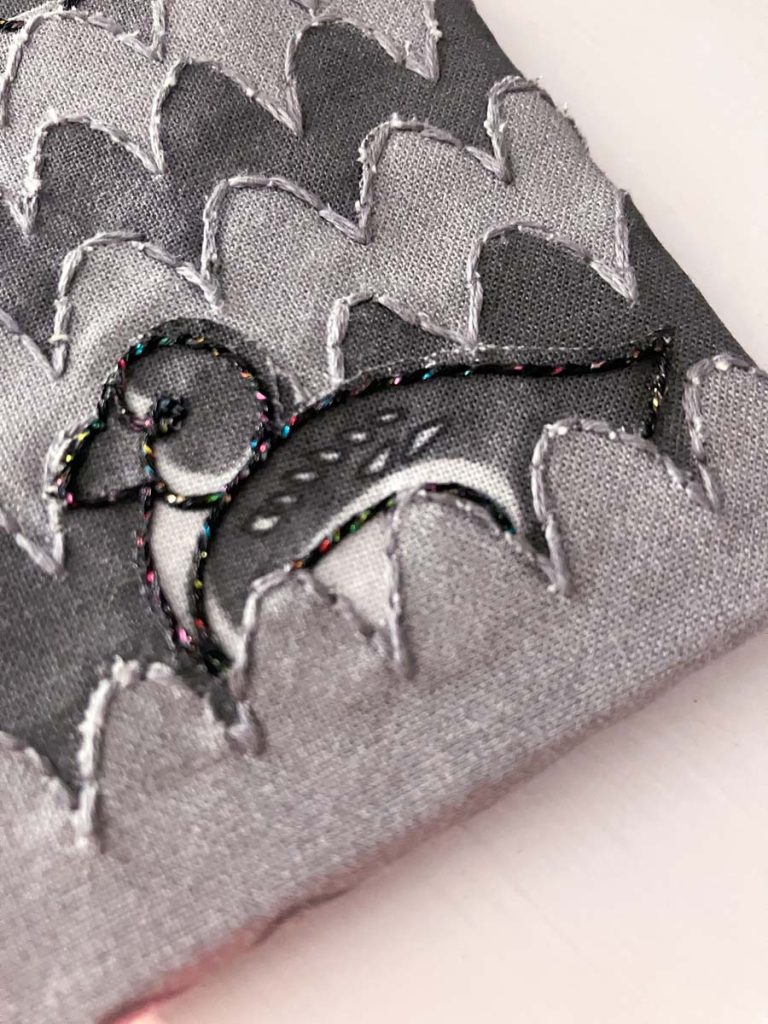 I still can't quite believe how this piece went from something I thought wasn't going to work to something I love so much – another reminder that it can be worth seeing something through even if it feels like it's all going wrong!
The fabric I used in this Wetland Birds embroidered fabric collage was a LONG time in the making. We've been members of WWT since littleun was a toddler because it's such a lovely place to wander for a chilled couple of hours and even all these years on she still loves a day out WWT Slimbridge whenever we suggest it.
At some point on one of our wanders two or so years ago an idea started forming for a pattern and every time we visited it would develop in my head, but it wasn't until earlier this year I finally decided to bring it to life. In fact the reason it had taken me so long was because I was so in love with the idea of it I was too scared to actually design it and not do it justice.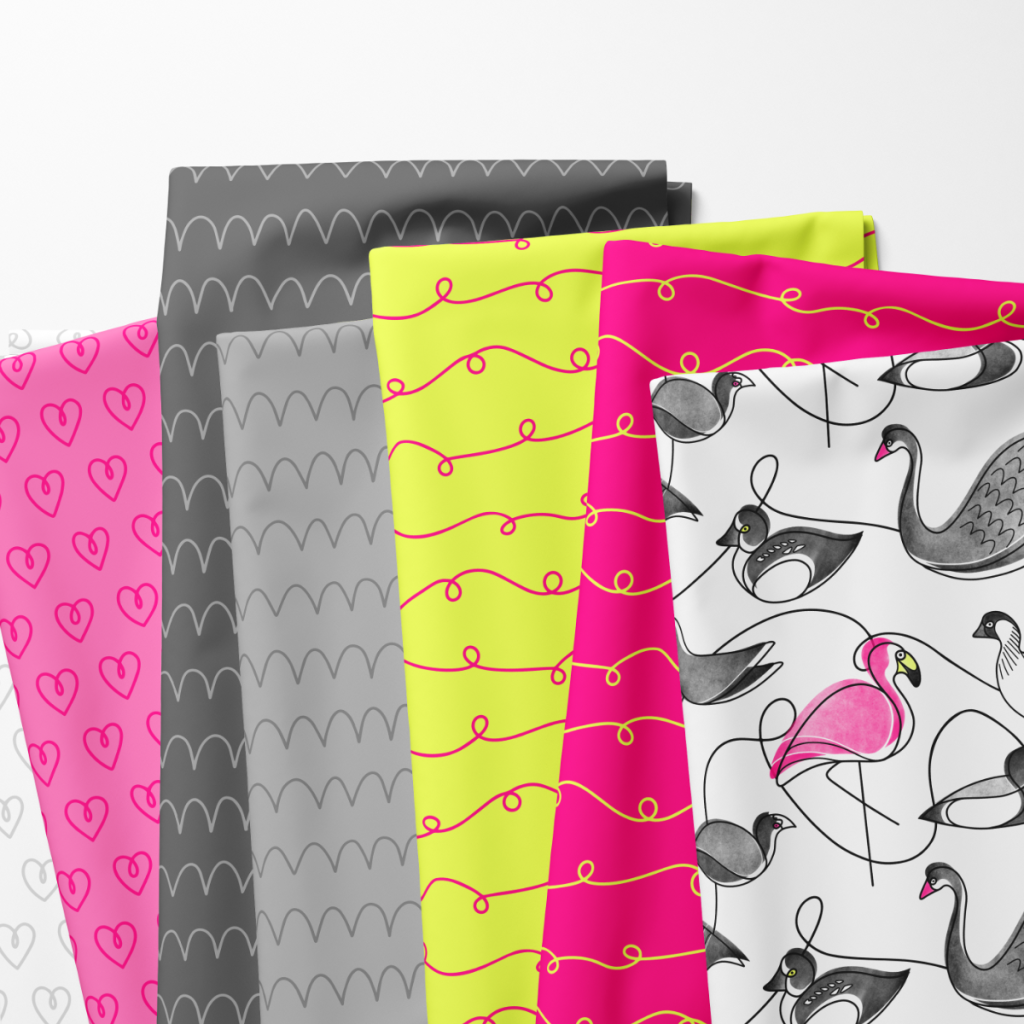 However I finally pushed myself to make it a reality and I am SO glad I did. It's a little different to my usual style, although still feels very much me, and it was also the design that really pushed me back into using watercolours in my patterns, which is something I used to do right at the beginning of my pattern design adventures. I went on to design some complementary patterns for it, and now the whole collection is available as fabric & home decor on Spoonflower.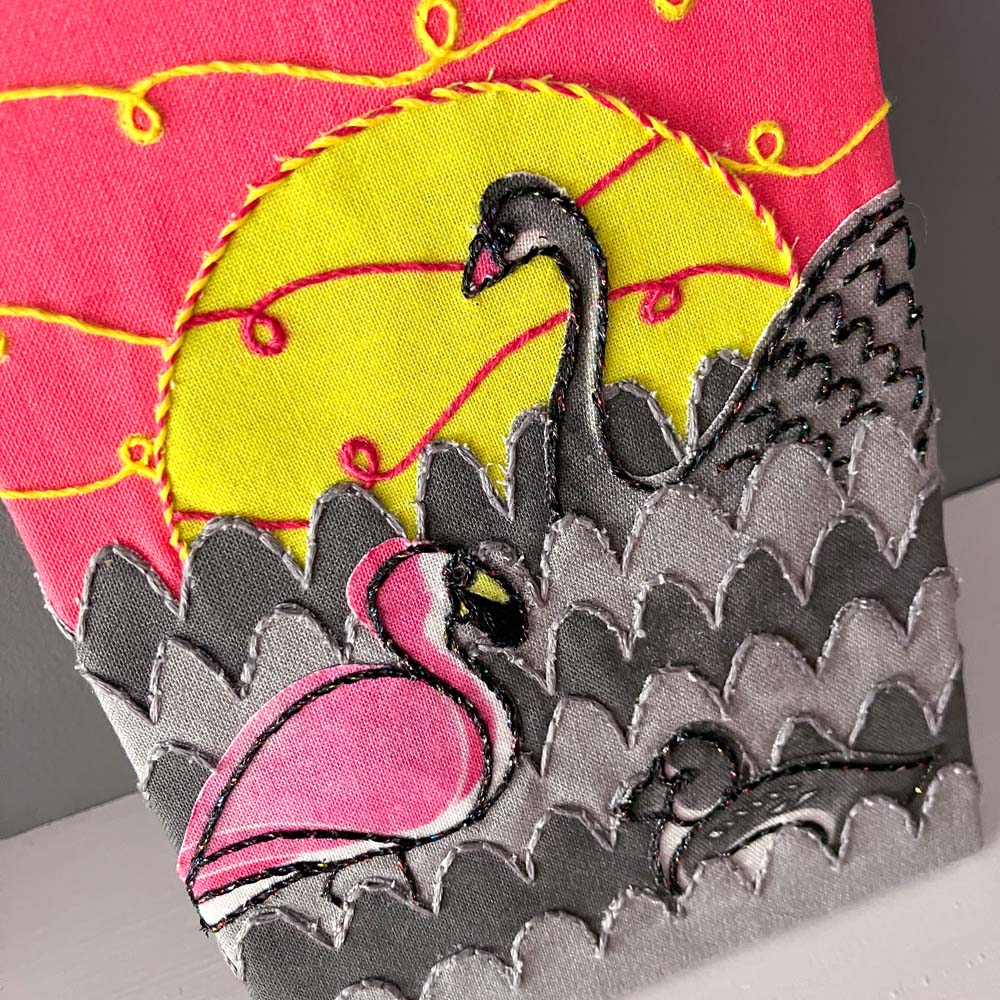 It feels like such a milestone to be able to exhibit my work, and see it alongside all so many other wonderful artists. While I do call myself an artist, there are also plenty of voices of self-doubt in my head that sometimes like to point out all the reasons why my art & designs don't count. So it's felt really important to take this opportunity to publicly recognise myself as an artist & hopefully there will be more opportunities like this to create & showcase my work in future!
I really appreciate everything Still Studio have done to create an accessible exhibition that allows people to exhibit their work who otherwise wouldn't know where to start! 
The Still Studio Summer Postcard exhibition is open through to the 21st September. You can find it at Still Studio, Unit 5, Aire Street Workshops, 30-34 Aire Street, Leeds, LS1 4HT. The opening hours during the exhibition are:
Tuesday 12th 10am-4pm
Wednesday 13th 12pm-8pm
Thursday 14th 5pm-8pm
Tuesday 19th 10am-4pm
Wednesday 20th 10am-4pm
Thursday 21st 5pm-8pm
All three of my embroidered fabric collages, including Wetland Birds, are available to buy at the Still Studio exhibition for £45 (Accounting for time & materials future similar pieces to Autumn Leaves will be around £160). If you'd like to purchase this piece and can't make it to the exhibition in Leeds then email Still Studio (hello@stillstudio.co.uk) to enquire about purchasing Wetland Birds (105) by Helen Clamp. And if it turns out it's already been snapped up you can find out more about commissioning something similar here.
If you enjoyed this post then have a read of my previous post about developing my Autumn Leaves artwork for the Still Studio exhibition.
Later this week I'll be sharing the third & final post about how Mermaid Splash came together – get email updates to make sure you don't miss out!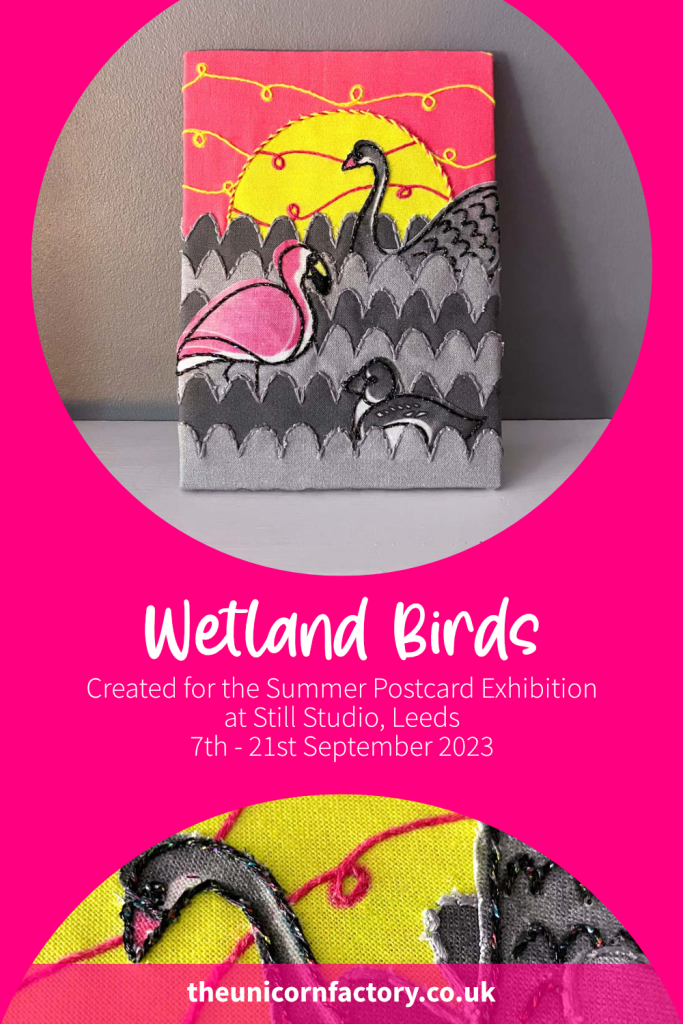 Every month I share a free planner calendar via email that features the pattern & quote for the month ahead. Join our email list to get instant access to the current calendar, and look out for a new one at the end of each month!

Keep up to date with my latest designs...