This year my monthly designs are all about bringing designs that have lived in my head out into the real world. 
As a 40th birthday present to myself (my birthday is towards the end of May) I asked myself what was the thing on my design to-do list that I MOST wanted to do and it was revisiting my very first collection – Rainforest Joy!
I decided to refresh and update it using the skills & experience I've developed over the past two and a half years… and I'm really happy with the result (although saying that there's still a couple more tweaks on my to-do list before I sample the fabric!)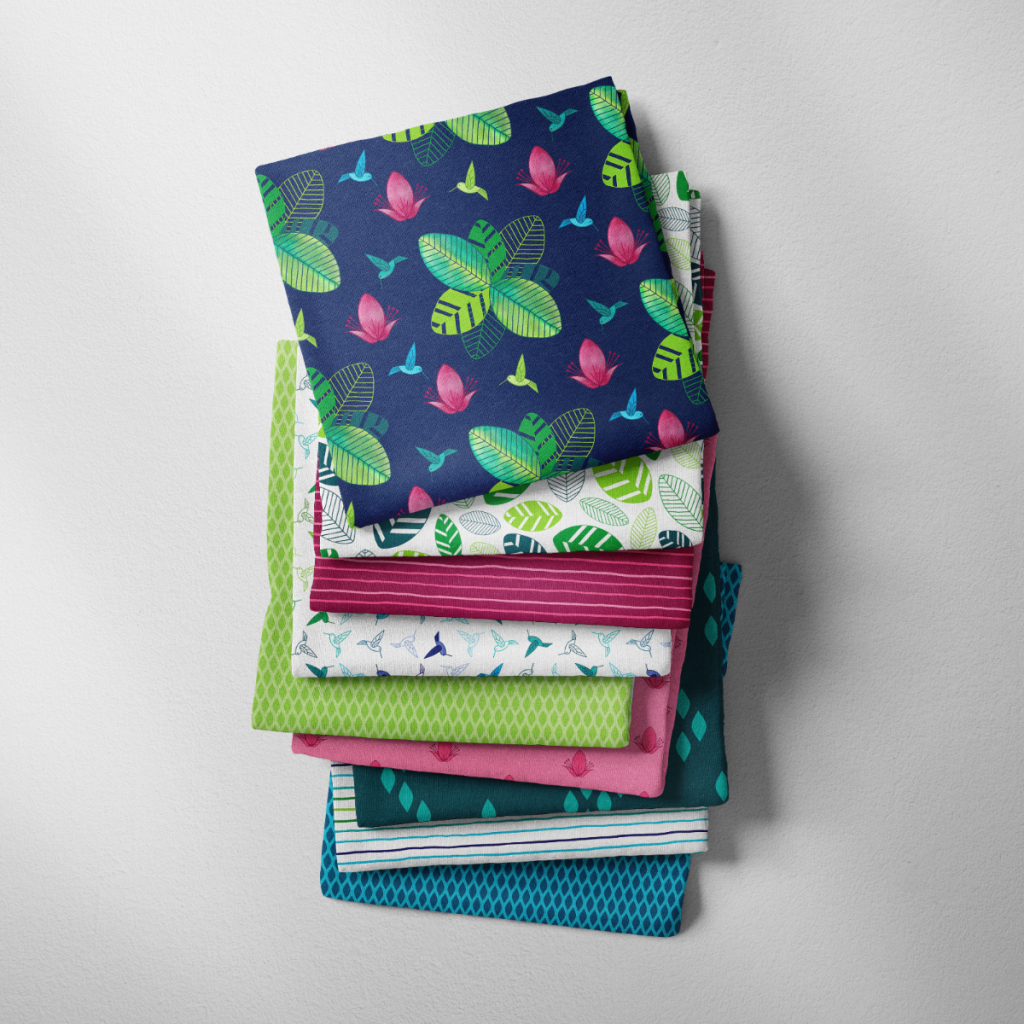 Revisiting the collection also inspired the quote for May 'Celebrate where you're at now'. 
When I launched the original Rainforest Joy collection (image above) two and a half years ago I was so proud and loved it so much, and although I want to update it now, it doesn't take anything away from the pride & joy I felt back then. 
Unlike most other areas in my life, where I annoyingly and too frequently think I'm not doing well enough, for some reason I am able to really enjoy and celebrate the designs I create as I create them, even though I know I'll be able to do them better in future.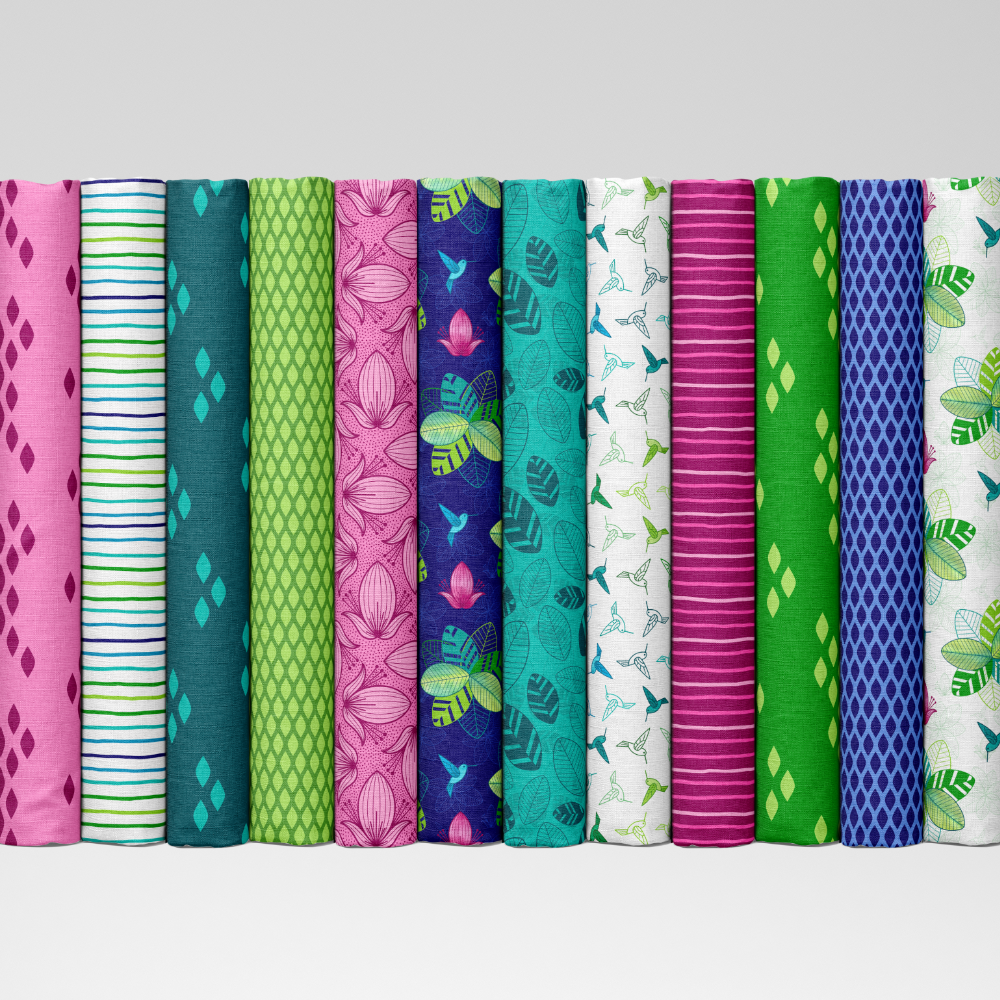 What seems to be behind not wanting to celebrate where I'm at with non-design related things, is thinking that "future me" who can do better will feel embarrassed and ashamed that I thought what I've done now it was ever worthy of celebrating. Yet for some reason when it comes to design that doesn't come up. 
I'm still very proud of the first collection I created when I didn't really have any idea of what I am doing, and I'm so happy that I enjoyed the feeling of accomplishment back then. And I'm proud of this next iteration, and in the process seeing how far I've come… even though I have no doubt in another two and half years I would do it differently again.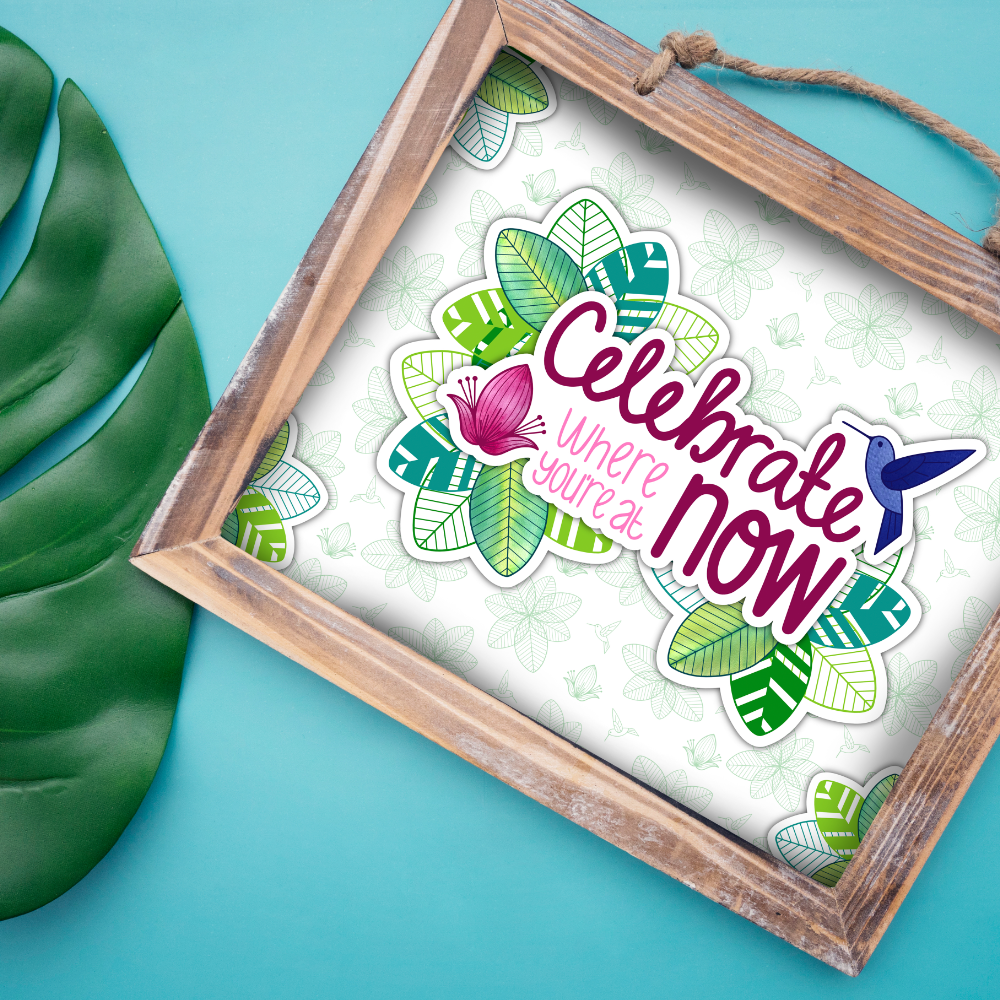 So this month's quote is a reminder of that for all the other parts of my life – that I can celebrate where I'm at now with things, even though I may do it differently or better in future. There is space for feeling good about it all!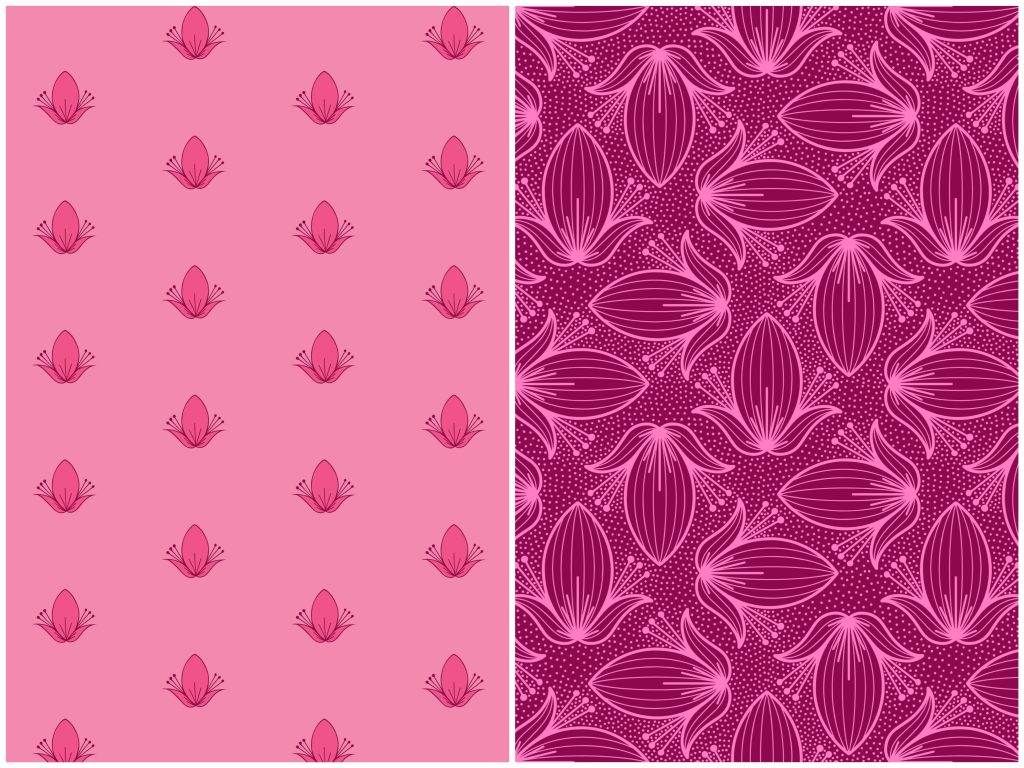 To refresh the collection I redrew the original motifs, this time drawing digitally on my iPad, however I decided to keep my original hand painted watercolour fills. It was really interesting seeing how much quicker it all comes together now I know what I'm doing – especially noticing that I now have easier ways to do things that felt fiddly and annoying back then. 
I was never really happy with my original Banana Blooms pattern (even though I tried a few different approches I'd settled for good enough) so I had a lot of fun going right back to the drawing board with that and I love what I've created with it. I can really see my new version working well as wallpaper!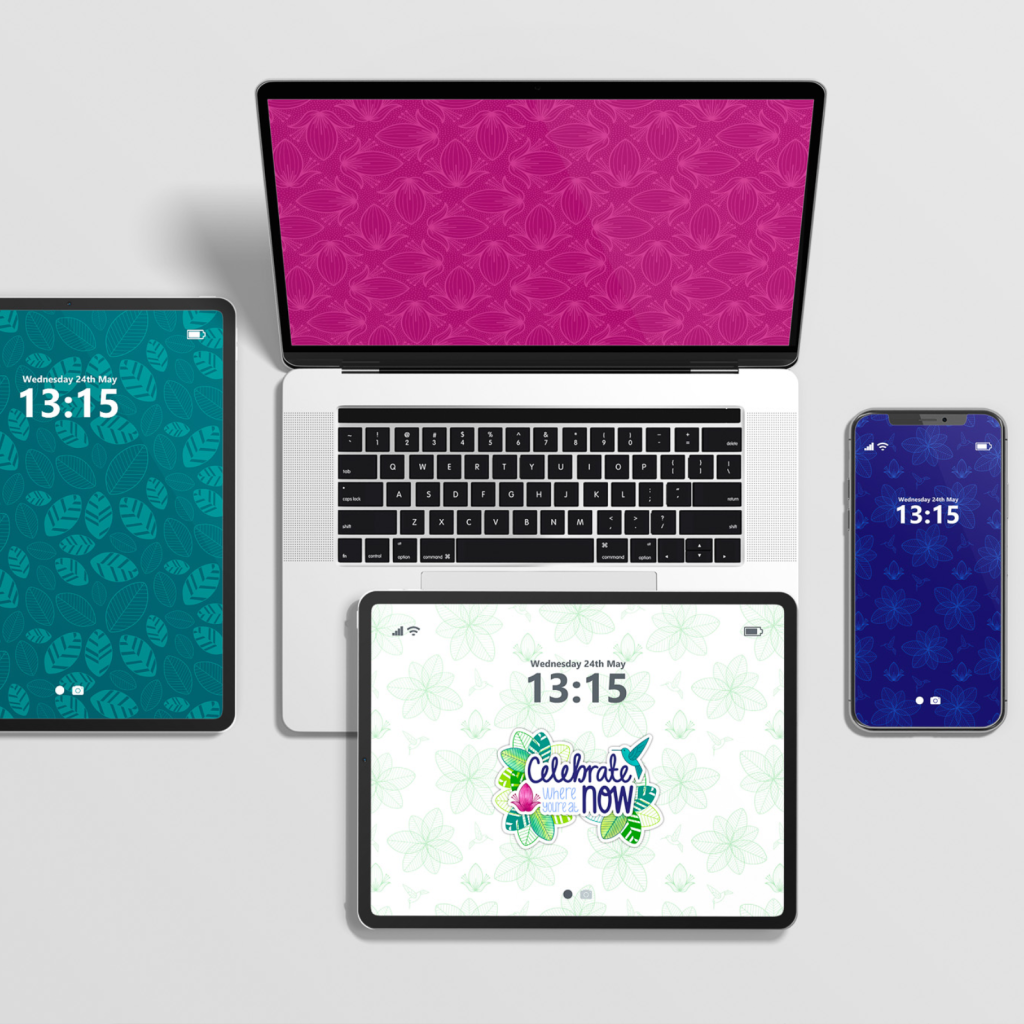 The thing that took a lot of time in this refresh was refining the colour palette. I've always been pretty instinctive about colour, but my instincts have definitely got better with time. Saying that there were lots of rounds of tweaks until I got there. 
Want to hear about the stories of my designs as they unfold? Join us over on Ko-Fi from £3 a month and you'll get regular updates on my design process, the challenges and other random thoughts throughout the month!
You also get TWO bundles of #FeelGoodies in your first month – if you join by Wednesday 31st May that will be instant access to our current RAINFOREST JOY digital & printable goodies AND next month's goodies as soon as they're released – PLUS a FREE copy of The Little Book of Easy Creativity eBook (worth £6) to support you on your own creative journey!
Every month I share a free planner calendar via email that features the pattern & quote for the month ahead. Join our email list to get instant access to the current calendar, and look out for a new one at the end of each month!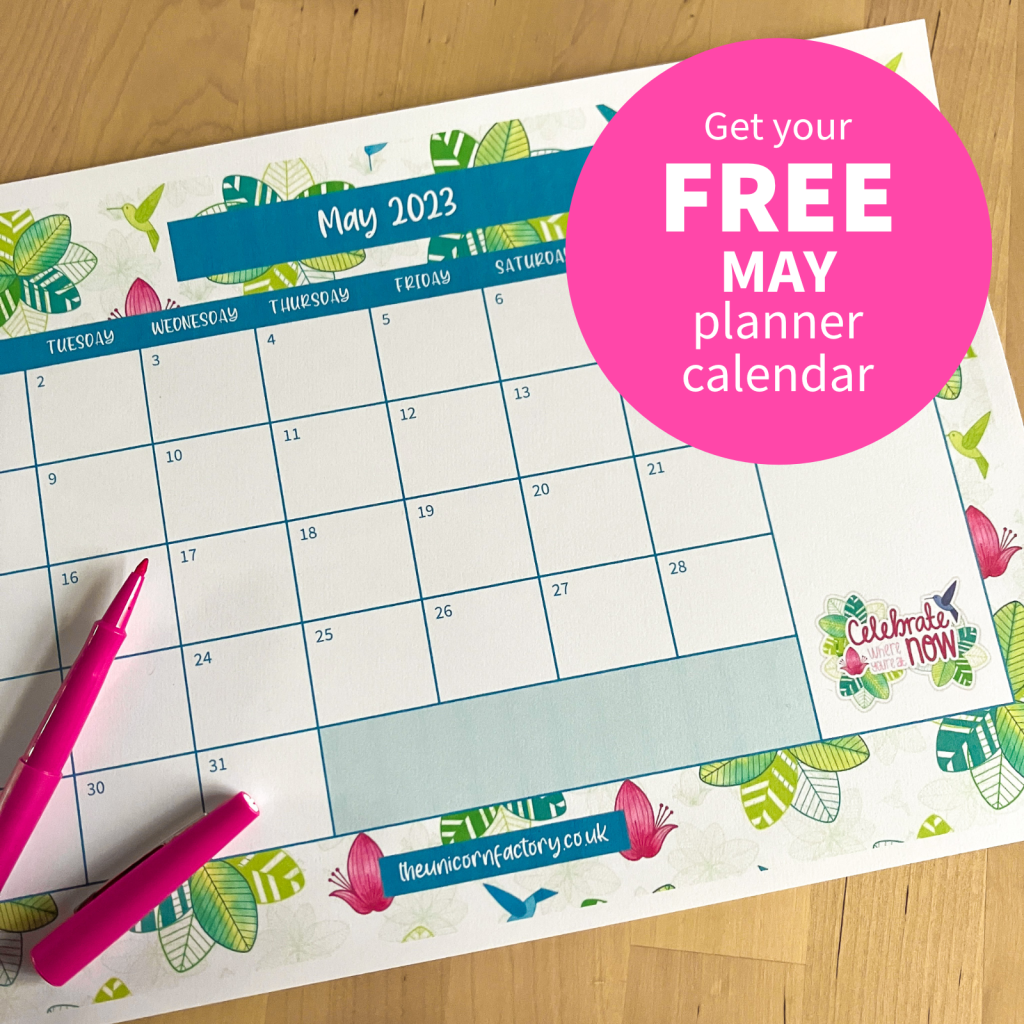 Keep up to date with my latest designs...