Every month I create a new design, which becomes digital & printable #FeelGoodies for my members over on Ko-Fi and this year 
Over a year ago, on one of our many trips to WWT Slimbridge, I had an idea for a pattern. I love looking at the flamingos, and was thinking how well their pink would pop alongside all the interesting black & dark brown birds. And despite black not being a colour I tend to use, I was really excited about it for this design. Every visit since (including trips to Martin Mere & Washington) I've been thinking about creating this pattern and which birds I wanted to include.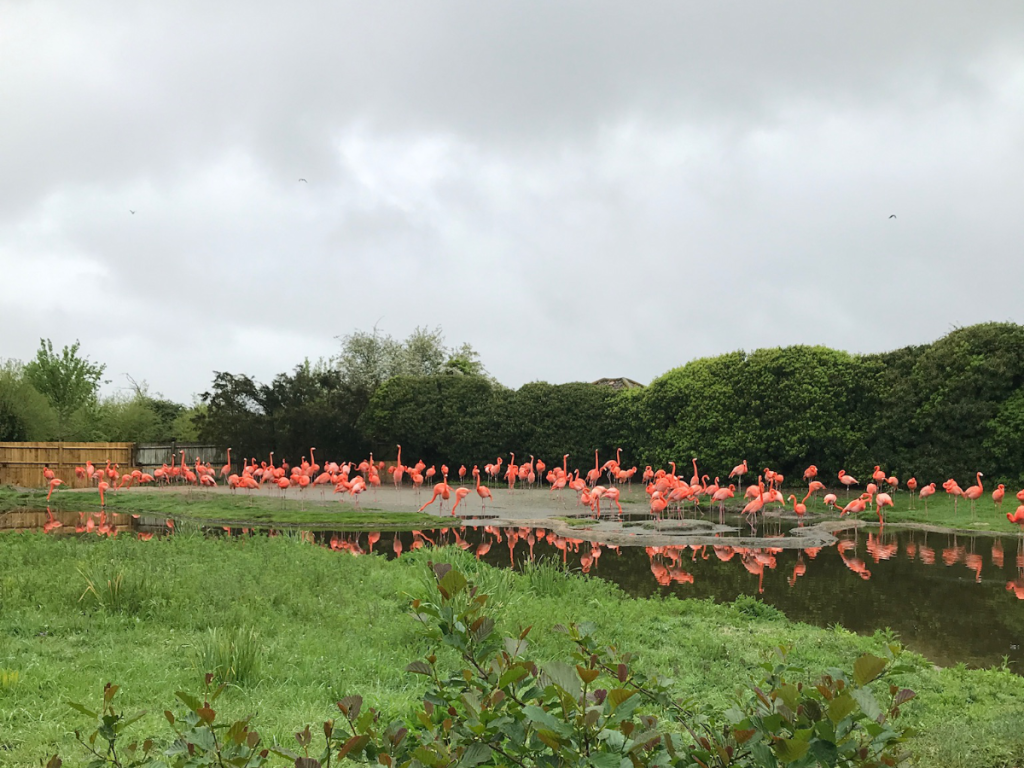 I chose Moorhens and Coots, because they are some of the first birds that littleun knew the names of and would point out. I always love it when I get to see the black swans and the Nene (Hawaiian) Geese. And finally the Barrow's Goldeneye & Lesser Scaup are birds that always catch my eye & felt like they would go really well with the others – interestingly I didn't realise (even with the Barrow's GOLDENeye name!!!) that both of these birds had yellow eyes, which worked really well with the pop of yellow in the colour scheme.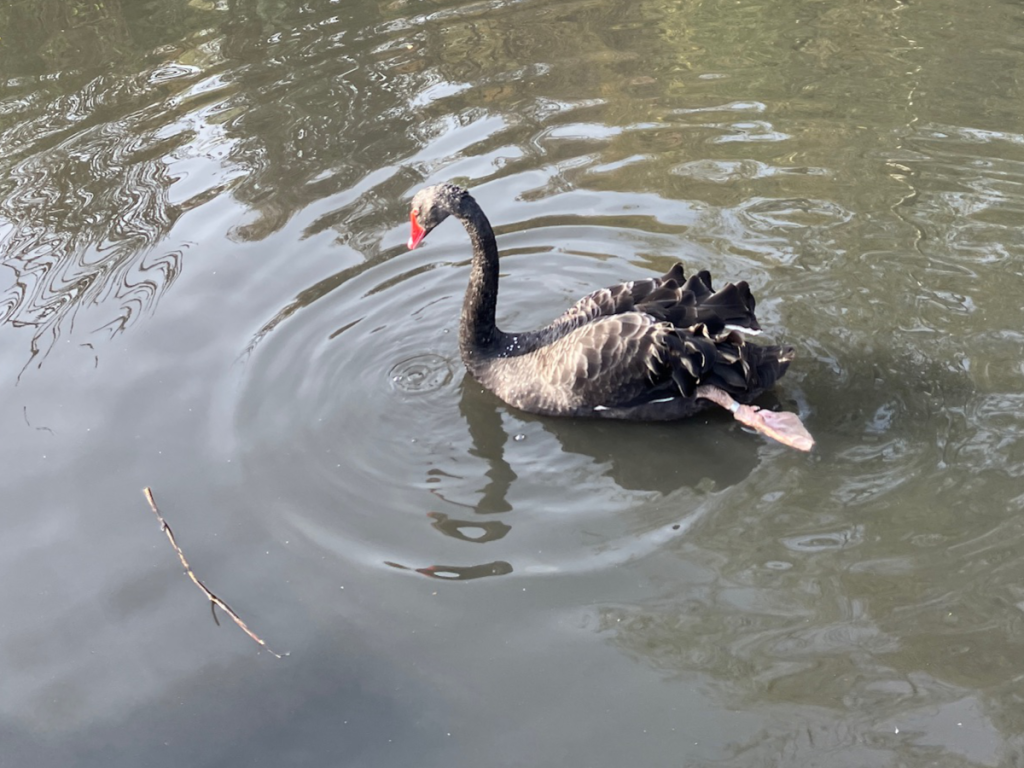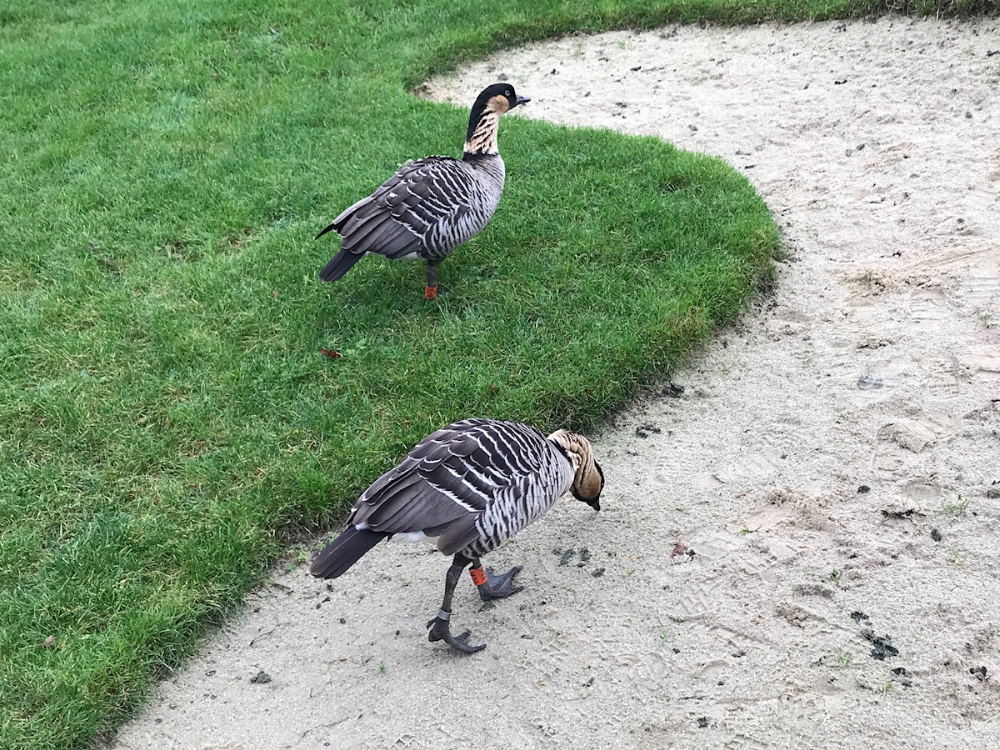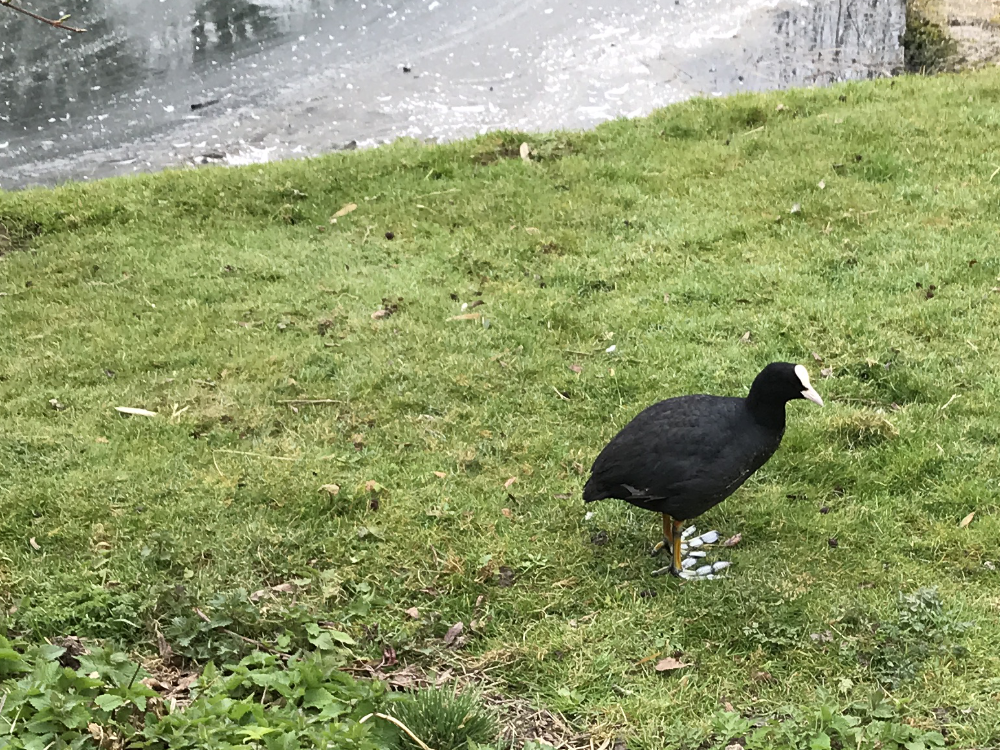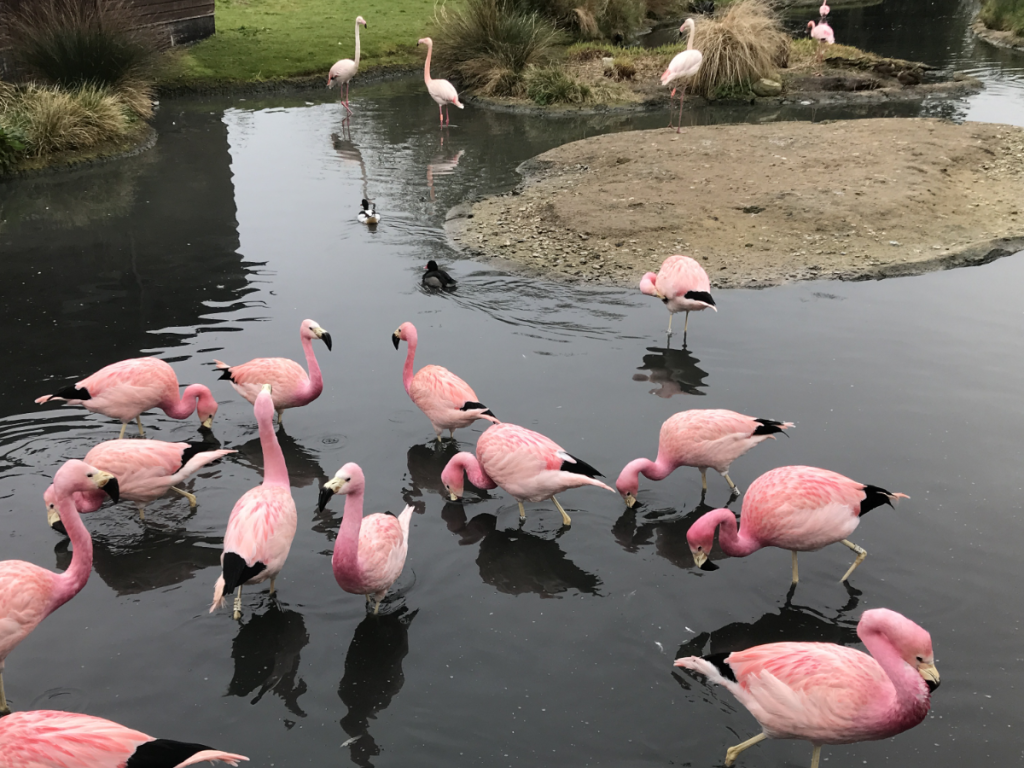 The most challenging bit of this design is that this idea means so much to me, and so i've had a lot of fear around getting it "wrong" (I know that there isn't a right way to do it… but when we're heavily emotionally invested in something our brains don't tend to do logic!) Despite being something I've wanted to create for so long, I've procrastinated with this more than I have ever procrastinated before on any design!
But I've also persevered – and I am really proud of myself for pushing on past the fear & designing something I do genuinely love. I've also had ideas for some complementary patterns to go alongside it (I'm thinking more & more like a quilter every day!) and so I'm going to design those before making them all available on Spoonflower later this year.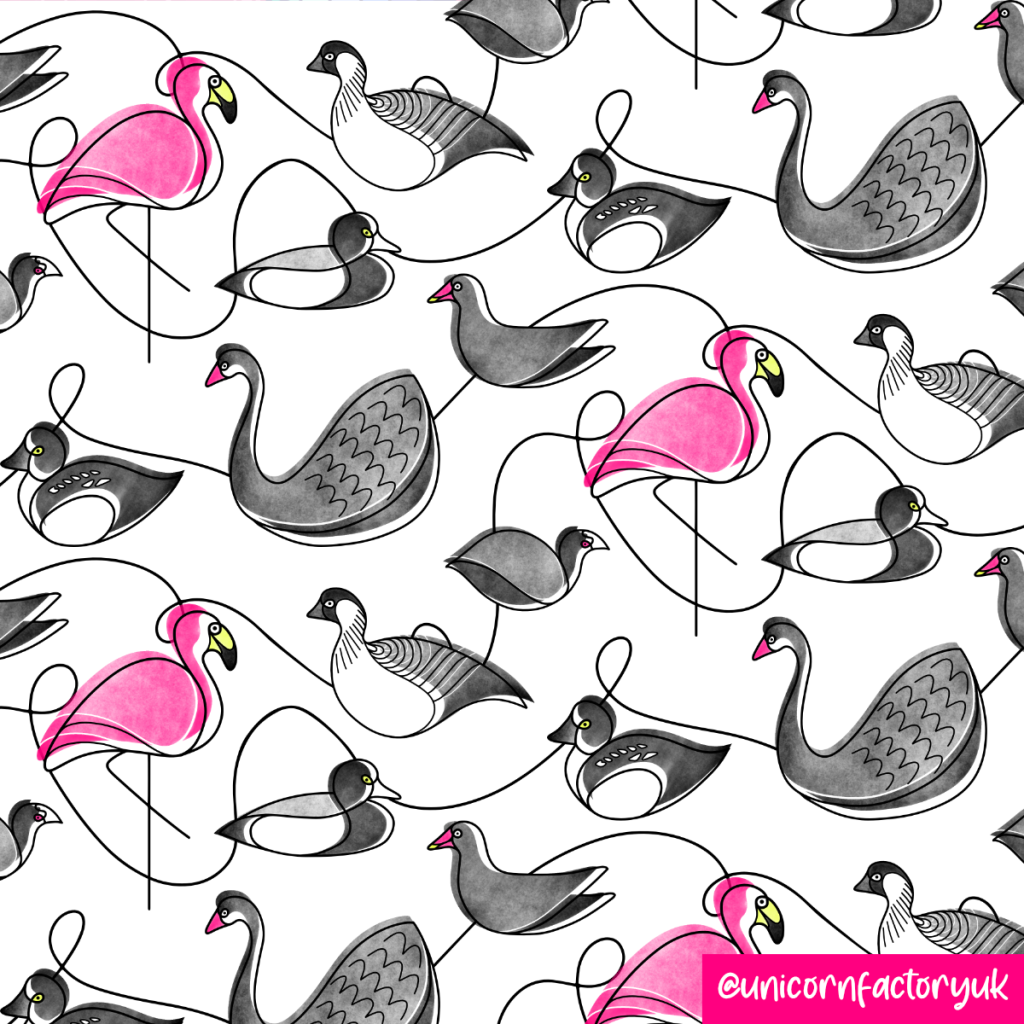 And then after all of that I still had to come up with a quote… I had known for a while where I roughly wanted to go with the quote but it took until the beginning of last week to find the exact words! Nothing like leaving it to the last minute!
I wanted that sense of "it's okay to be you" but I think so many quotes around that are about being really out there with being you. Whereas I wanted something that had space for quietness too, felt more reassuring and like a big hug.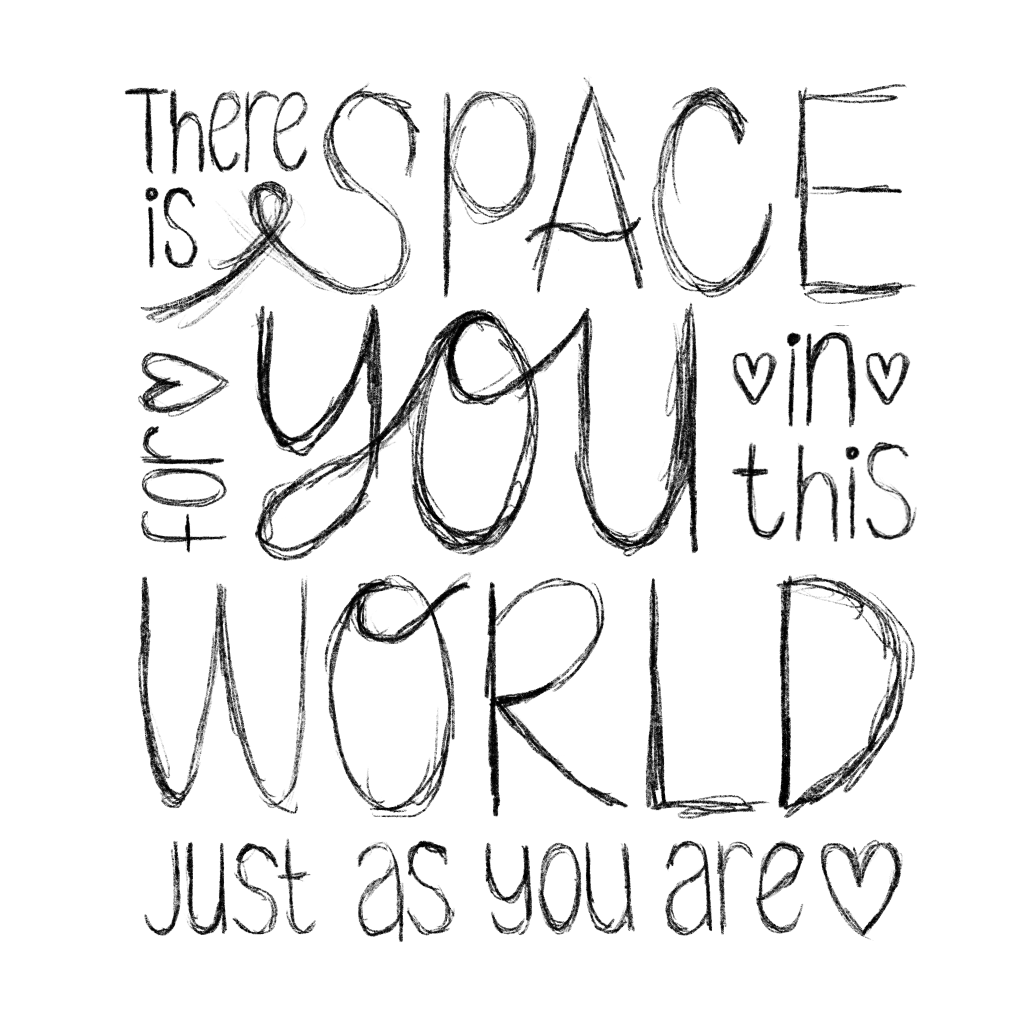 Also the initial design idea was very much about the contrast of the flamingo standing out among the black & white birds, but as I added their varying hints of colour, I realised it wasn't all about the flamingo at all. It's as much about the flamingo being bold & bright and taking up space, as it is the Nene Goose being completely black and white (although technically in real life they are brown and white!) and also being themselves in that space.
I feel like there's lots of quotes encouraging us to be like the flamingo, and even encouraging comparison and seeing people who aren't as bright & bold as being less than, but I wanted something that reminds us that it's absolutely fine to be the earthy monochrome Nene too… in short it's okay to be whatever it is that feels most like you!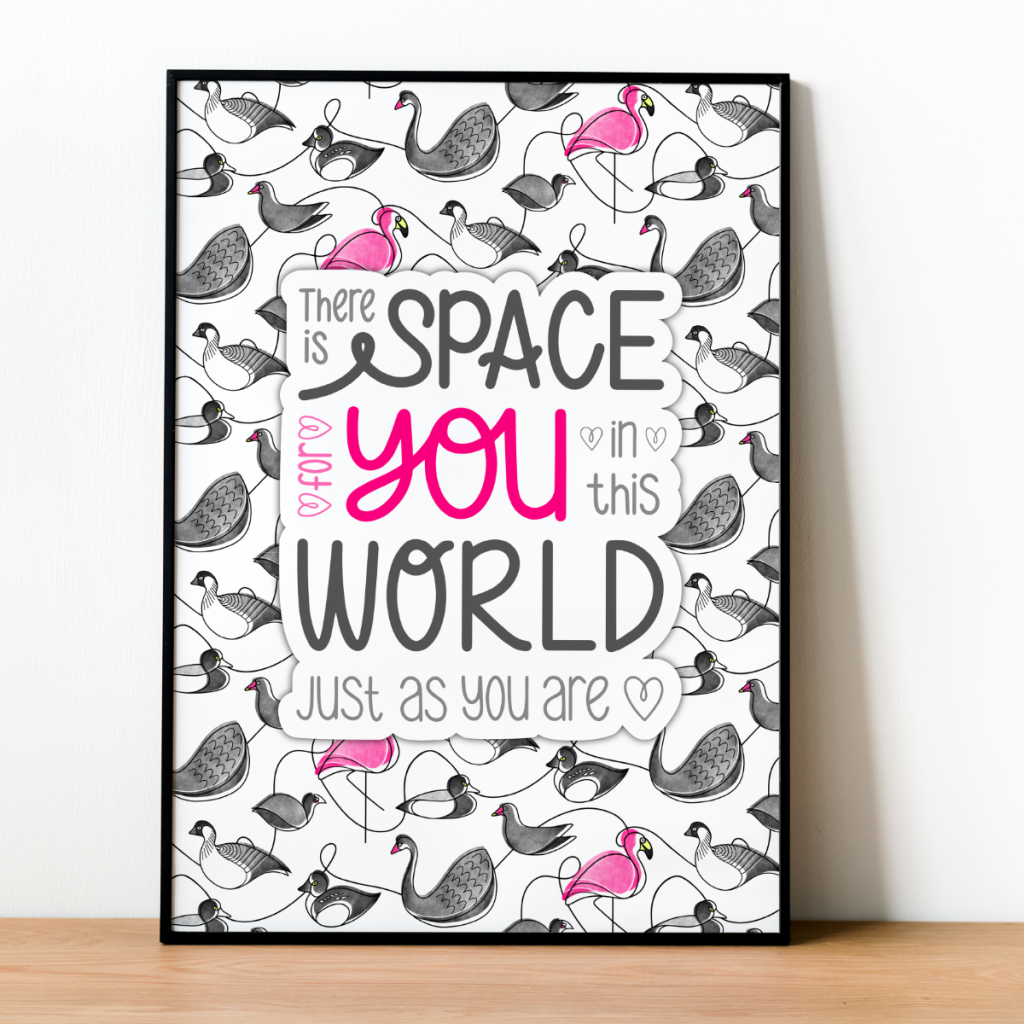 All the birds in my design are beautiful and gorgeous whether they are bright pink or black & white, or somewhere in between. And I love that the little splashed of colour on the eyes & beaks of the other birds gives a hint of that in between.
To help me better manage my chronic illness I'm currently learning to try to do less and take it slower, and there is a lot of frustration within me about not being able to do all the things I want to. So 'There is space for you in this world just as you are' is a reminder to myself that I don't need to try and fit in with ways of doing things that don't work for me or my health, I can do the things I want to do in a way that feels good to me & looks after my health. I might not have found them yet, but I'm on my way.
I know I need this reminder a lot at the moment, and I hope it gives you a sense of warm reassurance too!
Want to hear about the stories of my designs as they unfold? Join us over on Ko-Fi from £3 a month and you'll get regular updates on my design process, the challenges and other random thoughts throughout the month!
You also get TWO bundles of #FeelGoodies in your first month – if you join by Sunday 2nd May that will be instant access to our current WETLAND BIRDS digital & printable goodies AND next month's goodies as soon as they're released – PLUS a FREE copy of The Little Book of Easy Creativity eBook (worth £6) to support you on your own creative journey!
Every month I share a free planner calendar via email that features the pattern & quote for the month ahead. Join our email list to get instant access to the current calendar, and look out for a new one at the end of each month!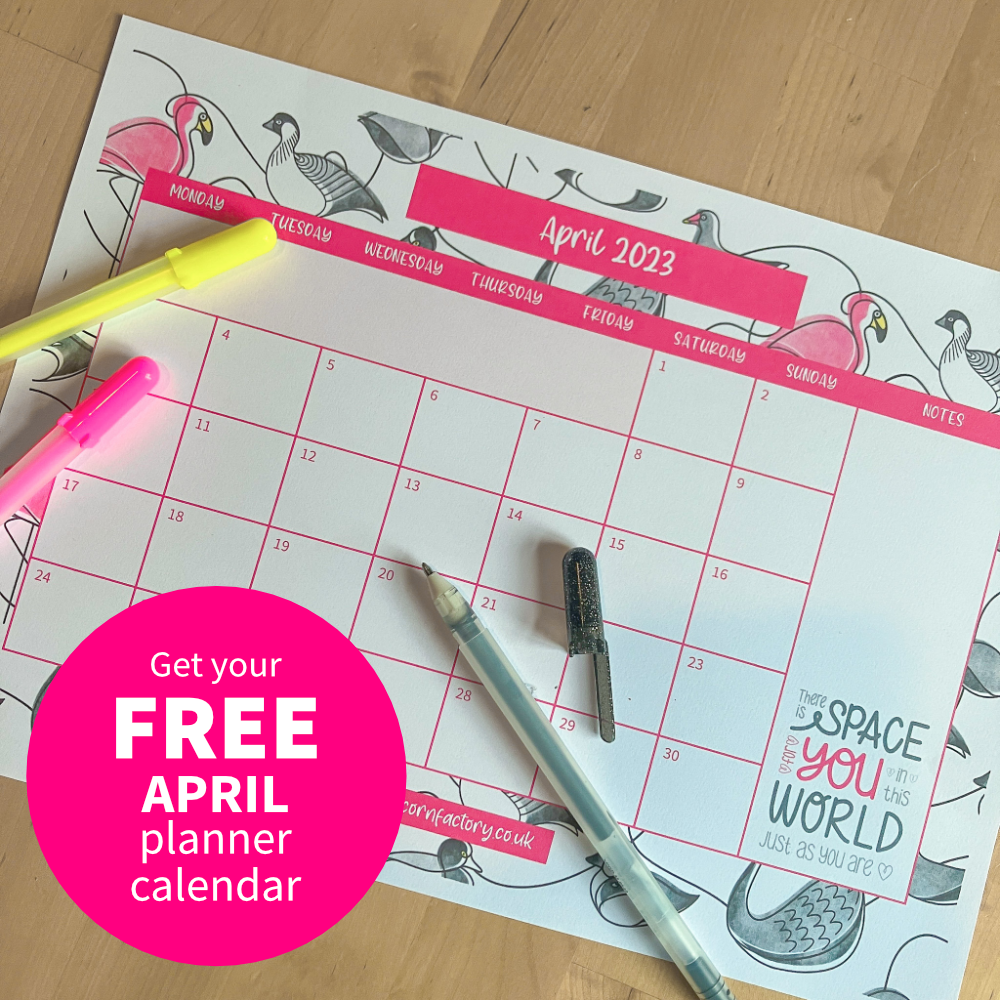 Keep up to date with my latest designs...