This year I'm working through bringing designs that have been hanging around in my head for a while out into the world.
I've wanted to do a mermaid tails design for ages, and then back in February there was an insta design challenge that included the prompt #Mermaid so I tried to do a quick version of what I'd had in my head for a while (below) – and it really didn't work how I thought it would 😫 and I wasn't feeling it at all!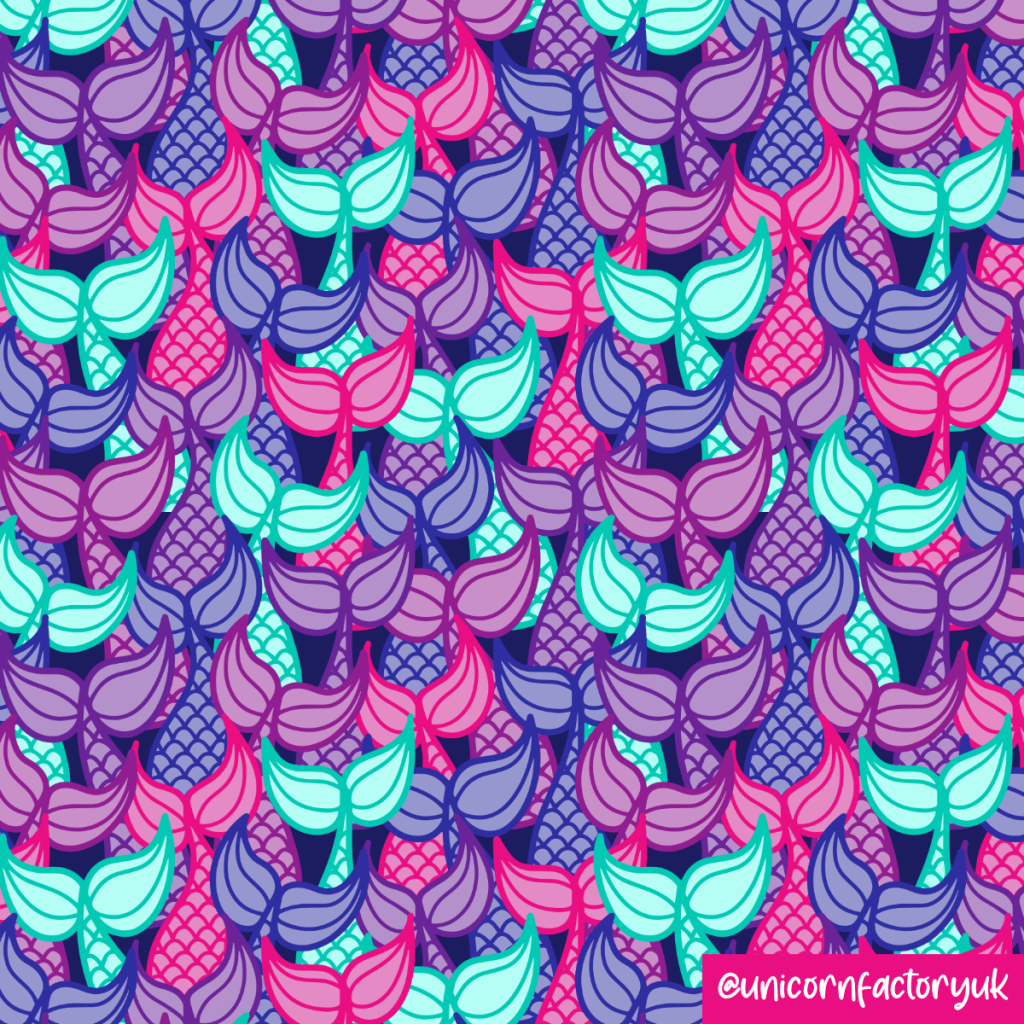 But I also knew that it I wanted to go back to it at some point and develop something more from it.
Then at the end of April I spotted that one of the prompts for #DoodleADayMay was #Mermaid so it was the perfect excuse for round two… plus in May socials were full of #MerMay stuff and The Little Mermaid came out last week so it felt very right to spend the month working on a mermaid design… and then fill June with mermaid fun too!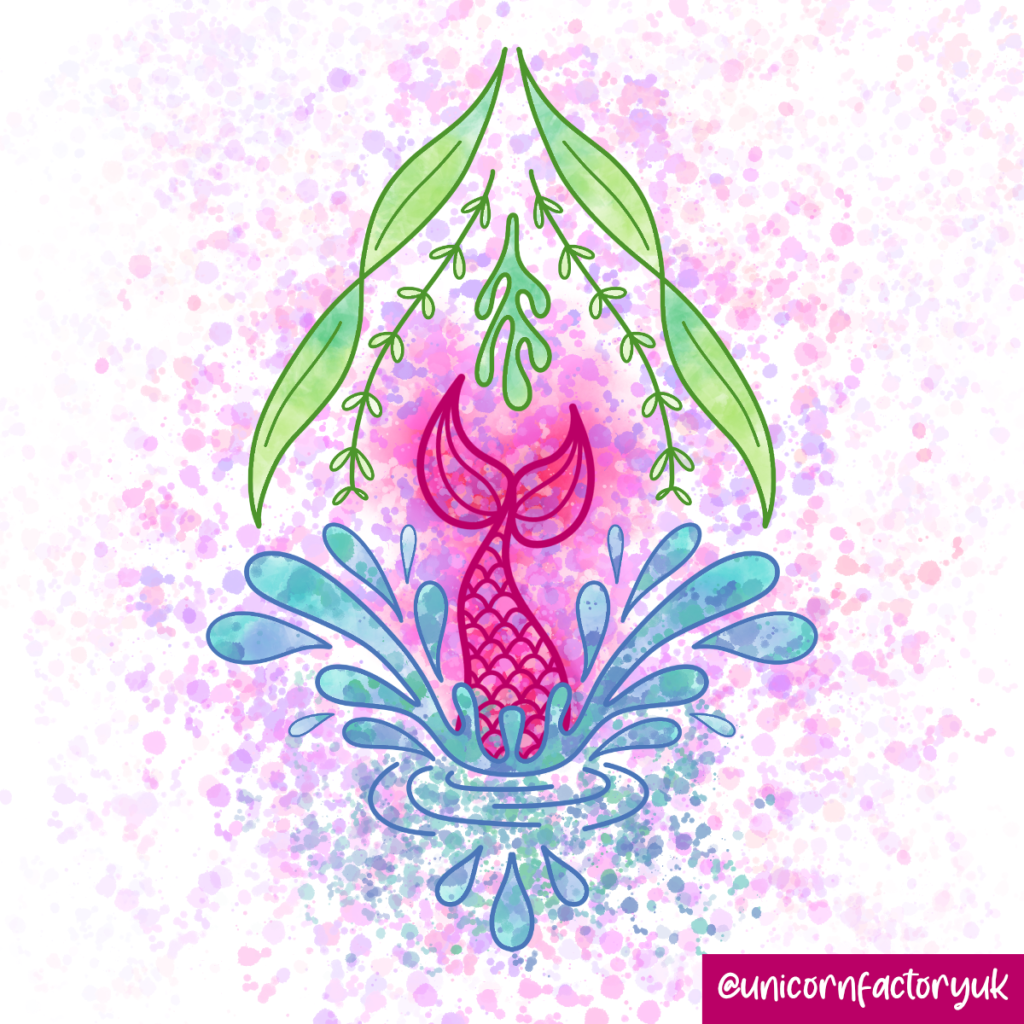 I'd created my illustration for #DoodleADayMay (above) using one of the original tails from my February pattern, but it wasn't feeling quite right. So I knew my first job in creating the full pattern & final June design was to redraw all the mermaid tails with the same pen weight (thickness) as the other elements. It also gave me a chance to design them to fit in better with the splash and the seaweed.
Once I'd done that and was in the process of prepping it digitally I did a pattern test to make sure that I was generally happy before I put time into refining it.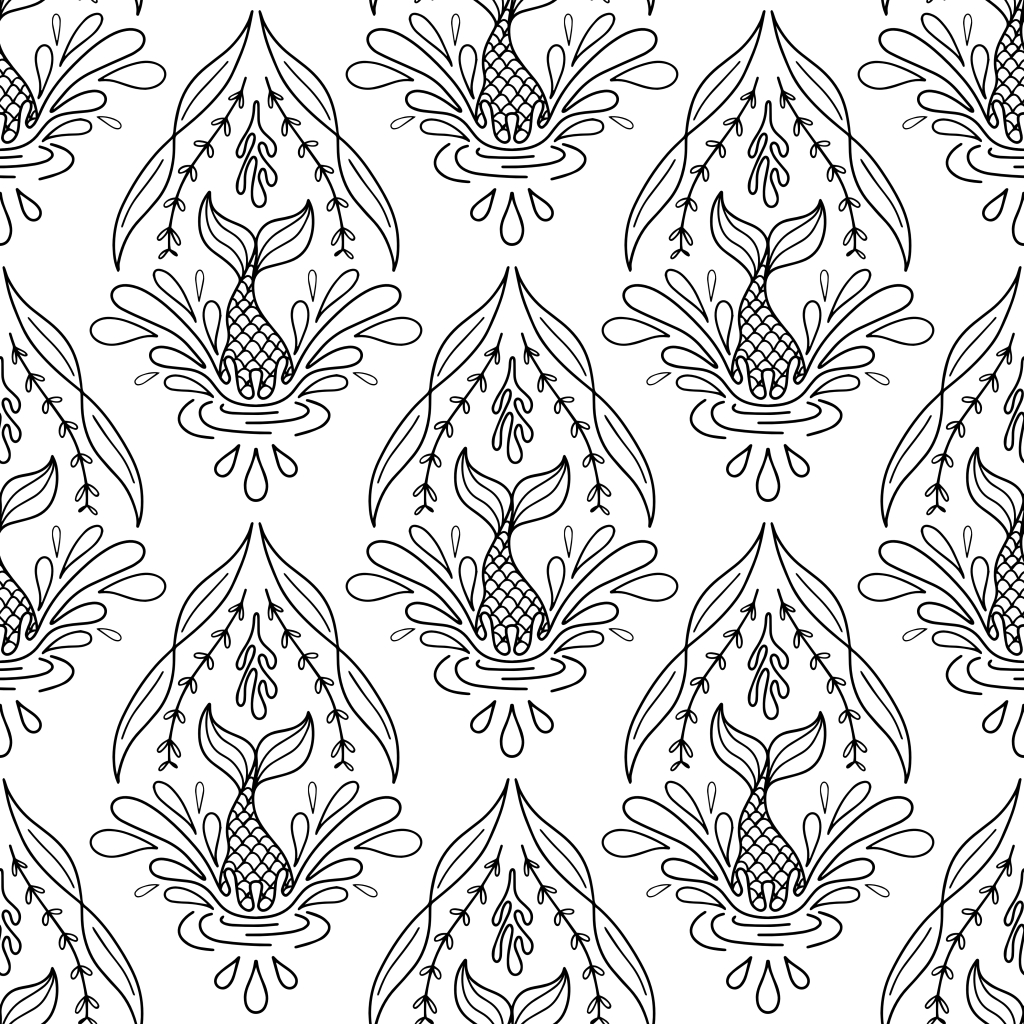 Next up was figuring out colour… and I was generally happy with where I was going with colour in the illustration, so I just made some tweaks to that! I knew that I wanted to play with doing a monochrome version of the patterns with a watercolour texture (normally I just do those in flat colours) so I got back to finishing up the patterns so I could experiment with those!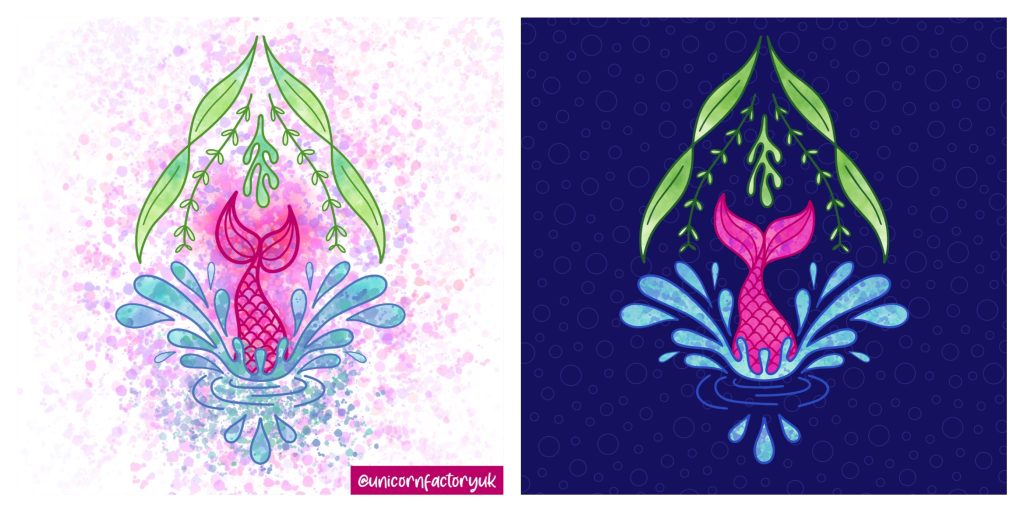 In the end I created two multicolour watercolour versions, three monochrome watercolour versions and three flat monochrome versions to complement those. My plan is to create some complementary patterns to work alongside the mermaid tails, but I think these eight versions alone could make a really beautiful quilt and other crafting projects!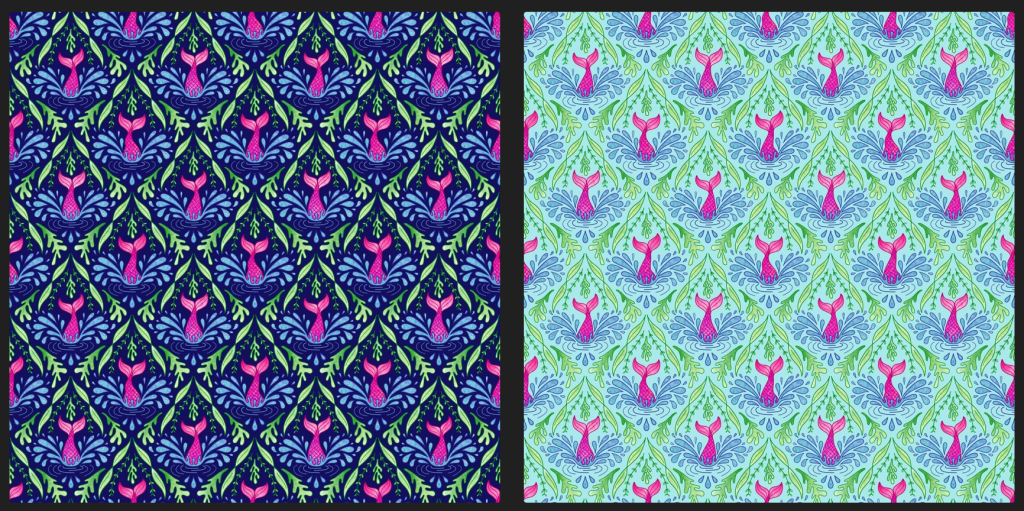 Once I had the pattern, then it was time to figure out what I wanted the quote to be. The Little Mermaid was my favourite movie as a kid, and so I thought about why it meant so much to me and what I'd like to be reminded of from it. 
The bit that I really connect to in The Little Mermaid is how Ariel knows herself, and what she's fascinated by, and finds a way to have that in her life, even though it makes her stand out as different and is disapproved of. 
I have always had a strong pull within myself to be true to myself, my values and my interests, even if that doesn't fit in with others in my life – but like Ariel there's been times where I've felt like the way I am is unacceptable and have toned down or hidden parts of myself to try and fit in. The fall out of living like that contributed to the chronic health issues I now live with, and it's only in these last few years of my 30s I've started working towards accepting myself for who I am.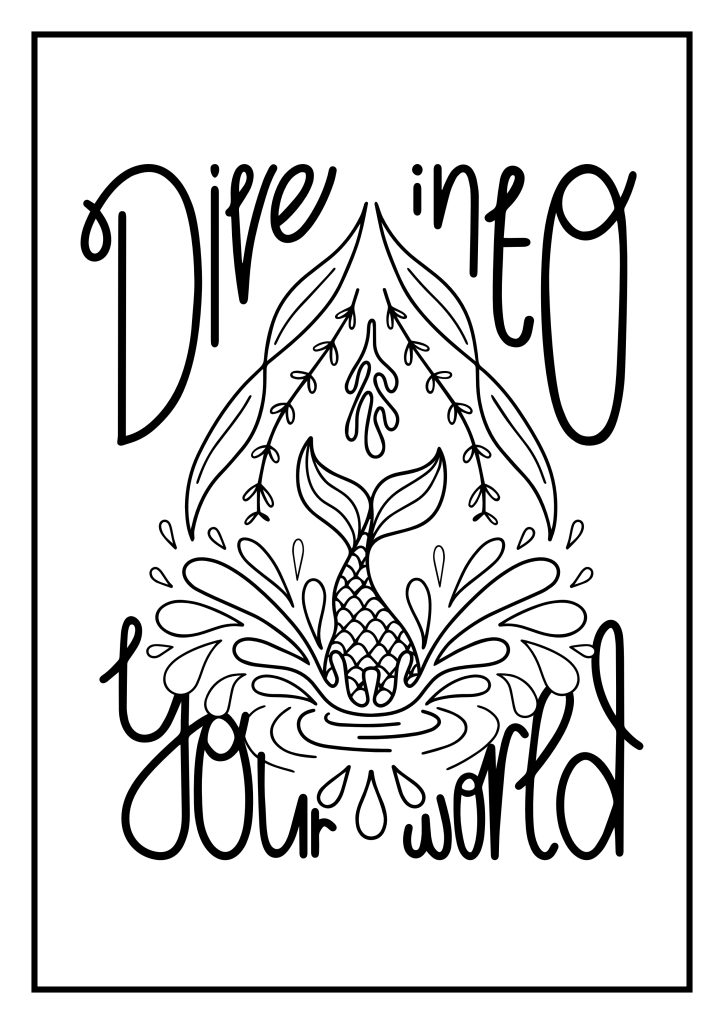 So I chose the words 'Dive into your world' because – long before a floppy haired prince showed up – Ariel longs to explore the human world. It's her passion, hobby and the thing she wants to do more than anything. And I wanted to create a reminder for us all to dive into the things that interest us and bring us joy. 
Once I'd added the text to the art print I decided to create a border, and having done that revisiting the text design to better fit within it.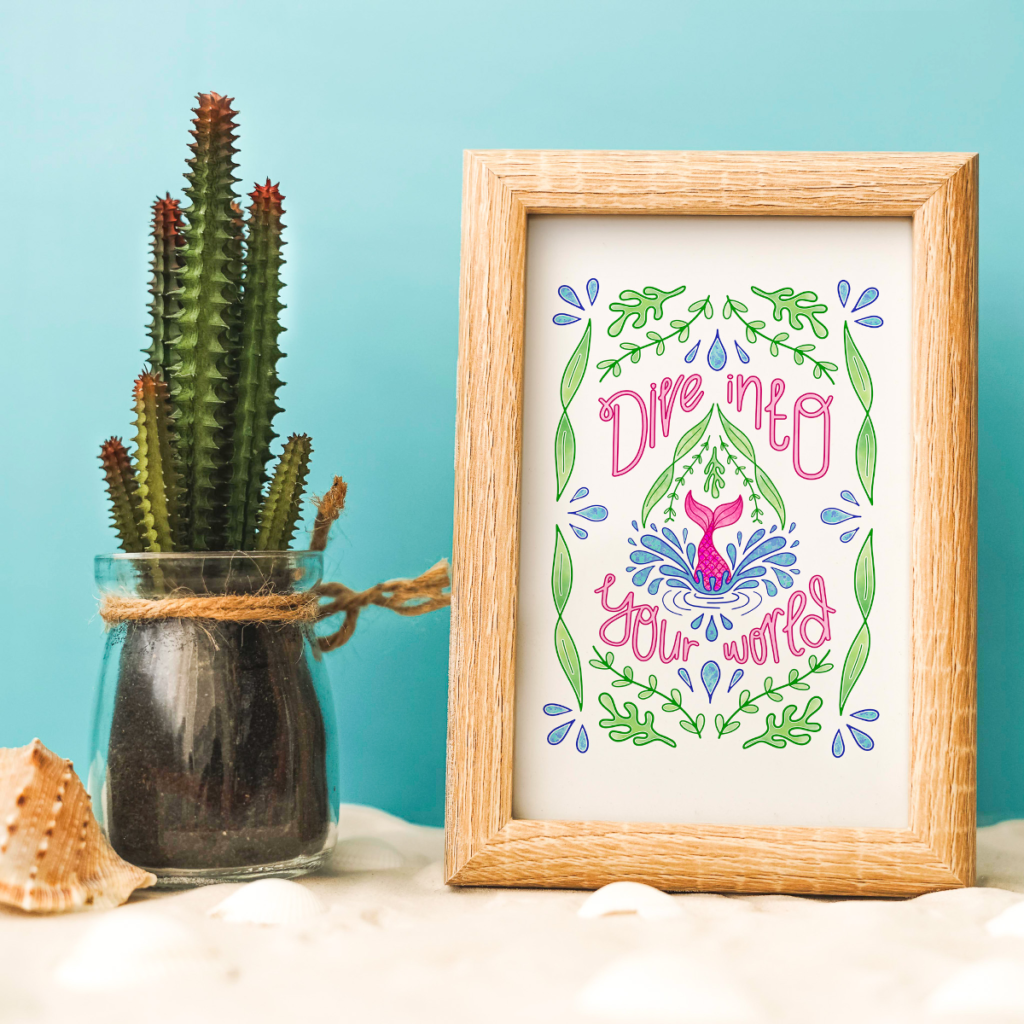 This design has prompted me to head into June thinking about where I need to listen to others less, and listen to and trust myself more – and I hope it reminds you that the things that light you up and bring you joy are always worth diving into, even if no one else gets them! 
Want to hear about the stories of my designs as they unfold? Join us over on Ko-Fi from £3 a month and you'll get regular updates on my design process, the challenges and other random thoughts throughout the month!
You also get TWO bundles of #FeelGoodies in your first month – if you join by Sunday 2nd July that will be instant access to our current MERMAID digital & printable goodies AND next month's goodies as soon as they're released – PLUS a FREE copy of The Little Book of Easy Creativity eBook (worth £6) to support you on your own creative journey!
Every month I share a free planner calendar via email that features the pattern & quote for the month ahead. Join our email list to get instant access to the current calendar, and look out for a new one at the end of each month!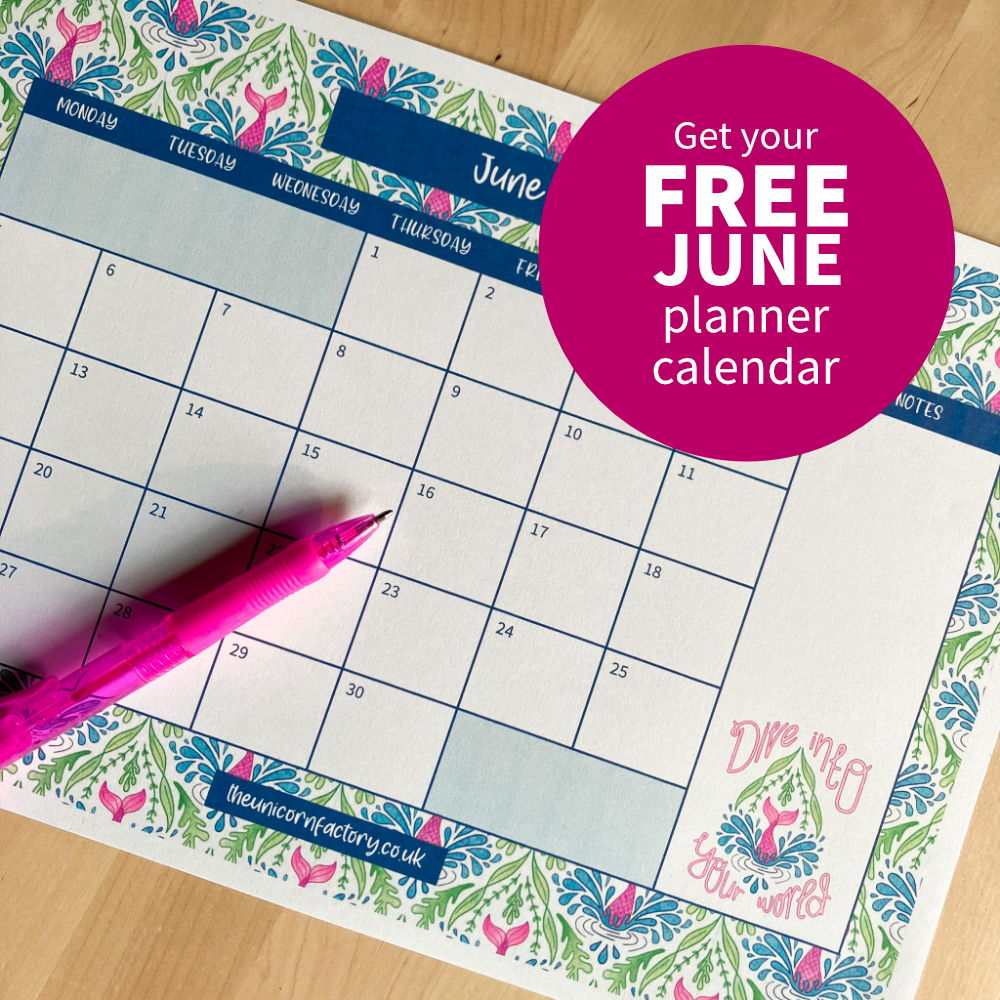 Keep up to date with my latest designs...