This month's design is inspired by Bosherton Lily Ponds in South Wales. We spent a really lovely afternoon wandering round the lily ponds when we were on summer holiday last year, and I knew I had to bring it to life as one of our 2023 designs!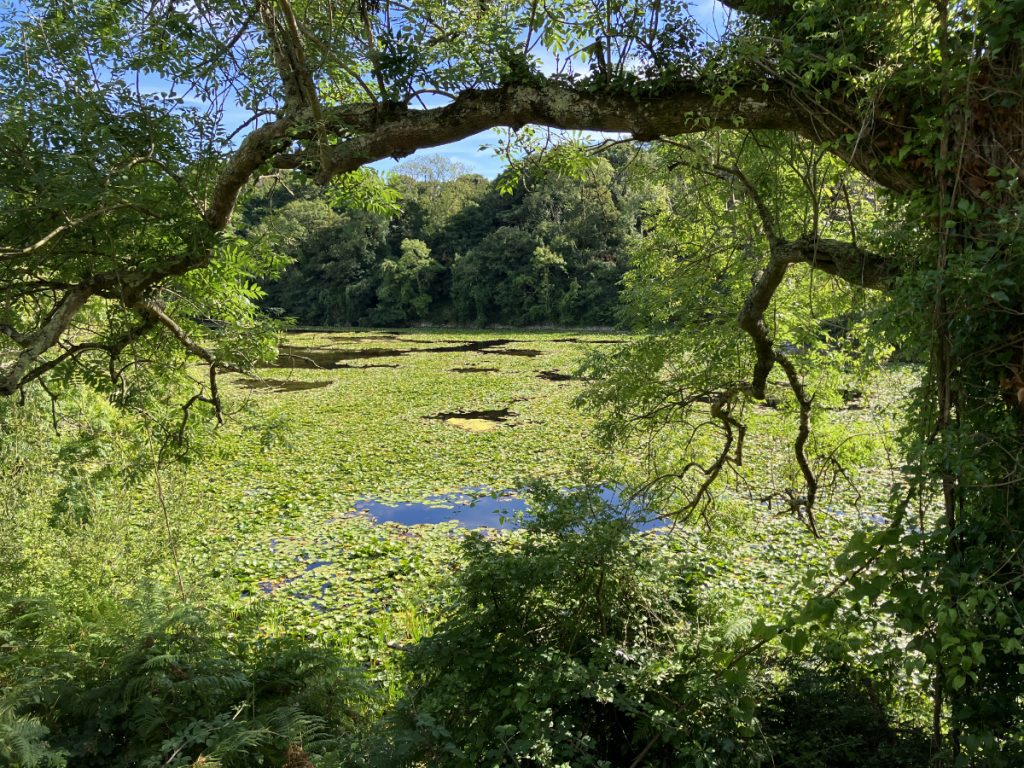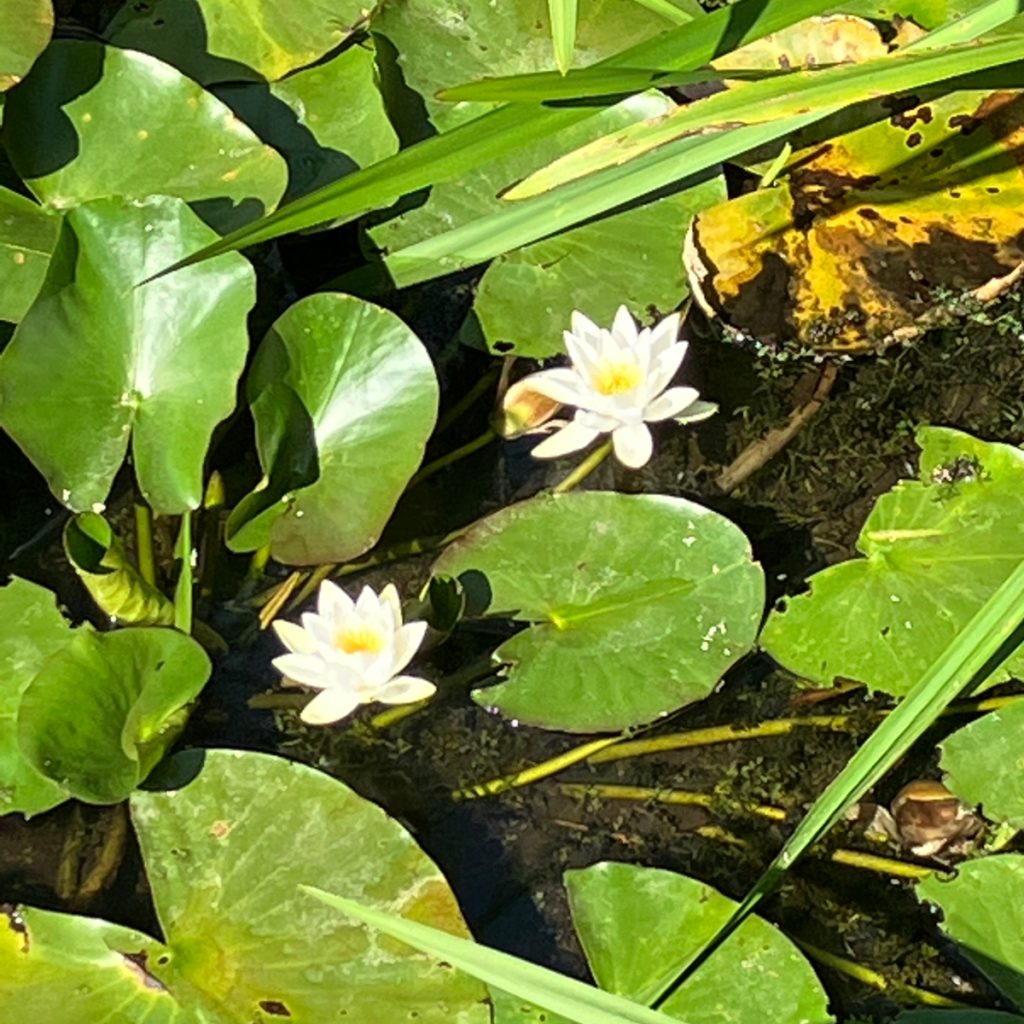 It's a design I've been working on in my imagination over the past eleven months and luckily it was one of those designs that I found very easy to translate from idea to reality. The first thing I did was draw the lily pad, flower and dragonfly motifs, and then I was onto deciding colours. 
At that stage Spoonflower announced their next round of challenges. One of them, Mega Matter, is to design a pattern with a specific colour palette. I felt like it fit this lily ponds design quite well, so I decided to try that out first.



Although I so think the pattern looks pretty in this palette, and will be entering it in the Design Challenge in August (you can vote 10-15 August – sign up for email reminders so you don't forget!) the colours are more muted than my usual style and it doesn't feel very "me".
So for our Feel Goodies I went back to the palette I'd put together before the Spoonflower one had popped up.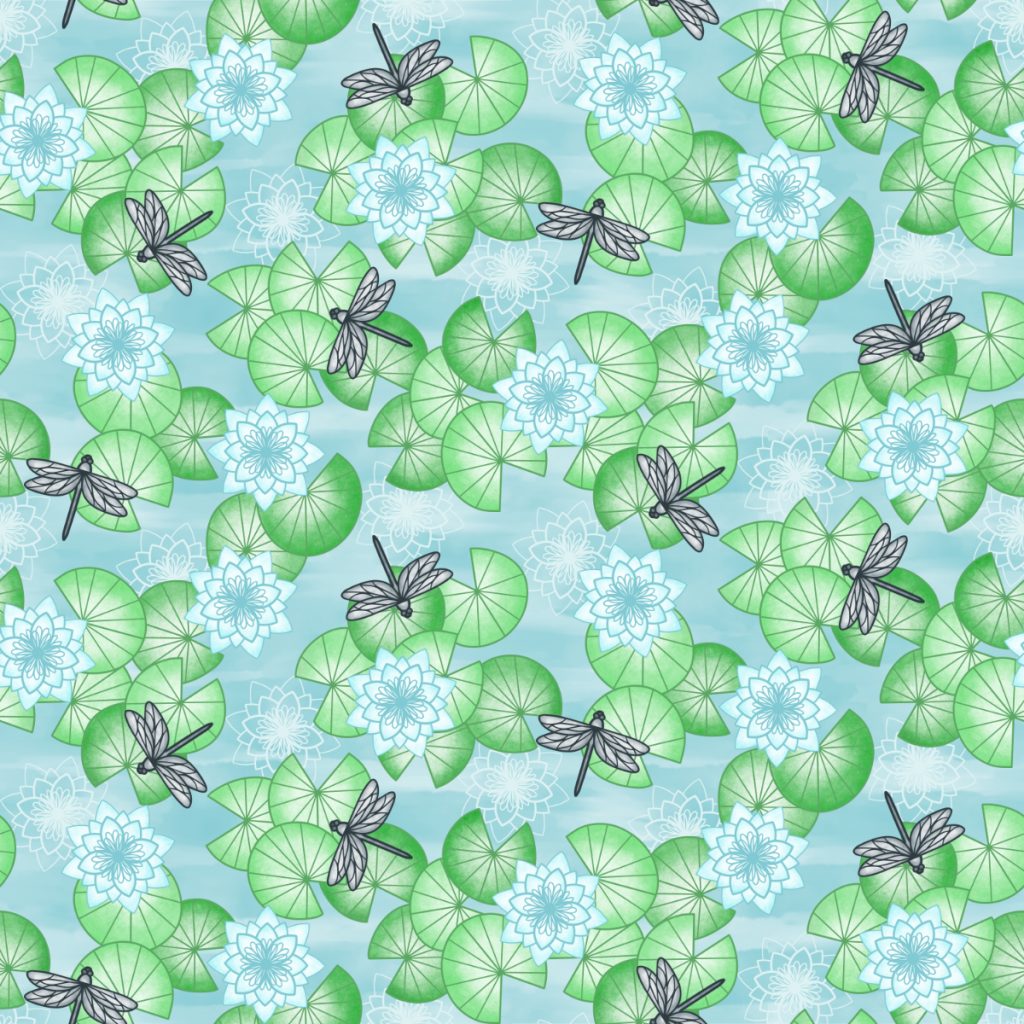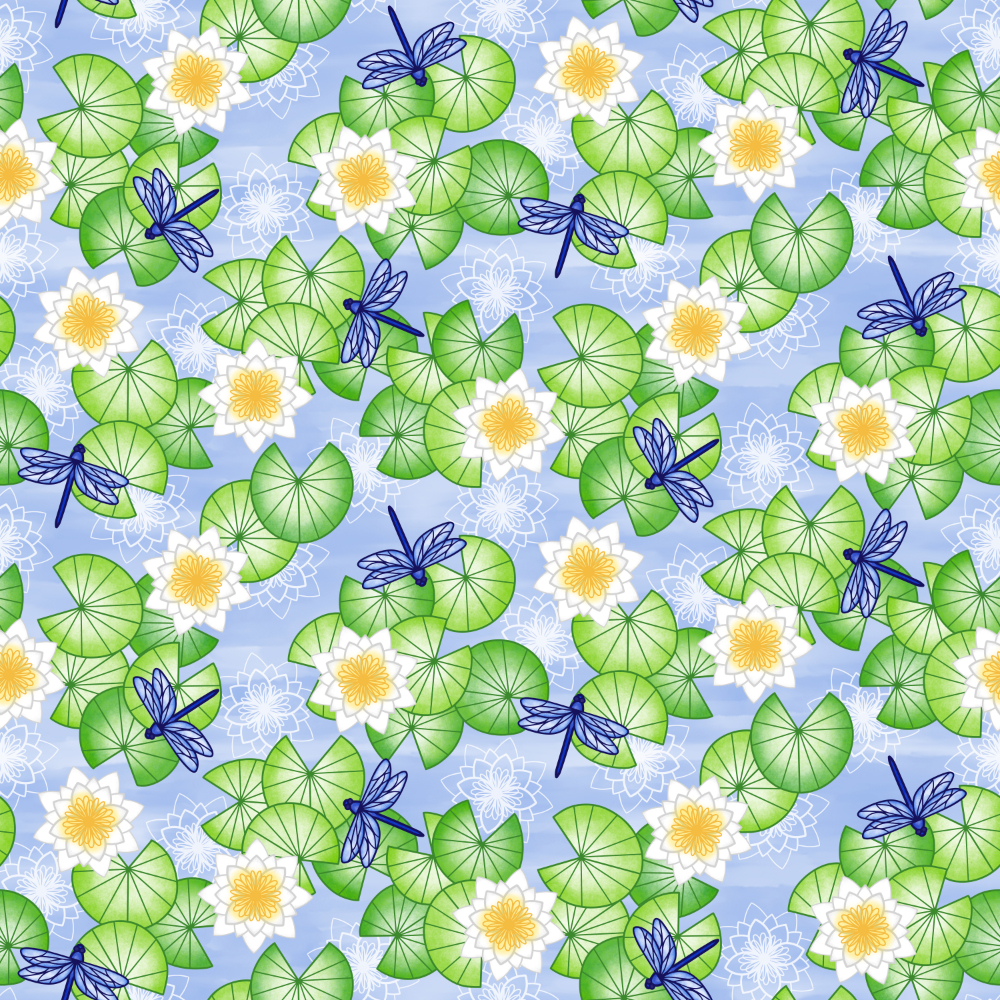 I really wanted the dragonflies to be this bright blue as it reminded me of the dragonfly I'd stood and watched for quite a while at Bosherton Lily Ponds last summer. And it was that dragonfly that helped me decide on my quote for this month…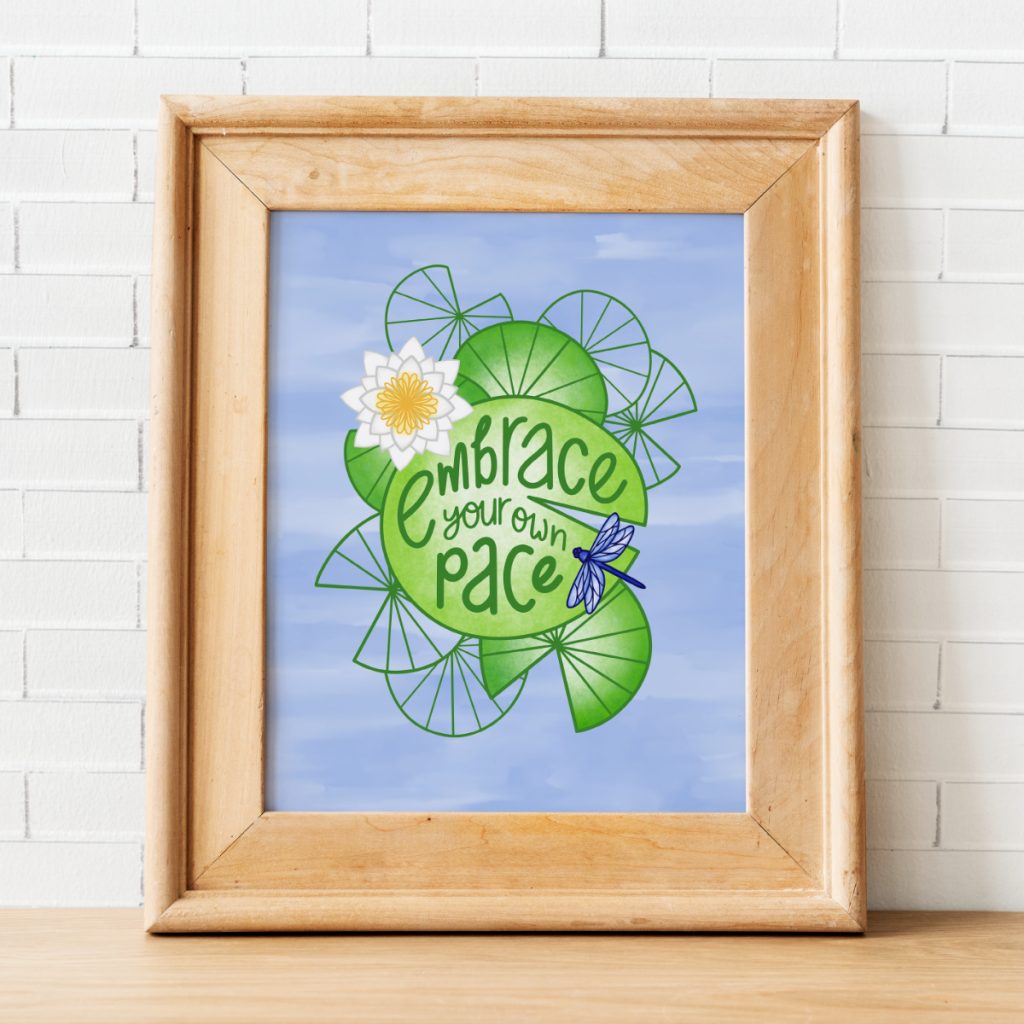 I'd been playing with a few different quote ideas for August when Embrace your own pace popped up and felt like a really good fit. 
In part because as I'm slowly kicking off my Substack this month, as that is really centred around doing things in your own way, at your own pace & on your own terms, so it felt like an obvious choice. 
But also because when I think about our afternoon at Bosherton Lily Ponds I think of everything feeling so relaxed and slow, with the contrast of that dragonfly moving so quickly. Even though all the nature surrounding it has a much slower pace, the dragonfly still does it's own thing in it's own way.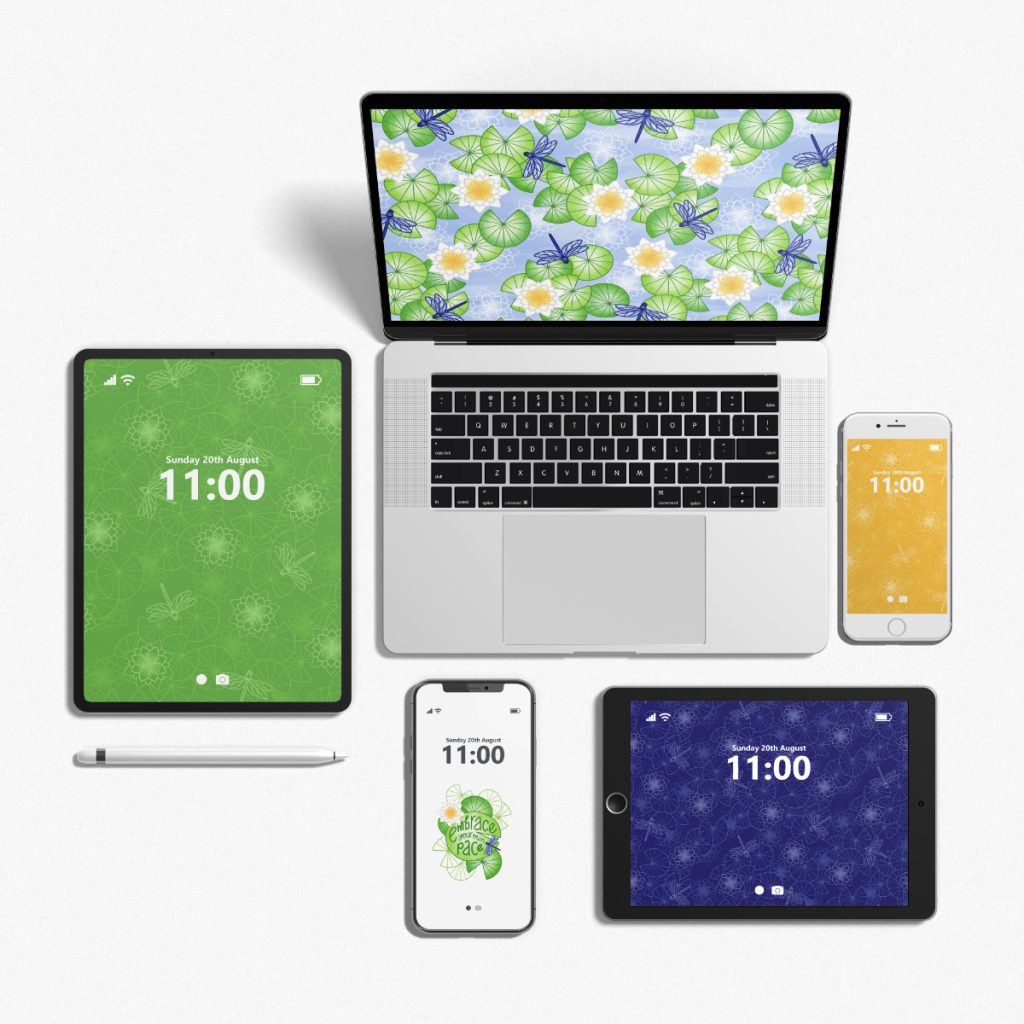 So that's our August design – I hope you love it as much as I do! 
REFLECTION & JOURNALLING PROMPTS…
What does embracing your own pace look like for you?
How is it different to what you're doing now?
And how are you going to do more of that in August? 
For me embracing my own pace feels like a very slow & uncomfortable process of letting go of stuff I assume I "should" be doing, alongside learning to accept that the things I want and need to do sometimes take a lot longer than I want them to. I definitely feel like I'm getting better to noticing what pace works for me in different moments, and knowing when to push myself & when to slow down. For me in August it's accepting that full-time mumming is my top priority, and that I will do what work I can around that, but it's okay if some stuff drops off the to-do list until September. 
I'd love to hear your reflections on embracing your own pace – tag me (@unicornfactoryuk) in your posts and stories so I can see and share them! 
Want to hear about the stories of my designs as they unfold? Join us over on Ko-Fi from £3 a month and you'll get regular updates on my design process, the challenges and other random thoughts throughout the month!
You also get TWO bundles of #FeelGoodies in your first month – if you join by Monday 31st July that will be instant access to our current NUTURE YOURSELF IN NATURE digital & printable goodies AND next month's goodies as soon as they're released – PLUS a FREE copy of The Little Book of Easy Creativity eBook (worth £6) to support you on your own creative journey!
Every month I share a free planner calendar via email that features the pattern & quote for the month ahead. Join our email list to get instant access to the current calendar, and look out for a new one at the end of each month!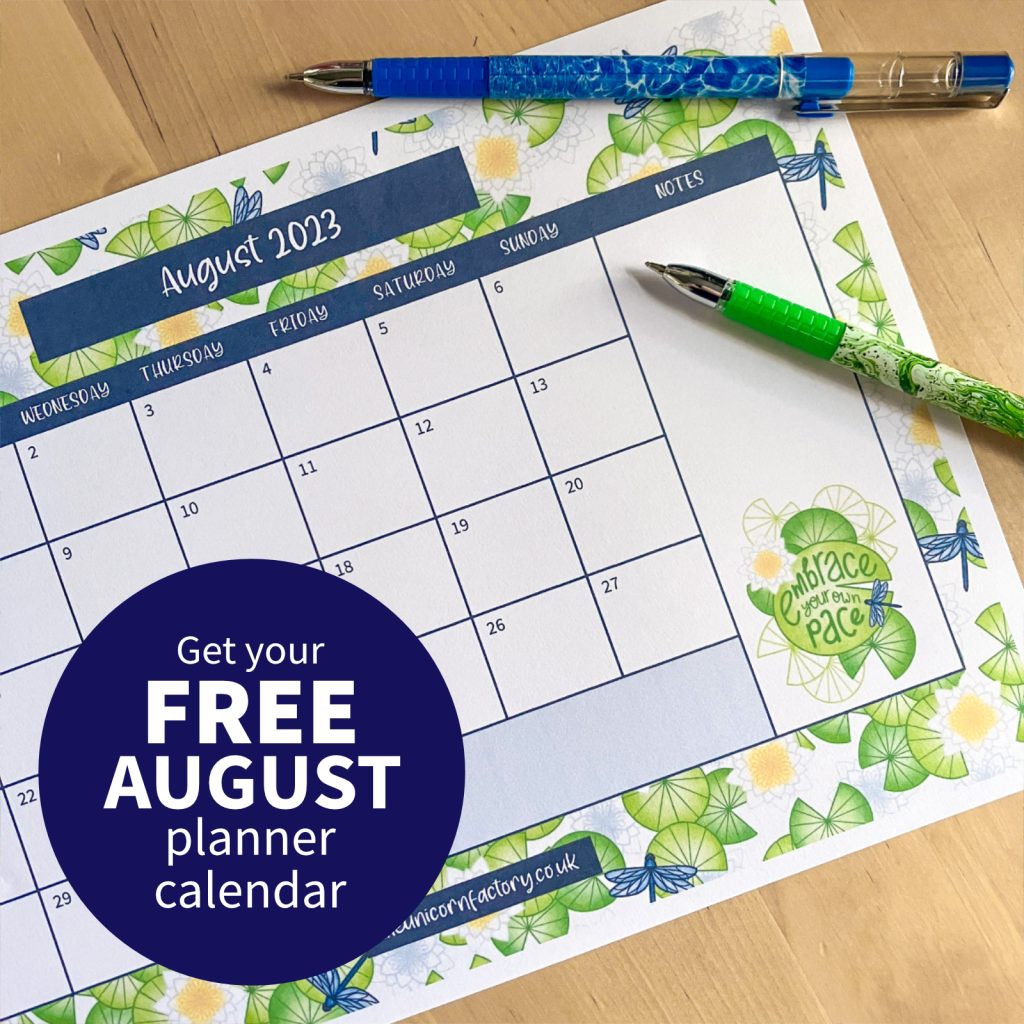 Keep up to date with my latest designs...