Quilting is something that's been on my crafting to-do list for a while. Designing patterns for fabric came out of wanting to make my own clothes, but that's a hobby that is VERY slow going for me – I always say if I was on sewing bee I'd still be cutting fabric when everyone else had a finished garment 😝. Doing what I do, quilting seemed like a craft I really did need to try, and when I got the tiniest taste of working with fabric & wadding sewing my Rainforest Joy satchel back in April 2021, I knew that it was definitely something I wanted to do more of.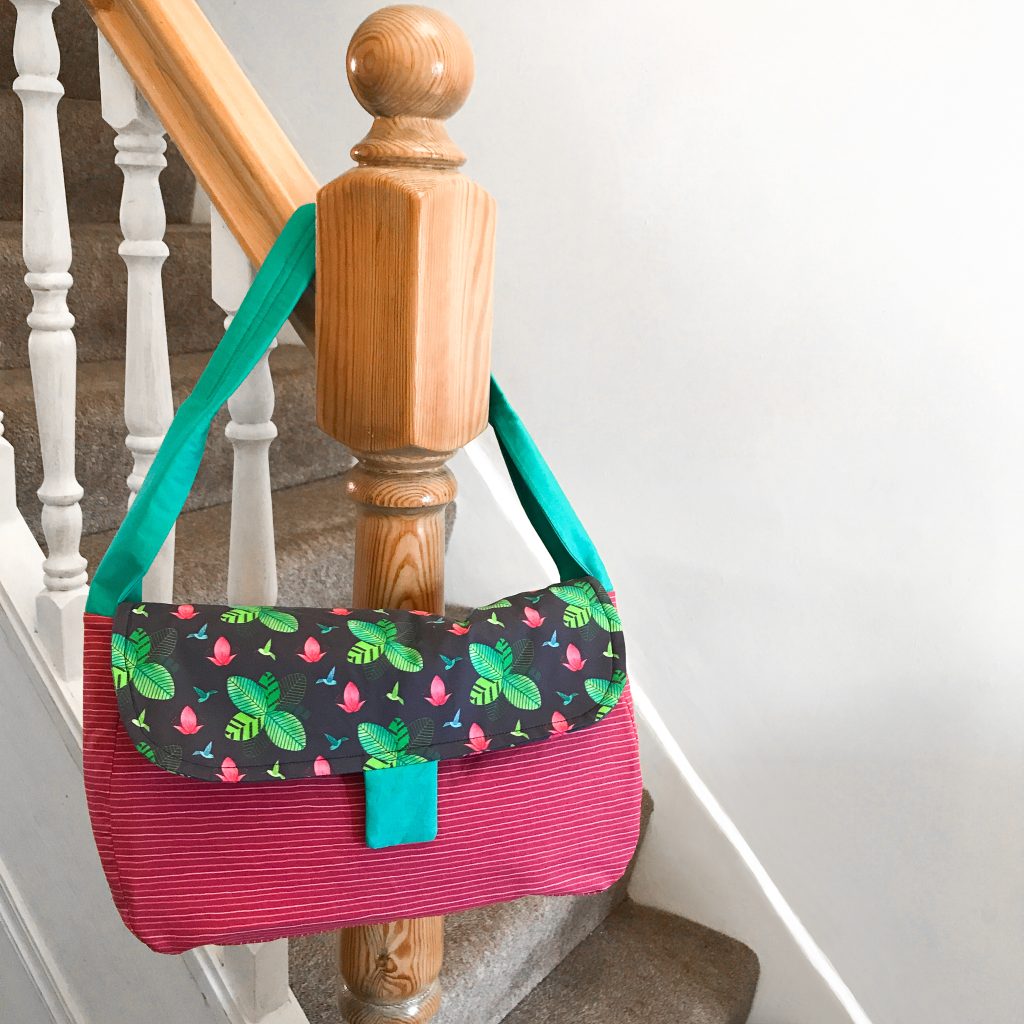 So last year when Zoe from Margate Girl announced she was kicking off Quilt Club, a six week online course where you can learn the basics of hand quilting, alongside covering the history & culture of quilting, it sounded perfect for my inner crafter & geek! Unfortunately the first round sold out before I grabbed a spot, and the second round was the run up to Christmas, which I knew was not going to work for me… but then she announced a final round for January & February, which has worked out so well! 
I went into the course being completely open to where it make take me with quilt related crafting ideas. As the weeks have gone on (we've had four of the six weeks so far) I've ended up creating a little crafting project for myself that I am very excited about! Although I'm sure in the final couple of weeks there'll be more I learn that adds to my plan too. 
After the first couple of weeks I decided I wanted to make quilt blocks using the fabric samples I order from Spoonflower and put them together into a patchwork quilt – so eventually it will be a kind of memory quilt of my various designs.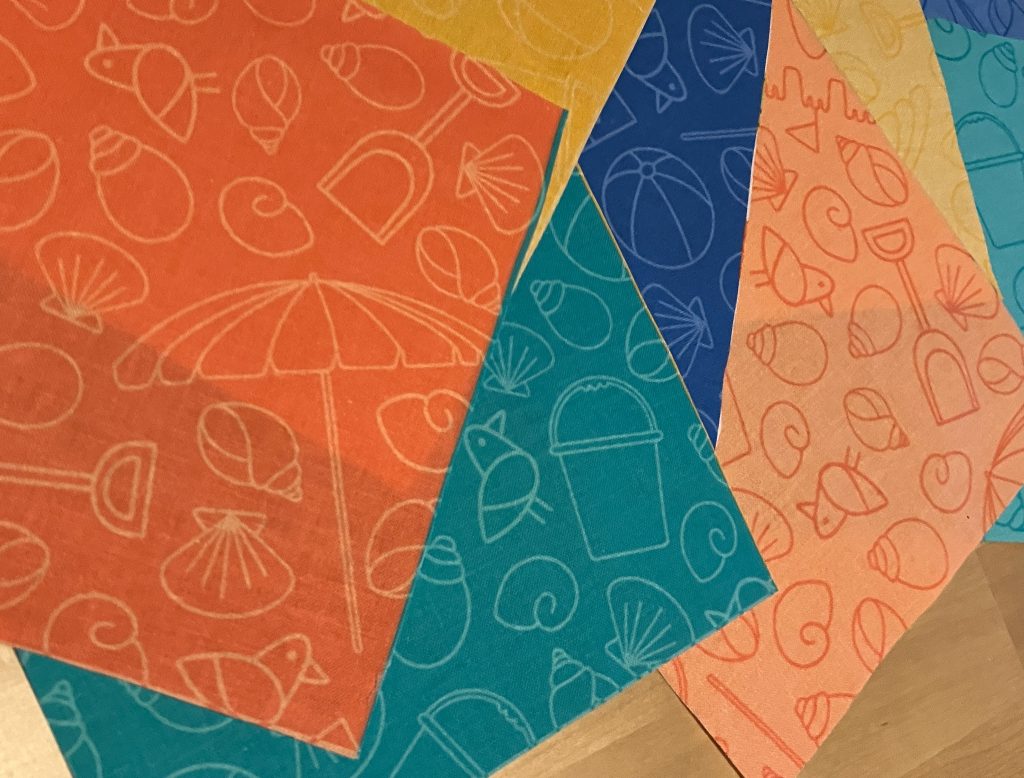 This could be quite an epic project lasting months or even years, and I am impatient, so instead of just making quilt blocks & waiting until a distant point in the future to actually quilt them, I decided to approach it as a quilt-as-you-go project, which means I quilt the top layer to the wadding as I go for each block, and then when I decide I'm ready to make it into a quilt I will put them together & quilt the back. 
We then learned about different styles of quilting, and I decided it would be fun to incorporate embroidery into it. I love embroidering, but haven't done much since I stopped the stitch-a-long, so this is a lovely low key way to get fun & creative with it, without the pressure of doing it for anyone else.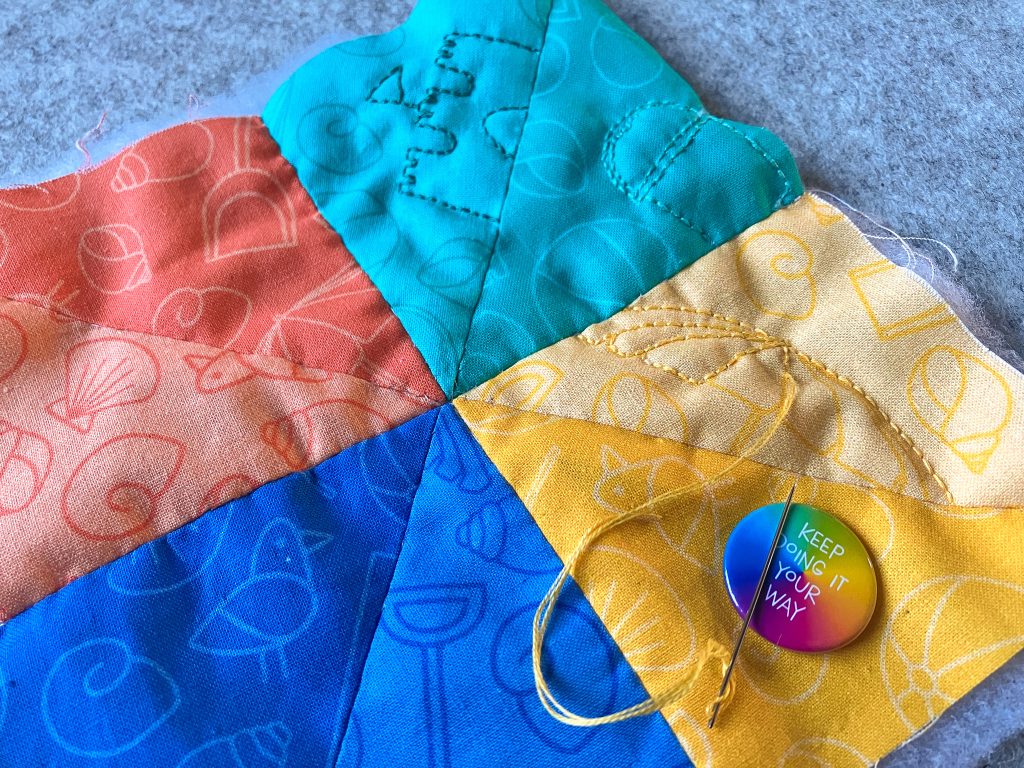 Last week's talk was covering the history of quilting, and gave me yet another aspect of what I'm now doing – relating the design of the quilt block to the design of the fabric I'm using & the story behind the inspiration for the design.
So for example, I've started with the And Breathe Seaside fabric, which was inspired by the beaches around The Mumbles in Swansea. I found out last week that the pinwheel quilt block design was used a lot in quilting in South Wales, so that's what I've gone with.
What I'm hoping to create is quilt blocks, and eventually a big quilt, that showcases my adventures in surface pattern design, but also the history of quilting too. 
The end of Quilt Club is just over a week before the next round of #The100DayProject kicks off (the challenge that gave me a kick up the bum to sort out The Little Book of Easy Creativity – which members can download for free over here & non-members can buy here) so my 100 Day Project is my quilt-as-you-go project… I feel like my project needs a name, maybe I'll come up with something in the next couple of weeks! 
My aim is to share each finished quilt block & the story behind it on a post in here so you can keep up with my adventures in quilting as I go along – and I have a record of the story of the quilt! 
I'm very excited about it all and can't wait to share it with you! 
Stay up to date with my quilting adventures...