A no pressure beginner friendly way to learn and enjoy embroidery that costs less & wastes less while giving you more choice!
If you have ever fancied giving embroidery a go and don't know where to start, or you are a bit more experienced and would like a regular flow of designs to stitch, then this stitch-a-long is for you!
The instructions and stitch-a-long videos are complete with diagrams, demos and handy hints. They're designed to be suitable for a complete beginner and I try to include all the little bits of info I would have found handy when I started stitching regularly.   
There's a new design every month – it's easy to join & change your membership at any time so you can stitch them all or just the ones you love the most!
You can join in with the stitch-a-long can at anytime…
Each month's embroidery design is a BYO (buy your own) supplies digital kit which means you can…
DO IT YOUR WAY – Every month there's a choice of size and colours. You can stitch onto fabric for display in a hoop or to stitch onto an item to use or gift. So far we've stitched onto a zipper pouch, a cushion, teatowels and a reusable gift bag!
DO IT AT YOUR PACE – There's no pressure to get started or keep up with the stitch-a-long each month – once the monthly pattern is released you'll have instant access to download and keep it forever and you'll have a link to the stitch-a-long videos that you can use to revisit them at a later date.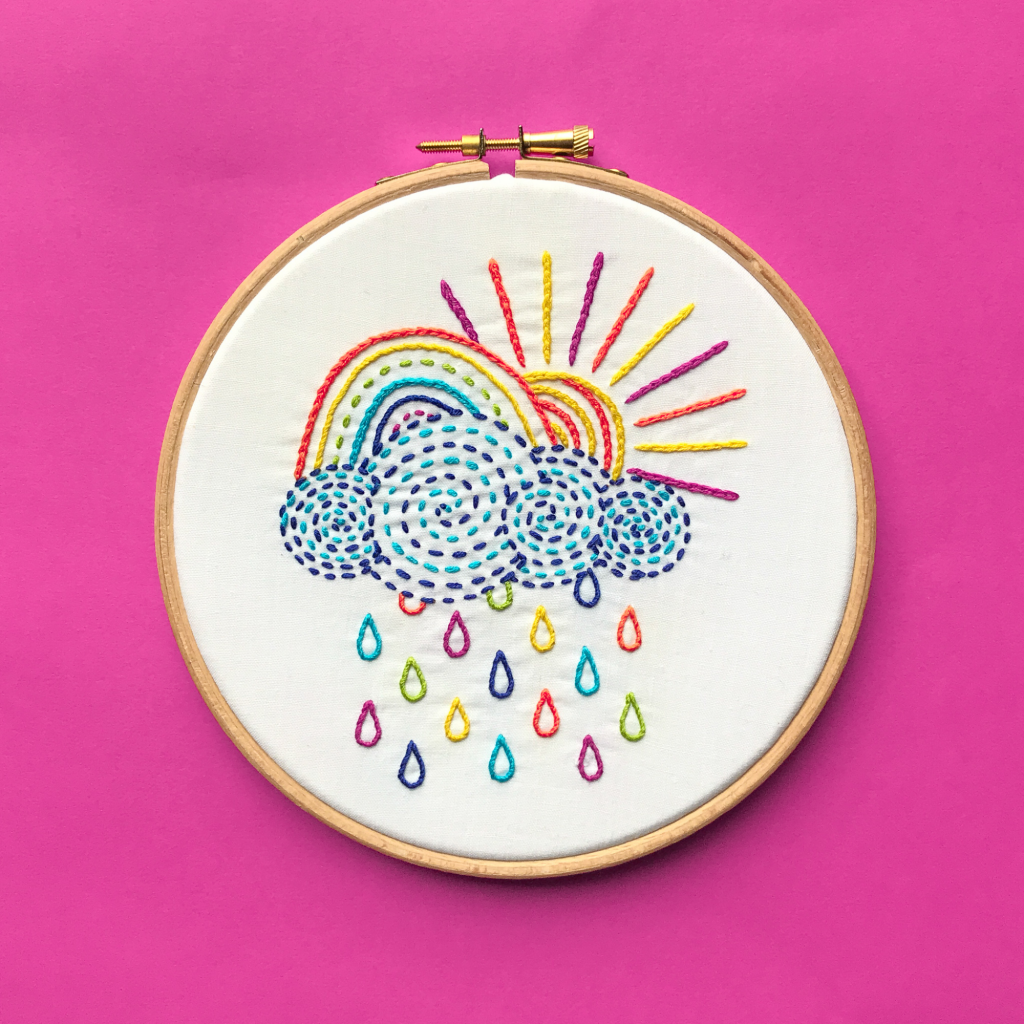 Join by the 30th April to stitch Let The Adventure Continue embroidery
Each month you get:
Project Materials List (patrons get this approx. a week in advance of the stitch-a-long)
Full instructions of to stitch the design to display in a hoop or on an item you can use/gift
Stitch-a-long videos for each stage of the project
PLUS when they first join patrons get an Embroidery Essentials tin filled with embroidery goodies and a quick & easy BONUS pattern – perfect for getting started with embroidery!
ALSO you always get the Embroidery Essentials Guide, which gives you a full overview of embroidery essentials that you need to get going with stitching, and the extras you can add to your kit as you go along. 
And if you have any questions as you're stitching you are always welcome to get in touch and I'll be happy to help.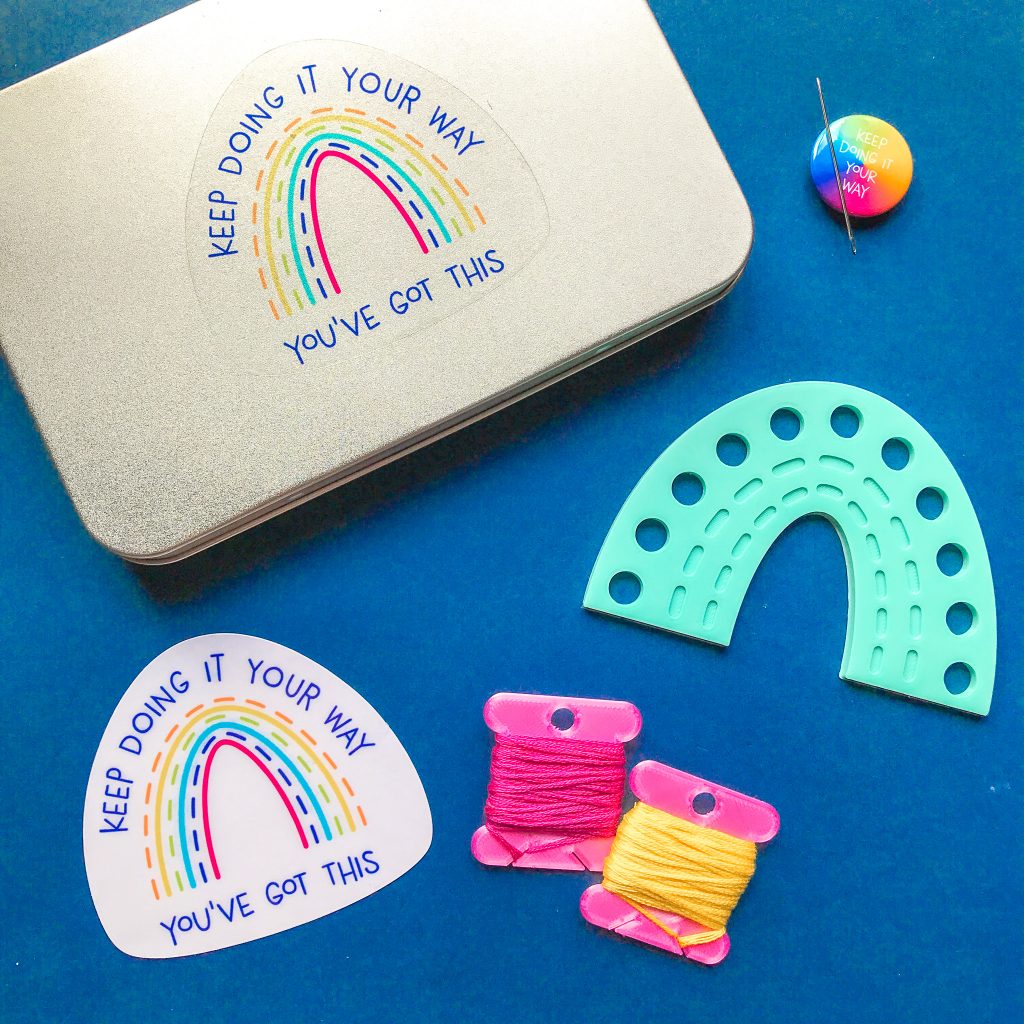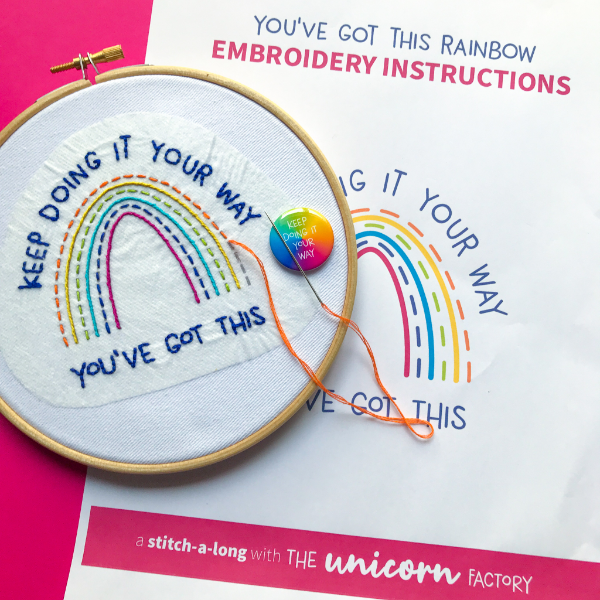 PATREON – Sign up to the Give it A Go Stitchers tier on Patreon and as well as the monthly pattern and stitch-a-long, you'll also get a BONUS digital pattern, an embroidery essentials welcome pack in the post (worth over £20) AND monthly digital goodies. The goodies include phone/tablet/laptop wallpapers, and art illustration that you can print, frame, display or gift, and colouring pages too! 
PAY AS YOU GO (coming soon) – If you'd prefer to just join us as a one off you can choose to pay for this months pattern outside of Patreon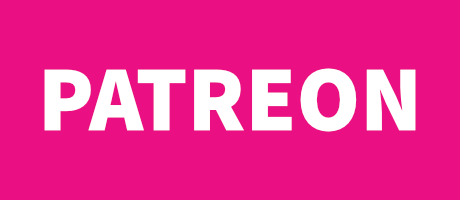 Embroidery Pattern & Instructions
Access to stitch-a-long videos
BONUS embroidery pattern – quick & extra easy to help you get started with embroidery
Embroidery essentials welcome pack in the post worth £20**
New digital goodies every month***
Access to purchase previous stitch-a-longs at a reduced rate (COMING SOON)
Change tiers or cancel anytime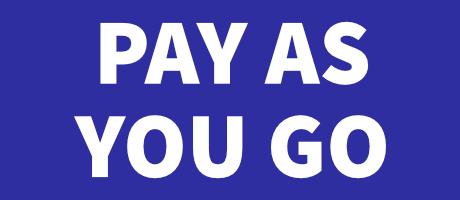 Embroidery Pattern & Instructions
Access to stitch-a-long videos
Access to purchase previous stitch-a-longs (COMING SOON)
Joining Patreon is as simple as making any other purchase – you just need to enter your details and payment method. As soon as you've paid you get instant access to your digital welcome pack and monthly goodies – including your embroidery templates, instructions and videos.
*You pay for your first month when you join and then on the 1st of every month after that. Patreon will add local sales tax onto the tier cost, this varies depending on where you live (e.g. UK sales tax is currently 20% VAT, which goes directly from Patreon to HMRC). You can change tiers or cancel at any time, any changes take effect from the 1st of the next month – see FAQs for more information. 
**Outside the UK? Please note only UK patrons will automatically recieve welcome gifts in the post. If you live outside the UK and want to recieve the welcome gift there is an additional charge to cover postage (£4 for EU & £6 for Rest of World). Once you have joined I will message you with details of how to pay. This charge is optional and you are welcome to join this tier on a digital only basis.
***Device wallpapers (phone, tablet & laptop), colouring pages & A4 digital art illustration you can print, frame, display and gift.

BYO stands for Buy Your Own (or Bring Your Own). Many embroidery kits and stitch-a-longs send supplies out in the post, but around here we do it a little differently. By buying your own supplies it costs you less, wastes less and gives you more choice than most other embroidery kits around!
IT COSTS LESS – Most physical embroidery kits that come with stitch-a-long videos cost £30-40.That's because it comes with the added costs of sourcing, packing and posting the embroidery materials to you. For The Unicorn Factory stitch-a-longs you get a full list of materials (inc. suggestions of where to buy) and can get hold of them from £10-15 (even less if you already have a basic embroidery kit with items you'll reuse for every project!)
IT WASTES LESS – You can reuse most of your embroidery kit every month and you're not paying for supplies you already have which can pile up. We're all trying to do our bit for the environment, and by buying only the things you actually need, you reduce the risk of having extra things that clutter up your home, never get used and end up being thrown away.  
YOU HAVE MORE CHOICE – Doing this way I can offer the design in two sizes every month and because you are buying your supplies you can customise the design to suit you. I always suggest fabric and items to stitch on, with which colour threads to use, but if you'd prefer you can stitch in different colour threads and/or onto a different colour fabric or item. You have the freedom to make it your own!
THERE'S NO PRESSURE – Once you have access to each month's pattern it's yours for life. You can download the pattern and watch the videos in your own time, only buying what you need when you need it. There's no boxes of supplies piling up and making you feel bad for not keeping up, just a nice little corner of your laptop with the patterns ready to stitch when you want to.
YOU CAN JOIN US FROM ANYWHERE – A bonus benefit of being buy your own is that you can join us from anywhere in the world without having to pay high shipping costs, import taxes and waiting weeks for supplies to arrive! Plus you get to support other craft businesses in your area by buying locally.
THERE'S NO RISK – If you join us on Patreon you can change tiers or cancel at anytime. Patrons are involved in the process of developing the designs each month and they always get to see what's coming next in time to opt out if they don't like it. Plus it's priced knowing there might be some designs you don't want to stitch, so even if you only do a handful a year you're still getting great value!

Patreon is a way to support a creator to create more of the things you enjoy and be a bigger part of their community! Lots of artists and creators around the world use it as a way to let their biggest supporters get more involved in what they do and thank them with exclusive and early bird goodies that either aren't available anywhere else, or made available to Patreon's before anyone else and at less that the retail price! 
By supporting me, you help me make this business a little more viable and in return you get exclusive content and various goodies to say thank you!
© The Unicorn Factory 2021